Rehabilitation Clinic Bavaria Zscheckwitz Kreischa
Department of Pediatric Orthopedic Rehabilitation (

251171

)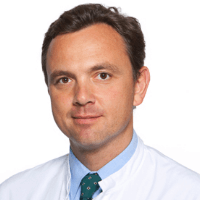 Dr. med.
Dirk Heinicke
Specialized in: pediatric orthopedic rehabilitation
About the department
The Department of Pediatric Orthopedic Rehabilitation at the Rehabilitation Clinic Bavaria Zscheckwitz Kreischa offers the comprehensive rehabilitation programs for children and adolescents with chronic diseases of the skeleton and musculoskeletal system, as well as with acute orthopedic diseases and injuries. The Chief Physician of the department is Dr. med. Dirk Heinicke.
Parents are actively involved in the treatment process. Each patient receives an individual treatment regimen, which aims to completely eliminate or reduce as much as possible functional disorders of the musculoskeletal system. The department's specialists have rich clinical experience and excellent technical base to achieve the best results in young patients.
The department's field of competence also includes rehabilitation care for children and adolescents with orthopedic disorders due to rheumatic joint injuries. In this case, the focus is on maintaining and improving joint mobility and preventing its deformation. The rehabilitation measures are supplemented by drug therapy, which affects the immunological links in the pathogenesis of joint lesion, and also eliminates pain.
It is worth noting that special attention in the treatment process is paid to the psychological support of patients and their parents. The ultimate goal of rehabilitation measures is not only the best possible recovery of the child's mobility, but also his reintegration into normal everyday life – kindergarten, school, higher education institution.
The indications for orthopedic rehabilitation are the following diseases:
Acute injuries

Fractures
Dislocations
Ligament tears (for example, in the knee)
Inflammatory bone diseases

Chronic diseases of the musculoskeletal system

Scoliosis
Postural disorders
Genetic diseases of bone and connective tissue (for example, osteogenesis imperfecta)

Rheumatic lesions of the musculoskeletal system

Acute rheumatic diseases (usually after infection)
Oligoarthritis (inflammation of a single joint)
Polyarthritis (inflammation of several joints)
Psoriatic arthritis (joint inflammation due to psoriasis)
Arthritis with enthesitis (joint inflammation affecting tendons)
Collagenoses (connective tissue lesions)
Vasculitides (inflammation of the small vessels supplying muscles and joints)

Other diseases and injuries
Photo of the doctor: (c) Klinik Bavaria Zscheckwitz
Department of Pediatric Orthopedic Rehabilitation.
Rehabilitation Clinic Bavaria Zscheckwitz Kreischa:

Request more information now.
We will be happy to answer all your questions.
---
Certificates