Rehabilitation Clinic Kurparkklinik Heilbad Heiligenstadt
Department of Orthopedic Rehabilitation (

25841

)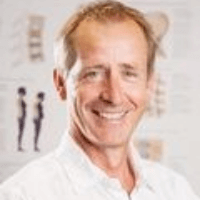 Prof. Dr. med.
Hans-Werner Buhmann
Specialized in: orthopedic rehabilitation
About the Department of Orthopedic Rehabilitation at Rehabilitation Clinic Kurparkklinik Heilbad Heiligenstadt
The Department of Orthopedic Rehabilitation at the Rehabilitation Clinic Kurparkklinik Heilbad Heiligenstadt offers all the options of modern rehabilitation medicine for the restoration of patients who have suffered musculoskeletal diseases and injuries, as well as rheumatic pathologies. The department's doctors also often admit patients after complex orthopedic surgery: joint replacement surgery, limb amputation, surgery for spinal disc herniation and other spinal diseases. The department is headed by Prof. Dr. med. Hans-Werner Buhmann.
The medical facility boasts an excellent infrastructure, including spacious gyms, cozy treatment rooms, spaces with swimming pools. The primary goals of orthopedic rehabilitation are the elimination of pain caused by the pathology or injury, as well as maximum restoration of mobility and self-care ability. The department's medical team has a wealth of experience and competence to develop the best rehabilitation program for each patient, taking into account the characteristics of the disease, the degree of injury and other factors. In most cases, orthopedic rehabilitation takes place on an inpatient basis.
The decisive stage in the rehabilitation success is a comprehensive diagnostic examination of the patient upon admission to the department aimed at assessing his rehabilitation potential and general health status. The standard diagnostic protocol includes the set of laboratory tests, echocardiography and electrocardiography, musculoskeletal x-ray, etc. Depending on the particular diagnosis, other diagnostic tests can be carried out as well. With all the clinical data, orthopedists jointly with rehabilitation therapists develop a scheme of further treatment. During rehabilitation, the specialists actively use such methods as therapeutic exercises, physiotherapy, medical training therapy, balneotherapy, etc. The patients who have suffered musculoskeletal injuries and diseases quite often experience severe pain, and therefore the department provides effective and safe pain therapy (intake of painkillers). The rehabilitation of patients of working age is also aimed at restoring their work capacity. Such rehabilitation measures include simulated work-place activities to restore professional skills and endurance training.
Indications for orthopedic rehabilitation:
Degenerative spinal and joint diseases
Functional musculoskeletal disorders
Structural disorders of the skeletal system
Rheumatic diseases
Chronic musculoskeletal pain
Pathological conditions after musculoskeletal injuries
Pathological conditions after joint replacement surgery
Pathological conditions after limb amputation
Pathological conditions after spinal surgery
Other diseases and pathological conditions
The department's range of medical services includes:
Diagnostic tests

X-ray diagnostics
Biomechanical testing of muscle regulation on the Biodex computerized system
Testing of physical endurance on a treadmill and exercise bike
Specific testing for patients after amputation, including timed up and go test
Purdue Pegboard Test
Arthrosonography (joint ultrasound scanning)
Multimodal diagnostics of pain syndromes
Heart diagnostics (echocardiography, electrocardiography, etc.)

Rehabilitation methods

Sports therapy

Medical training therapy
Exercising on fitness equipment (exercise bike, treadmill, etc.)
Nordic walking

Physiotherapy

Therapeutic exercises
Manual therapy
Trigger point therapy

Occupational therapy, including medical profession-oriented rehabilitation (MBOR)
Manual lymphatic drainage and edema treatment
Massage

Classic massage
Connective tissue massage
Reflexology

Electrotherapy

Ultrasound therapy
Laser therapy
Magnet therapy

Hydrotherapy
Thermotherapy
Cryotherapy
Inhalation therapy
Phototherapy
Diet therapy
Psychological care
Relaxation training
Kinesiology tape
Acupuncture and acupressure
Shockwave therapy

Other medical services
Curriculum vitae of Prof. Dr. med. Hans-Werner Buhmann
Higher Education and Professional Career
1985 - 1991 Study of Human Medicine.
1991 - 1993 Assistant Physician, Department of Surgery, University Hospital Goettingen.
1994 - 1998 Preparation for board certification, Department of Orthopedics, University Hospital Goettingen.
1999 Chief Physician of the Department of Orthopedics, Hospital Freyung.
Since 1999 Medical Director of the Specialized Orthopedic Clinic in Heilbad Heiligenstadt.
1991 Doctoral thesis defense in Medicine.
1994 Doctoral thesis defense in Sports Medicine.
1998 Board certification in Orthopedics.
2007 Board certification in Traumatology.
Since 2009 Honorary Professor of the University of Goettingen.
Additional Qualifications
Sports medicine.
Manual therapy.
Social medicine
Special pain therapy.
Naturopathy.
Musculoskeletal X-ray diagnostics.
Rehabilitation after rheumatic diseases.
Memberships in Professional Societies
German Association for Sports Medicine.
Professional Association of Orthopaedic Surgery and Traumatology.
Photo of the doctor: (c) Kurparkklinik Heilbad Heiligenstadt
Department of Orthopedic Rehabilitation.
Rehabilitation Clinic Kurparkklinik Heilbad Heiligenstadt:

Request more information now.
We will be happy to answer all your questions.
---
Certificates