Rehabilitation Clinic Kurparkklinik Heilbad Heiligenstadt
Orthopedic and rheumatology rehabilitation (

25841

)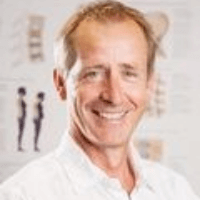 Prof. Dr. med. Dr. disc. pol.
Hans-Werner Buhmann
Specialized in: orthopedic and rheumatology rehabilitation
About the department
Department of Orthopedic Rehabilitation is directed at both the inpatient and outpatient treatment, and covers the full spectrum of orthopedic diseases
Focus of treatment:
diseases and injuries of the skeleton,
muscles and connective tissue (including scoliosis and amputations),
Inflammatory diseases of the musculoskeletal system,
such as rheumatoid arthritis,
Bechterew's disease,
joint replacement
Schedule:
Admission by nursing staff (ECG, blood pressure, height, weight, medication intake questionnaire)
Admission by physician (complete physical examination, development of the treatment plan)
Blood tests (routine laboratory tests: blood count, creatinine, liver function tests,
glucose, potassium, triglycerides, cholesterol, uric acid.)
Ward physician visits: 1x a week
Head physician: 1x per pass
Consultation as needed daily (planning and monitoring of the rehabilitation program)
Psychological individual and group countseling, psychotherapeutic treatment
Patient discharge by nursing staff
Patient discharge by the doctor
Photo of the doctor: (c) Kurparkklinik Heilbad Heiligenstadt
Orthopedic and rheumatology rehabilitation.
Rehabilitation Clinic Kurparkklinik Heilbad Heiligenstadt:

Request more information now.
We will be happy to answer all your questions.
---
Certificates