Rehabilitation Clinic Medical Park Humboldtmuehle Berlin
Department of Neurological Rehabilitation (

696193

)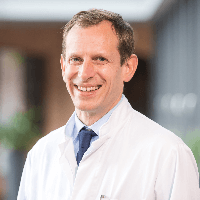 Prof. Dr. med.
Martin Ebinger
Specialized in: neurological rehabilitation
About the Department of Neurological Rehabilitation at Rehabilitation Clinic Medical Park Humboldtmuehle Berlin
According to Focus magazine, the Department of Neurological Rehabilitation at the Rehabilitation Clinic Medical Park Humboldtmuehle Berlin ranks among the best medical facilities in the area of its specialization!
The department offers rehabilitation to patients with congenital and acquired diseases of the brain and spinal cord, peripheral nerves and muscles. The department's medical team specializes in phase B, C and D neurological rehabilitation. One of the primary focuses of the department's clinical practice is the rehabilitation of patients after stroke. The department has a specialized Stroke Rehabilitation Center, whose doctors provide intensive care, including mechanical ventilation, and classical rehabilitation measures on an inpatient basis. Neurological rehabilitation in the department begins with the comprehensive diagnostic examination of the patient, based on the results of which an optimal rehabilitation treatment program is developed. In the course of neurological rehabilitation, many people practically learn to walk, talk and control their bodies all over again, so the department's specialists make every effort to provide the patient with maximum independence in everyday life and a decent quality of life after suffering from pathology. The department is headed by Prof. Dr. med. Martin Ebinger.
The development of an effective rehabilitation program is possible only after comprehensive diagnostics, an assessment of the patient's neurological status and rehabilitation potential. For these purposes, modern equipment is required, which is fully available in the medical facility. The department's diagnostic rooms have advanced devices for computed tomography, magnetic resonance imaging, X-ray, endoscopic examination of the act of swallowing, bronchoscopy, electroencephalography, transcranial dopplerography, ultrasound scanning, and recording of evoked potentials. Whenever required, doctors conduct emergency diagnostics – most often in case of stroke. The doctor prescribes the necessary complex of diagnostic procedures after an individual consultation and study of the patient's medical history. An interdisciplinary team of experienced neurologists, physiotherapists, physical therapists, occupational therapists, speech therapists, psychologists, nutritionists and social workers work at the development of the rehabilitation regimen.
The department's specialists most often admit patients with Parkinson's disease, multiple sclerosis, post-polio syndrome, paraplegia, myasthenia gravis, and pain syndromes of neurological origin. As of today, more and more people, including young people, suffer from stroke, which is an acute impairment of the blood supply to the brain. In most cases, pathology leads to partial or total paralysis, defects or complete loss of speech, impaired vision, memory, and cognitive functions. To avoid or alleviate the severe consequences of stroke, doctors recommend starting rehabilitation measures as early as possible, even at the stage of the patient's stay in the intensive care unit. The department includes a specialized Stroke Rehabilitation Center, whose doctors have unique competence in this medical field. The center also has an intensive care unit, where weaning from mechanical ventilation, primary mobilization of the patient after stroke, and gradual restoration of swallowing function take place. During phase B rehabilitation, the patient begins to move in a wheelchair, restores his self-care skills, cognitive and communication skills. Phase C neurological rehabilitation after stroke includes further restoration of self-care skills, cognitive and communication functions, training of walking and fine motor skills of the hands. The final stage is phase D rehabilitation, the purpose of which is to integrate the patient as much as possible into everyday life, including the professional sector.
As one of the leading facilities for neurological rehabilitation in Germany, the department offers the widest range of highly effective rehabilitation measures. The department offers Vojta therapy, Bobath therapy, proprioceptive neuromuscular facilitation, manual therapy, Maitland technique, physical therapy (for example, heat therapy, cryotherapy, massage, electrotherapy, electrical stimulation, ultrasound therapy), therapeutic exercises (for example, medical training therapy, balance training, gait training, water aerobics in the therapeutic swimming pool), training to restore self-care skills (for example, personal hygiene, dressing, eating), occupational therapy (for example, fine motor training, mirror therapy, basal stimulation), individual and group speech therapy classes for restoring speech, psychotherapy, relaxation technique training, diet therapy. During the rehabilitation process, doctors and nursing staff support patients in every possible way, since many things can be very difficult for them: the first steps after a long immobilization, overcoming pain during exercise, the first words in impaired speech function, etc. The specialists understand that it is very important to support the patient on his way to recovery, to motivate him throughout the entire rehabilitation process, to set up the patient for a positive rehabilitation outcome.
The department specializes in the rehabilitation of patients with the following neurological disorders:
Stroke
Parkinson's disease
Multiple sclerosis
Post-polio syndrome
Paraplegia
Myasthenia gravis
Pain syndromes of neurological origin
Traumatic brain injuries
Pathological conditions after neurosurgical interventions (for example, after brain tumor removal, spinal surgery)
Neurodegenerative diseases and movement disorders
Diseases and traumatic injuries of the peripheral nervous system
Muscular diseases
Other neurological disorders
The department's range of diagnostic and therapeutic services includes the following options:
Diagnostic services

Classical X-ray scanning
Computed tomography
Magnetic resonance imaging
Endoscopic examinations of the act of swallowing
Bronchoscopy
Electroencephalography
Recording of evoked potentials
Transcranial dopplerography
Ultrasound scanning
Urodynamic tests
Laboratory tests

Rehabilitation measures

Bobath therapy
Proprioceptive neuromuscular facilitation
Vojta therapy
Hydrokinesitherapy
Manual therapy: Maitland therapy, James Cyriax therapy
Medical training therapy with therapeutic climbing
Physiotherapy

Classic massage
Heat therapy
Ultrasound therapy
Cryotherapy
Pneumatic compression therapy on the Lymphomat device
Inhalation therapy
Electrotherapy
Electrical stimulation
Reflexology
Comprehensive antiedemic therapy
Connective tissue massage
Trigger point therapy
Hydrojet massage

Therapeutic exercises

Medical training therapy
Proprioceptive exercises
Walking training
Treadmill workouts
Water aerobics in the therapeutic swimming pool
Group sports
Ergometer cardio training
Training on the Galileo vibration platform
Therapeutic climbing
Tai chi

Occupational therapy

Training to restore self-care skills (personal hygiene, dressing, etc.)
Fine motor training
Therapeutic exercises for the spine
Basal stimulation
Heat therapy
Walking training
Mirror therapy (Perfetti method)

Diet therapy
Speech therapy (in groups and individually)
Neuropsychological care and psychotherapy (in groups and individually), training in relaxation techniques, techniques for coping with stress, depression and anxiety

Other medical services
Curriculum vitae of Prof. Dr. med. Martin Ebinger
Since May 1, 2017, Prof. Dr. med. Martin Ebinger has been heading the Department of Neurological Rehabilitation at the Rehabilitation Clinic Medical Park Humboldtmuehle Berlin. Prior to this, the specialist worked at the Charite University Hospital Berlin, where he was a Board Member of the Stroke Research Center and Medical Director of the Stroke Emergency Mobile (STEMO).
Prof. Ebinger is also a Reviewer in various international journals and public funding programs, and is considered a recognized specialist in the field of stroke care.
Dr. Martin Ebinger has a doctorate in Medicine and Philosophy. After training in Wuerzburg and Munich, he began his professional career in the Department of Neurology at the Max Planck Institute of Psychiatry in Munich.
In 2007 Prof. Ebinger carried out research on stroke treatment as a Research Fellow at the Royal Melbourne Hospital in Australia, and since 2008 he has been researching neurological diseases at the Charite University Hospital Berlin.
Photo of the doctor: (c) Medical Park Humboldtmühle in Berlin
Department of Neurological Rehabilitation.
Rehabilitation Clinic Medical Park Humboldtmuehle Berlin:

Request more information now.
We will be happy to answer all your questions.
---
Certificates