Rehabilitation Clinic MediClin Bad Orb
Department of Neurological Rehabilitation (

414278

)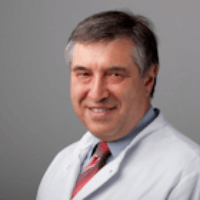 Dr. med.
Elmar Ginzburg
Specialized in: neurological rehabilitation
About the department
The Department of Neurological Rehabilitation at the Clinic MediClin Bad Orb offers rehabilitation programs for patients with neurological diseases, as well as conditions after neurosurgical interventions. The specialists of the department deal with the treatment of all neurological pathologies, in which conservative therapies are effective. Early rehabilitation in phase B prevents the development of complications and successfully prepares the patient for the further recovery. The continuation of rehabilitation in phase C allows the patient to become independent and not to depend on the outside help in the future. The Chief Physician of the department is Dr. med. Elmar Ginzburg.
The department specializes in classical early neurological rehabilitation, that is, the treatment of patients in phase B. Such patients often still have severe symptoms, they are severely limited in their daily activities and depend on the help of nursing staff and therapists. The intensive care phase can be completed, but still intensive monitoring may be necessary in the beginning. The patients may be in a state of wakeful coma and breathe through a tracheostomy tube. Sometimes such patients can take an active part in therapy. Therefore, in addition to intensive medical therapy, great attention is also paid to long-term therapeutic treatment and care.
The department also treats patients in phase C, who also need comprehensive medical care (for example, in care of postoperative wounds). In cooperation with the Offenbach Hospital, there was developed a program that offers intensive and rehabilitative therapy "from a single source".
Another focus of the department is neuro-orthopedics. Within the framework of the specialized center, patients with combined neurological and orthopedic diseases undergo rehabilitation. Neuro-orthopedic treatment is based on an interdisciplinary therapeutic approach.
In addition, in collaboration with the Offenbach Hospital, there was created the specialized Stroke Center. This center offers comprehensive treatment for stroke patients – from intensive care in an acute stage of the disease to rehabilitation.
Indications for neurological rehabilitation:
Consequences after a stroke or a brain hemorrhage
Condition after traumatic brain injury
Oncological diseases of the central nervous system and conditions after interventional procedures (surgery, irradiation or cytotoxic therapy)
Multiple sclerosis
Parkinson's disease
Neurodegenerative diseases
Disorders of the peripheral nervous system due to polyradiculitis or mechanical damage to the nerve tract
Epileptic syndromes, if intensive therapy is not required
Muscular dystrophy
Conditions after inflammatory diseases of the nervous system
Neurogenic pain syndromes (migraines, other headache syndromes, neuropathic pains)
And other diseases
Special indications:
Swallowing disorders due to neurogenic effects (for example, after a stroke, in degenerative systemic diseases, etc.)
Neuropsychological disorders
Acquired articulation and speech disorders (aphasia, dysarthria)
Within the framework of the Center for Neuro-Orthopedics

Infantile cerebral palsy
Malformations with neurological and orthopedic manifestations
Radicular syndrome

And other diseases and syndromes
Curriculum vitae
1977 Doctor of Medicine, Riga Medical Institute in Latvia.
1981 Admission to medical practice in Germany.
Doctoral thesis defense in the Center for Psychiatry at the Johann Wolfgang Goethe University Frankfurt. Thesis topic: "Sleep disorders in patients with neurological and orthopedic diseases at the rehabilitation stage".
Professional Career
1981 - 1983 Advanced training, Medical Specialist in Psychiatry, Hospital at the Johann Wolfgang Goethe University Frankfurt.
1983 - 1988 Advanced training, Medical Specialist in Neurology, Nordwest Clinic, Frankfurt. Additional qualification in Intensive Medicine.
1988 - 2002 Leading Senior Physician of the Department of Neurology, Rehabilitation Clinic Bad Orb. Advanced training, Medical Specialist in Physical Medicine and Rehabilitation. Additional qualification in Rehabilitation, Geriatrics, Physiotherapy and Balneology.
2002 - 2007 Chief Physician at the Neurological Rehabilitation Clinic Bad Camberg. Additional qualification in Social Medicine. Certified Expert of the German Society of Neurology.
Since 2007, Chief Physician of the Department of Neurological Rehabilitation at the Rehabilitation Clinic MediClin Bad Orb. Teacher in Psychiatry, Orbtalschule (Training College for Health Professionals), Bad Orb.
Memberships
German Society of Neurology (DGN).
Working Group on Neurology of the German Society of Neurology.
Working Group on Botulinum Toxin Treatment (DGN).
German Society of Neurological Rehabilitation.
German Society of Clinical Neurophysiology and Functional Imaging.
Association for the Development of Neurological Sciences, Frankfurt.
Photo of the doctor: (c) Kantpraxis
Department of Neurological Rehabilitation.
Rehabilitation Clinic MediClin Bad Orb:

Request more information now.
We will be happy to answer all your questions.
---