Academic Hospital Schlosspark Berlin
Department of Plastic, Reconstructive and Aesthetic Surgery, Hand Surgery (

278864

)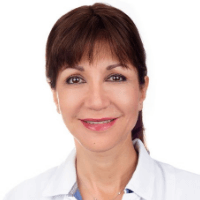 Dr. med.
Viola Moser
Specialized in: plastic, reconstructive and aesthetic surgery, hand surgery
About the department
The Department of Plastic, Reconstructive and Aesthetic Surgery, Hand Surgery at the Academic Hospital Schlosspark Berlin offers the full range of services in these fields. The surgical options of the department include facelift procedures, nose and eye reshaping procedures, as well as breast surgery in women. The department's specialists devote a lot of time to counseling patients prior to surgical interventions, they also use innovative 3D systems for modeling the expected result. The operations are performed in state-of-the-art operating rooms with all the necessary equipment. The Chief Physician of the department is Dr. med. Viola Moser.
Reconstructive surgery deals with the correction of congenital anomalies, as well as aesthetic and functional defects caused by accident or surgical treatment of tumors. The standard treatment is a tissue and skin transplantation. Flap surgery, implantation of expanders and other techniques are also widely used in the department.
The department is proud of its outstanding results in aesthetic surgery. It successfully performs such surgical procedures as facelift, eye lift and correction, nose, ear, lip reshaping procedures, etc.
In addition, hand surgery is an essential component of clinical practice. Of particular interest is the treatment of tunnel compression syndromes, Dupuytren's contracture, tenosynovitis, hand joint lesions, including rheumatism, tumors, etc.
The department's surgical service range includes:
Facial plastic surgery

Surgical removal of eyelid tumors
Surgical removal of benign and malignant soft tissue tumors
Facial scar revision
Surgical treatment of facial injuries
Facial aesthetic interventions
Interventions on the nose and lips
Ear reshaping
Ectropion treatment
Interventions for chronic migraines

Plastic surgery to correct congenital malformations

Correction of congenital breast malformations (for example, tuberous breasts, breast asymmetry, inverted nipple)
Correction of everted ears
Removal of birthmarks
Correction of hand malformations (for example, syndactyly)

Aesthetic surgery

Face lift
Eyelid lift
Functional and aesthetic nose surgery
Ear reshaping
Chin reshaping
Lip reshaping
Treatment of wrinkles
Breast augmentation, reduction and lift
Liposuction
Abdominoplasty
Arm lift (brachioplasty)
Hip lift
Buttock lift and augmentation
Hyperhidrosis correction
Labiaplasty

Reconstructive plastic surgery

Treatment of burns and other soft tissue injuries
Radical removal of bone and soft tissue malignancies
Treatment of bedsores in bedridden patients or patients with limited mobility
Treatment of leg ulcers in chronic venous insufficiency

Scar revision and burn correction

Burns of various types (thermal, chemical and others)
Surgical scars
Keloid scars
Cicatricial contraction accompanied by functional impairment

Breast surgery

Breast augmentation, reduction and lift
Removal of nodular formations
Surgical treatment of breast cancer
Breast reconstruction
Correction of breast malformations
Correction of inverted nipples
Correction after previous breast surgery

Hand surgery

Treatment of chronic hand diseases

Tunnel compression syndrome (for example, carpal tunnel syndrome, cubital tunnel syndrome)
Dupuytren's contracture
Tendovaginitis
Degeneration of small joints of the hand
Rheumatic hand lesions
Hand tumors

Septic hand surgery

Treatment of infectious lesions of soft tissues and bones (abscess, osteomyelitis)

Hand injuries

Complicated injuries of bones, soft tissues and tendons of the hand
Hand fractures
Injuries of the peripheral nerves and blood vessels (microsurgery using a surgical microscope)

Other surgical options
Curriculum vitae
Qualifications
Board certification in Plastic and Aesthetic Surgery.
Since 2005 Head of the Department of Plastic, Reconstructive and Aesthetic Surgery, Hand Surgery at the Academic Hospital Schlosspark Berlin.
Since 2006 Head of the Department of Plastic, Reconstructive and Aesthetic Surgery, Hand Surgery at the Academic Hospital Schlosspark Berlin.
Clinical Focuses
Blepharoplasty.
Interventions on the breast in women.
Intimate plastic surgery in women.
Memberships in Professional Societies
Association of German Aesthetic Plastic Surgeons.
German Society of Plastic, Reconstructive and Aesthetic Surgeons.
German Society for Aesthetic Plastic Surgery.
International Society of Aesthetic Plastic Surgery.
Photo of the doctor: (c) Schlosspark-Klinik GmbH
Department of Plastic, Reconstructive and Aesthetic Surgery, Hand Surgery.
Academic Hospital Schlosspark Berlin:

Request more information now.
We will be happy to answer all your questions.
---
Certificates