Academic Hospital Schlosspark Berlin
Department of Surgery (

278866

)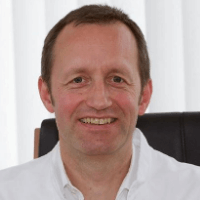 Dr. med.
Thomas Rost
About the department
The Department of Surgery at the Academic Hospital Schlosspark Berlin offers the full range of surgical treatment and specializes in the surgical treatment of abdominal diseases, bariatric surgery and minimally invasive interventions. The special competence is in the field of bowel cancer treatment, which is carried out within the specialized center. The department's specialists also have excellent qualifications in the treatment of diverticulitis and hernias. All surgical interventions are performed within the high-tech operating rooms with the cutting-edge equipment and monitoring systems. If possible, the preference is given to sparing, minimally invasive techniques. The department is headed by Dr. med. Thomas Rost.
In the field of abdominal surgery, the key focus is on medical care for patients with malignant diseases. To provide the comprehensive treatment, the department's surgeons cooperate closely with experts in Internal Medicine. In addition, in particularly severe cases, it is possible to carry out telemedical tumor boards with specialists from the university hospitals and other partner clinics.
One of the most common pathologies in clinical practice is bowel cancer. As a rule, the patients with this diagnosis require surgical treatment. During the intervention, the affected part of the intestine with blood vessels and lymph nodes is totally removed. In the case of colorectal cancer, the integrity of the intestine after neoplasm removal can be restored by means of anastomosis. In some cases, in rectal lesion, a stoma (a surgical hole, which is formed to remove the contents of the intestine) is placed to the anterior abdominal wall. The department's surgeons successfully perform operations to resect intestinal neoplasms using minimally invasive techniques. Such operations are as effective as open surgery, but they allow the doctor to avoid traumatic incisions of the anterior abdominal wall and damage to the internal organs. Minimally invasive treatment is also characterized by a less severe pain syndrome and avoids extensive blood loss, which in turn significantly reduces the period of postoperative hospitalization.
The department's surgical service range includes:
Minimally invasive surgery

Gallbladder removal in case of gallstone disease
Surgery to repair inguinal hernias and anterior abdominal wall hernias
Appendectomy (appendix removal)
Treatment of sigmoid colon diverticulitis
Treatment of inflammatory bowel disease (removal of the colon and small intestine)
Treatment of bowel cancer (removal of the affected areas of the intestine)
Treatment of colorectal cancer (rectal removal)
Treatment of gastroesophageal reflux disease (fundoplication)
Removal of benign stomach tumors
Treatment of morbid obesity

Gastric banding
Intragastric balloon installation
Revision interventions

Removal and fenestration of abdominal cysts
Removal of spleen in case of splenomegaly
Removal of adenomas and other adrenal neoplasms, including adrenalectomy
Adhesiolysis
Diagnostic procedures (for example, biopsy)

Classical surgery

Surgical treatment of varicose veins

Stripping according to the stage of the disease

Surgical treatment of thyroid diseases

Thyroid resection
Thyroidectomy

Surgical treatment of gastric cancer

Gastrectomy
Stomach resection

Surgical treatment of pancreatic diseases
Surgical treatment of liver diseases

Resection of secondary tumors

Surgical treatment of proctologic diseases

Classic operations
Longo operation (hemorrhoidopexy)
STARR operation
Port placement through transanal access

Other surgical options
Curriculum vitae
Education and Scientific Achievements
1995 State Examination in Medicine, Free University of Berlin.
1997 Theoretical basis of the specialty in Emergency Medicine.
1999 Doctoral thesis defense on the subject: "The role of endoscopic ultrasound scanning in the diagnostics of achalasia cardia and scleroderma".
1999 Theoretical basis of the specialty in Radiation Protection.
2001 Board certification in Surgery.
2007 Certificate on Advanced Training in Minimally Invasive Surgery (CAMIC).
2008 Board certification in Abdominal Surgery.
Professional Career
12.1996 - 08.2000 Assistant Physician, HELIOS Clinic Emil von Behring Berlin, Department of General, Abdominal and Vascular Surgery.
09.2000 - 08.2001 Assistant Physician, Charite University Hospital Berlin, Campus Benjamin Franklin, Department of Trauma and Reconstructive Surgery.
09.2001 - 12.2001 Assistant Physician, Oskar-Ziethen Clinic Berlin, Department of Trauma Surgery.
01.2002 - 01.2004 Senior Physician of the Department of General, Abdominal and Vascular Surgery.
02.2004 - 01.2007 Leading Senior Physician of the Department of General, Abdominal and Vascular Surgery.
02.2007 - 08.2010 Head of the Center for Minimally Invasive Surgery in the Department of General and Abdominal Surgery, HELIOS Clinic Emil von Behring Berlin.
09.2010 - 12.2010 Acting Head of the Department of General, Abdominal and Minimally Invasive Surgery at the HELIOS Clinic Emil von Behring Berlin.
Since 01.01.2011 Head of the Department of Surgery at the Academic Hospital Schlosspark Berlin.
Memberships in Professional Societies
Working Group on Minimally Invasive Surgery (CAMIC).
German Society of Surgery (DGCH).
Berlin Surgical Society.
German Society of Abdominal Surgery (DGVC).
Photo of the doctor: (c) Schlosspark-Klinik GmbH
Department of Surgery.
Academic Hospital Schlosspark Berlin:

Request more information now.
We will be happy to answer all your questions.
---
Certificates