Academic Hospital Schlosspark Berlin
Department of Gastroenterology, Hepatology, Oncology, Diabetology and Cardiology (

278867

)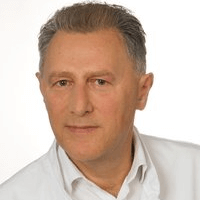 Dr. med.
Richard Stern
Specialized in: gastroenterology, hepatology, oncology, diabetology, cardiology
About the Department of Gastroenterology, Hepatology, Oncology, Diabetology and Cardiology at Academic Hospital Schlosspark Berlin
The Department of Gastroenterology, Hepatology, Oncology, Diabetology and Cardiology at the Academic Hospital Schlosspark Berlin provides the full range of modern diagnostic and therapeutic procedures in the area of its specialization. The specialists are focused on patients with benign and malignant diseases of the gastrointestinal tract, liver, metabolic disorders and cardiovascular diseases. Emergency care in urgent clinical cases is provided around the clock. Depending on the complexity of the disease, the specialists provide treatment on an inpatient or outpatient basis. The department's doctors are distinguished by rich and successful experience, due to which they provide highly competent individualized medical care to each patient. The Chief Physician of the department is Dr. med. Richard Stern.
Gastroenterology is represented by a highly professional team of doctors who are involved in the diagnostics and treatment of esophageal, stomach, gallbladder and bile duct diseases, as well as pancreatic diseases. In total, the department annually performs about 3,000 endoscopic procedures and more than 5,000 ultrasound scans.
It is worth noting that the department's doctors regularly demonstrate excellent results in the treatment of gastrointestinal cancer. The department holds weekly interdisciplinary tumor boards, during which gastroenterologists, oncologists, radiologists, radiation therapists and surgeons cooperatively examine the clinical case of each patient, developing the most effective treatment tactics.
In addition, the department's medical team has exceptional experience in the treatment of liver diseases (the health facility is part of the German Liver Foundation, Deutsche Leberstiftung).
The department also carries out diagnostics and treatment of type 1 and 2 diabetes mellitus. The department offers special courses on lifestyle modification due to diabetes mellitus, self-control of blood glucose levels and many other aspects related to this pathology. The course programs are developed in accordance with the recommendations of the German Diabetes Society, which guarantees their high effectiveness.
An integral part of the department's clinical practice is cardiology. The cardiologists annually treat about 2,500 inpatients with cardiovascular diseases. In addition, the Chest Pain Unit admits over 2,500 outpatients annually. The most common pathologies in this field include coronary heart disease, heart failure, arrhythmia, heart valve insufficiency and arterial hypertension.
The key focuses of the department's work include:
Gastroenterology

High-resolution video endoscopy of the esophagus, stomach, duodenum and colon, including endoscopic procedures (bougienage, stenting, endoscopic treatment of Zenker's diverticulum, hemostasis, polyp removal, ablation, endoscopic mucosal resection)
Interventions on the biliary tract with endoscopic retrograde cholangiopancreatography (endoscopic stone removal, stenting, correction of stenoses caused by tumors)
Percutaneous transhepatic cholangiography (in collaboration with the Department of Interventional Radiology)
Endosonography using radial and linear endoscopes (from endoscopic retrograde cholangiopancreatography to the assessment of the size of neoplasms)
Ultrasound-guided biopsy
Ultrasound-guided puncture and drainage of cysts
MR cholangiography for biliary tract imaging
Contrast-enhanced ultrasound examinations and elastography of the abdominal cavity and thyroid gland
Functional esophageal diagnostics

pH-metry
Diagnostics using BRAVO capsule in case of gastroesophageal reflux disease
Manometry in case of esophageal transport disorders
Hydrogen breath test in suspected intolerance to lactose and fructose, as well as in case of bacterial overgrowth syndrome

Oncology

Diagnostics and treatment of gastrointestinal cancers

Hepatology

Diagnostics and treatment of liver diseases

Diabetology

Diagnostics and treatment of types 1 and 2 diabetes mellitus

Cardiology

Non-invasive diagnostics

Functional diagnostics

Rest and stress ECG
24-hour ECG
24-hour blood pressure monitoring
Spiroergometry
Obstructive sleep apnea screening

Imaging diagnostics

Echocardiography (classic, transesophageal and stress echocardiography with dynamic physical and pharmacological load)
Cardiac CT and MRI (in collaboration with the Department of Diagnostic Radiology)

Invasive diagnostics and therapy

Diagnostic procedures

Fractional flow reserve measurement
Intravascular ultrasound scanning

Therapeutic procedures

Event recorder implantation
Pacemaker implantation
Defibrillator implantation

Catheter-assisted procedures

Percutaneous coronary intervention (balloon dilatation and stent implantation)
Repeated restoration of vascular patency in case of chronic occlusions with the use of ante- and retrograde recanalization
Emergency medical care in acute coronary syndrome (around the clock)

Treatment of heart rhythm disorders

Pacemaker implantation
Defibrillator implantation
Cardiac resynchronization therapy for patients with advanced chronic heart failure
Event recorder implantation (to determine the causes of syncope of unclear origin, diagnostics of atrial fibrillation)

Treatment of structural heart diseases

Closure of the open foramen ovale using catheter-assisted techniques
Preliminary diagnostics and clarification of indications for transcatheter aortic valve implantation (the procedure is carried out within specialized partner clinics)

Other medical services
Curriculum vitae of Dr. med. Richard Stern
Education
1977 - 1984 Study of Human Medicine at the Free University of Berlin.
1981 - 1984 Experimental thesis at the Institute for Toxicology and Embryonic Pharmacology (under the guidance of Prof. Merker).
Professional Career
1985 - 1989 Assistant Physician, Berlin Jewish Hospital, Department of Internal Medicine, Department of Radiology and Nuclear Medicine.
1989 - 1996 Assistant Physician, Charite University Hospital Berlin, Campus Benjamin Franklin, Department of Cardiology and Pulmonology.
1993 Board certification in Internal Medicine.
1996 Board certification in Cardiology.
1996 - 1997 Senior Physician at the Martin Luther King Hospital, Internal Medicine, Berlin.
1997 - 2005 Deputy Head and Leading Senior Physician of the Department of Cardiology and Intensive Care at the Vivantes Am Urban Hospital and the Vivantes Hospital Friedrichshain, Berlin.
2005 - 2012 Medical Director of the Heart Failure Center at the Berlin Jewish Hospital.
Since 2013 Chief Physician of the Department of Gastroenterology, Hepatology, Oncology, Diabetology and Cardiology at the Academic Hospital Schlosspark Berlin.
Memberships in Professional Societies
German Society of Cardiology, Working Group on Heart Failure.
Board of Trustees of the Men's Health Foundation.
Berlin Society for Prevention and Rehabilitation of Patients with Cardiovascular Diseases.
Photo of the doctor: (c) Schlosspark-Klinik GmbH
Department of Gastroenterology, Hepatology, Oncology, Diabetology and Cardiology.
Academic Hospital Schlosspark Berlin:

Request more information now.
We will be happy to answer all your questions.
---
Certificates