Schlosspark Hospital Berlin
Department of Neurosurgery and Spinal Surgery (

278869

)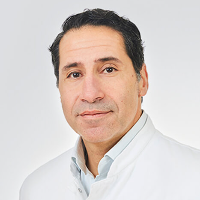 Prof. Dr. med.
Theodoros Kombos
Specialized in: neurosurgery, spinal surgery
About the Department of Neurosurgery and Spinal Surgery at Schlosspark Hospital Berlin
The Department of Neurosurgery and Spinal Surgery at the Schlosspark Hospital Berlin specializes in modern surgical interventions for diseases of the central and peripheral nervous systems. The department successfully performs surgical procedures for brain and spinal cord tumors, pituitary tumors, brain vascular lesions and malformations, hydrocephalus, spinal diseases, and pathological changes in the peripheral nervous system. The department's doctors have top-class professional skills and long experience, which, combined with advanced technologies, allow them to achieve excellent treatment results. High accuracy and efficiency of surgical treatment are ensured through the preliminary planning of the operation with modern imaging systems and the use of advanced navigation systems. The department's specialists prefer low-traumatic surgery, so minimally invasive, microsurgical, and endoscopic techniques are widely used in the department. Neurosurgeons cooperate closely with neurologists, thereby providing patients with comprehensive medical care. The Head Physician of the department is Prof. Dr. med. Theodoros Kombos.
Brain tumor surgery is one of the priority tasks of the department's specialists. Operations for gliomas, meningiomas, astrocytomas, and neurinomas are regularly performed here. Neurosurgical interventions to resect brain tumors are complex and high-tech operations, as doctors have to not only remove the neoplasm as much as possible but also prevent damage to functionally important areas of the brain. All operations for brain tumors are performed in the department using state-of-the-art computer navigation systems, which allow neurosurgeons to preserve the integrity of the brain structures and prevent the development of irreversible brain damage. The department's doctors use microsurgical techniques to remove small brain tumors, while resecting larger neoplasms requires a craniotomy. A treatment regimen for brain cancer is usually supplemented with chemotherapy and/or radiation therapy. Advanced brain malignancies often spread metastases to the lungs, breast, kidneys, and other organs. In such cases, highly specialized doctors, such as pulmonologists, thoracic surgeons, nephrologists, and breast care specialists, are additionally engaged in the treatment of patients.
The department's neurosurgeons often have to deal with neurovascular diseases. Special attention is paid to surgery for aneurysms, angiomas, cavernomas, and arteriovenous fistulas. A brain aneurysm is a pathological bulging of the wall of an artery that supplies the brain. If an aneurysm ruptures, the blood contained within it spills into the brain, which may lead to severe complications or even death. The department's neurosurgeons strongly recommend patients diagnosed with aneurysms not delay their visit to a doctor and undergo a timely surgical intervention to exclude the aneurysm from the bloodstream before its rupture. The main methods for diagnosing a brain aneurysm include CT, MRI, and angiography. However, in many cases, the patient has no symptoms and is therefore unaware of the presence of an aneurysm. In such cases, the aneurysm is often detected incidentally during a preventive check-up or diagnostics for another disease. As for the treatment, the optimal method is minimally invasive endovascular surgery to exclude the aneurysm from the bloodstream, which helps prevent its rupture and the associated health consequences. When performing the endovascular intervention, the department's neurosurgeon makes a femoral artery puncture, inserts a thin guidewire into it, and directs it to the pathological focus. With miniature instruments, the doctor fills the aneurysm with a platinum microcoil or implants a stent in the damaged section of the artery to strengthen the vascular wall. All surgical manipulations are performed under imaging guidance, which ensures their utmost precision and safety. In cases where brain aneurysm ruptures occur, the department's specialists perform an urgent surgical intervention.
The department has also succeeded in treating hydrocephalus. The pathology develops due to an abnormal accumulation of cerebrospinal fluid in the ventricles of the brain. The most effective treatment for hydrocephalus is shunting. The essence of the intervention involves the removal of excess cerebrospinal fluid from the ventricular system of the brain using a special system of tubes and valves into natural body cavities, such as the abdominal or pleural cavity. Shunting for hydrocephalus is performed using endoscopic techniques and a neuronavigation system, so that the risk of damage to the blood vessels of the brain and neurological deficits in the postoperative period is virtually excluded.
Spinal surgery is an integral part of the department's clinical practice. The department's neurosurgeons offer patients modern surgical interventions for the treatment of cervical, thoracic, and lumbar disc herniations, spinal stenosis, spondylolisthesis, spinal tumors, and infectious spinal diseases. Spinal surgery is performed using sparing microsurgical, minimally invasive, or endoscopic techniques. Following such interventions, patients recover as quickly as possible and can return to their normal lives.
The department's clinical focuses include:
Neurosurgery

Surgery for benign and malignant brain tumors
Surgery for benign and malignant pituitary tumors
Surgery for neurovascular diseases

Surgery for brain aneurysms
Surgery for angiomas
Surgery for cavernomas
Surgery for arteriovenous fistulas

Surgery for hydrocephalus in adults
Surgery for peripheral nerve compression syndromes

Spinal surgery

Surgery for benign and malignant spinal, spinal cord, and spinal nerve tumors
Surgery for cervical, thoracic, and lumbar disc herniations
Surgery for spinal stenosis
Surgery for spondylolisthesis
Surgery for infectious spinal lesions

Other surgical options
Curriculum vitae of Prof. Dr. med. Theodoros Kombos
Higher Education and Professional Сareer
1993 Graduation from the University of Bonn, thesis defense, and doctorate.
1993 - 1995 Internship, Department of Neurosurgery, Charite University Hospital Berlin.
1995 - 1999 Research Fellow, Department of Neurosurgery, Charite University Hospital Berlin.
1999 Board certification in Neurosurgery, Berlin Medical Association.
1999 - 2011 Managing Senior Physician and Deputy Head in the Department of Neurosurgery at the Charite University Hospital Berlin.
2001 Habilitation in Neurosurgery, Free University of Berlin.
2007 Extraordinary Professorship, Charite University Hospital Berlin.
2012 - 2014 Head Physician, Department of Neurosurgery (focus on spinal surgery), Hildesheim Hospital.
Since April 2014 Head Physician of the Department of Neurosurgery and Spinal Surgery at the Schlosspark Hospital Berlin.
Memberships in Professional Societies
German Society of Neurosurgery.
American Association of Neurological Surgeons.
American Society of Neurophysiological Monitoring.
American Clinical Neurophysiology Society.
Working Group on Spinal Surgery of the German Society for Computer- and Robot-Assisted Surgery.
German Society for Spine Surgery.
Professional Association of German Neurosurgeons.
Photo of the doctor: (c) Schlosspark-Klinik GmbH
Department of Neurosurgery and Spinal Surgery.
Schlosspark Hospital Berlin:

Request more information now.
We will be happy to answer all your questions.
---
Certificates