Department of Cardiology, Pulmonology, Gastroenterology, Oncology and Infectology (

303009

)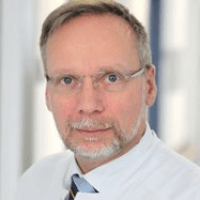 Dr. med.
Henning Henke
Specialized in: cardiology, pulmonology, gastroenterology, oncology, infectology
About the department
The Department of Cardiology, Pulmonology, Gastroenterology, Oncology and Infectology at the St. Josef Hospital Haan offers the full service range in these fields. The department specializes in the diagnostics and treatment of cardiovascular diseases, pathologies of the lungs and other organs of the respiratory system, diseases of the gastrointestinal tract, liver, cancers and infectious diseases. The special section of the department is the integrated Sleep Laboratory, which carries out a comprehensive diagnostics of sleep and the treatment of sleep-related breathing disorders. The department is headed by Dr. med. Henning Henke.
The team of the department's highly qualified gastroenterologists provides the prevention, diagnostics, conservative and interventional treatment of gastrointestinal diseases. The clinical practice involves the use of modern endoscopic equipment, which helps the doctors not only to determine the localization of the pathological process, but also to conduct effective treatment. For example, during the endoscopic examination, the therapeutic interventions can be carried out simultaneously for such pathological conditions as bile duct stones, bowel polyps and pancreatic diseases.
The department has three special imaging systems with high-performance processors and modern image processing technology. These systems can be connected to endoscopes for gastroscopy, colonoscopy and bronchoscopy. They allow the doctor to obtain high-quality images of human internal organs. This plays a particularly important role in colorectal cancer screening, as the equipment makes it possible to imagine and safely remove even very small colon polyps. Thus, the department's very latest technologies allow the patients to avoid traumatic open surgery and subsequent long postoperative recovery.
One of the key focuses is also oncology. The cancer patients are treated within the specialized Cancer Center of the Kplus Group (founded in collaboration with the West German Bowel Cancer Center, WDC). All diagnostic and therapeutic measures, which are carried out in the center, comply with the strict requirements of the German Cancer Society. The treatment is based on an individual approach to each patient. Every week, the center holds interdisciplinary tumor boards aimed at the development of the optimal treatment regimen for a particular clinical case.
A team of the department's competent cardiologists work hard for the benefit of their patients. Their scope of tasks includes the diagnostics and treatment of cardiovascular diseases. Many patients with coronary artery disease seek medical help from the department, since it poses a high risk of development of acute coronary syndrome and myocardial infarction.Therefore, the department implemented a special DMP KHK program (approved by the German Federal Ministry of Health), the development of which was guided by the qualified doctors and scientists of the country. The purpose of this program is to provide improved medical care for patients with chronic cardiac pathologies.
The department has in its arsenal all non-invasive diagnostic techniques. A modern 3D ultrasound device can be used both for the diagnostics and treatment of coronary artery disease. In addition, such examinations as stress echocardiography and transesophageal echocardiography are widely applied here. For the treatment of heart arrhythmias, single- and dual-chamber pacemakers and defibrillators are implanted in cooperation with the Department of General Surgery. Also, the department has an outpatient clinic, which specializes in follow-up monitoring of implanted devices. The service range is complemented by the implantation of event recorders in the cases of suspected arrhythmia and right heart catheterization, which allow to carry out differential diagnostics and treatment of concomitant lung diseases.
In the field of pulmonology, of particular interest is the treatment of bronchial asthma and chronic obstructive pulmonary disease. The therapeutic offer also includes the treatment of pneumonia, acute and chronic bronchitis, malignant lung tumors and other pathologies in this field. The sleep-related breathing disorders are diagnosed and treated within the high-tech Sleep Laboratory. An important focus of the laboratory is home and prolonged mechanical ventilation, which improves the function of external respiration in patients with weakened respiratory muscles, advanced lung diseases or deformed thorax.
The department's range of medical services includes:
Endoscopic examinations and therapeutic procedures

Outpatient and inpatient gastroscopy
Outpatient and inpatient colonoscopy
Polyp removal
Endoscopic removal of tumors of esophageal and stomach lining (mucosectomy)
Endoscopic retrograde cholangiopancreatography
Endoscopic gallstone removal
Endoscopic implantation of stents in the bile ducts and pancreatic duct
Endoscopic implantation of esophageal stents (for example, in tumors)
Endoscopic hemostasis
Percutaneous endoscopic gastrostomy
Endosonography using fine needle aspiration and drainage placement

Functional diagnostics

Short-term and long-term pH-metry (measurement of acidity in the esophagus and stomach)
Esophageal manometry (esophageal pressure measurement)
Hydrogen breath test to detect lactose intolerance, lactose malabsorption
Hydrogen breath test to detect small intestinal dysbiosis

Ultrasound diagnostics

Abdominal sonography
Thyroid sonography
Soft tissue sonography
Contrast-enhanced sonography
Color Doppler sonography of the abdominal vessels (portal vein, renal arteries, mesenteric vessels)
Color Doppler sonography of the main and carotid arteries
Compression sonography of deep veins of the lower limbs in order to exclude thrombosis
Abscess drainage
Ultrasound-guided diagnostic punctures (liver tissue, cysts, tumors)

Cardiological diagnostics and therapeutic procedures

Transthoracic echocardiography
Transesophageal echocardiography
Stress echocardiography
Implantation of pacemakers
Implantation of defibrillators
Implantation of event recorders to detect rare cardiac arrhythmias
Monitoring of the functioning of pacemakers and defibrillators (within a special outpatient clinic)
Pericardial puncture (pericardiocentesis)
Spiroergometry
ECG, long-term ECG, ergometry
24-hour blood pressure monitoring

Pulmonary diagnostics and therapeutic procedures

Pulmonary function testing with stress and at rest, blood gas test
Carbon dioxide monitoring while breathing (capnography)
Diagnostics and treatment within the Sleep Laboratory: screening for sleep-related breathing disorders (for example, obstructive sleep apnea)
Artificial lung ventilation in severe respiratory diseases, including ventilation at home
Weaning
Allergy tests
Bronchoscopy with fine needle biopsy and bronchoalveolar lavage
Placement of pleural drainage and pleurodesis (artificial bonding of pulmonary pleurae)

General intensive care
Bone marrow aspiration
Diet therapy
Other diagnostic and therapeutic options
Photo of the doctor: (c) St. Josef Krankenhaus Haan
Department of Cardiology, Pulmonology, Gastroenterology, Oncology and Infectology.
St. Joseph Hospital Haan:

Request more information now.
We will be happy to answer all your questions.
---
Certificates