St. Vincentius Hospital Karlsruhe-Academic Hospital of the University of Freiburg
Department of Ophthalmology and Pediatric Ophthalmology (

333744

)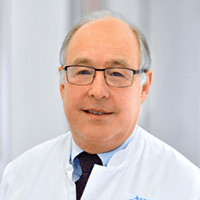 Prof. Dr. med.
Wolfgang E. Lieb
Specialized in: ophthalmology, pediatric ophthalmology
About the department
The Department of Ophthalmology and Pediatric Ophthalmology at the St. Vincentius Hospital-Academic Hospital of the University of Freiburg offers the full range of services in the diagnosis and treatment of eye diseases. The areas of specialization include conjunctival and corneal diseases, disorders of the lacrimal apparatus, cataracts, glaucoma, retinal disorders, etc. The department has four operating rooms equipped with the state-of-the-art medical, the most accurate technique. The chief physician of the department is Prof. Dr. med. Wolfgang E. Lieb.
One of the priorities is the treatment of conjunctival and corneal diseases. The department performs both urgent and elective corneal transplantations, diagnostics and treatment of keratoconus, crosslinking. Also, the department offers a wide range of eyelid surgeries: correction of eyelid abnormalities, removal of malignant tumors, reconstructive surgery, cosmetic surgery, for example, upper and lower eyelid lift.
A special focus is placed on the treatment of retinal diseases. These include retinal detachment, degenerative changes in the retina, diabetic retinopathy, macular degeneration, blockage of blood vessels, etc. The department offers absolutely all modern methods of diagnostics and treatment of retinal and vitreous disorders, seamless vitrectomy, intravitreal injections, laser therapy, etc.
Main focuses of the department:
Treatment of conjunctival and retinal diseases
Treatment of eyelid diseases
Diagnosis and surgical treatment of disease of the lacrimal apparatus
Diagnosis, conservative and surgical treatment of glaucoma
Retinal diseases
Neuro-ophthalmology
Pediatric and adolescent ophthalmology
Strabismus correction
Diagnosis and treatment of inflammation of the uveal tract
Diseases of the orbit and optic nerve
Diagnostic capabilities:
Autorefractometry
Optical laser coherence tomography
Heidelberg Retinal Tomography
Corneal endothelium microscopy
Computer perimetry and Goldmann perimetry
Retinometry
Keratography and keratometry
Pachymetry
Electrophysiology
High-frequency ultrasonic A-B scanning
Anomaloscopy for the diagnosis of color vision disorders
Fluorescent angiography
Cameras for shooting both anterior and posterior segments of the eye
Tonometry and tonography, 24-hour monitoring of intraocular pressure
Biomicroscopy, ophthalmoscopy
Selection and calculation of intraocular lenses
Selection of glasses, contact lenses, as well as special glasses and reading aids for people with macular degeneration
Photo of the doctor: (c) ViDia Kliniken Karlsruhe
Department of Ophthalmology and Pediatric Ophthalmology.
St. Vincentius Hospital Karlsruhe-Academic Hospital of the University of Freiburg:

Request more information now.
We will be happy to answer all your questions.
---