St. Vincentius Hospital Karlsruhe-Academic Hospital of the University of Freiburg
Department of Hematology, Oncology, Immunology and Palliative Care (

333810

)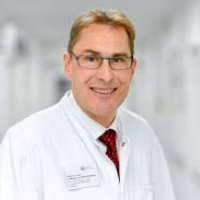 Prof. Dr.
Christian Meyer zum Büschenfelde
Specialized in: hematology, oncology, immunology, palliative care
About the department
The Department of Hematology, Oncology, Immunology and Palliative Care at the St. Vincentius Hospital-Academic Hospital of the University of Freiburg specializes in the diagnosis and treatment of patients suffering from blood diseases, oncological and immunological diseases. Palliative medicine also belongs to the main directions of the department. The head of the department Prof. Dr. Christian Meyer zum Büschenfelde.
The department specializes in the treatment of oncological diseases. Classical chemotherapy with cytotoxic drugs (cytotoxins) is offered here. With the knowledge of the metabolism of cancer cells, doctors managed to use these drugs to kill cancer cells without harming the healthy cells of the body. Thus, chemotherapy helps maintain a satisfactory quality of life for the patient and improves the result of treatment. Chemotherapy or chemotherapy in combination with radiation therapy is used to treat leukemia (blood cancer), malignant lymphoma (cancer of the lymph nodes), some forms of lung cancer, ovarian cancer, testicle and anal cancer. In the treatment of other cancers, subsequent chemotherapy (after surgery) is performed, which can significantly reduce the risk of recurrence, for example, in colon cancer, stomach cancer, breast cancer or bladder cancer. In some cases, chemotherapy and radiotherapy are performed before surgery so that the intervention is less extensive, more sparing and more successful, for example, in some forms of lung, breast and rectal cancer.
Targeted therapy is also an excellent method of treating cancer. Compared with classical chemotherapy, it has fewer side effects. A striking example of this is the use of targeted therapy for chronic myeloid leukemia, which today is perfectly treatable with inhibitors of tyrosine kinase ABL.
The department performs histological and genetic studies that help to identify subgroups of cancer. Thus, patients have the opportunity for more focused, and therefore more effective treatment.
When a person is diagnosed with a malignant disease or a blood disease, he/she experiences a severe emotional shock. All staff of the department, social workers and psychological support services try to help patients and support them. Individual consultations and conversations are held for this purpose. In addition, the department provides advice to a qualified psychotherapist.
The department has a variety of surgical units, which perform operations on the digestive organs, chest cavity, vessels, as well as traumatological, orthopedic operations, reconstructive operations of the musculoskeletal system, surgical treatment of eye diseases and ENT organs.
The radiation therapy unit is equipped with instruments of gamma and electron radiation, stereotactic radiotherapy. Intracavitary irradiation and brachytherapy are performed here as well. Three-dimensional computed tomography is used to determine the irradiation zone.
The spectrum of services of the department covers the treatment of the following diseases:
Hematology (blood diseases)
Anemia
Leukocyte disorder (weakening of the immune system, leukemia)
Thrombocyte disorders (tendency to bleed)
Malignant tumors, eg, plasmacytoma, Hodgkin's disease and malignant lymphoma (lymph node cancer)
Oncology
Lung cancer
Cancer of the gastrointestinal tract, including pancreas
Kidney Cancer
Bladder cancer
Breast cancer and many others
Immunology
Diseases that weaken the immune system
Diseases in which the immune system works to the detriment of the body (eg some forms of rheumatism)
Photo of the doctor: (c) ViDia Kliniken Karlsruhe
Chemotherapy and radiation therapy of multiples myeloma
Chemotherapy in ovarian cancer
Treatment of endometrial cancer (uterine cancer) with radiotherapy or brachytherapy and chemotherapy
Department of Hematology, Oncology, Immunology and Palliative Care.
St. Vincentius Hospital Karlsruhe-Academic Hospital of the University of Freiburg:

Request more information now.
We will be happy to answer all your questions.
---