St. Vincentius Hospital Karlsruhe-Academic Hospital of the University of Freiburg
Department of Pulmonology (

333812

)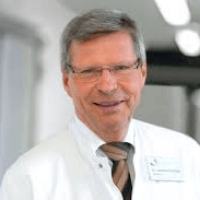 Dr. med.
Johannes Schildge
Specialized in: pulmonology
About the Department of Pulmonology at St. Vincentius Hospital Karlsruhe-Academic Hospital of the University of Freiburg
The Department of Pulmonology at the St. Vincentius Hospital-Academic Hospital of the University of Freiburg deals performs diagnosis and treatment of respiratory diseases: trachea, bronchi, lungs and pleura. The department is headed by Dr. med. Johannes Schildge.
The department has 28 beds and an intensive care unit. In addition, there is a laboratory that performs a lung function study, an endoscopy unit, a bronchoscopy laboratory and a sleep laboratory.
The laboratory of pulmonary function performs all necessary pulmonological studies of lung ventilation, breathing mechanics, gas exchange, cardiac function, lungs and small circulation.
The laboratory has modern equipment for conducting such studies:
Spirometry
Whole body plethysmography
Diffusion of carbon dioxide (inhalation-exhalation)
Measurement of respiratory activity and respiratory capacity (p0.1, pimax)
Measurement of sensitivity to CO2
Bronchial provocative testing (nonspecific and specific)
Spiroergometry (respiratory cycles)
Cardiac catheterization of the right heart with measurement of pulmonary vasoreactivity
Blood gas analysis
Lactate blood test
Nitric oxide (NO) and carbon monoxide (CO) in the exhaled air
The endoscopy unit has all the necessary equipment for performing a differentiated diagnosis of the bronchopulmonary system and various therapeutic procedures in the central respiratory tract. Specialists of the department have extensive experience in the treatment of critical narrowing of large bronchi. An important direction of the unit is bronchoscopic diagnosis of patients with pulmonary fibrosis.
The following procedures are performed in the unit:
Bronchoscopy with biopsy of the central respiratory tract
Bronchoscopy with bronchoalveolar lavage (BAL)
Determination of surface properties of cells in the cell laboratory of the unit
Bronchoscopy with peripheral lung biopsy
Bronchoscopy with transbronchial biopsy
Bronchoscopy with laser therapy (laser ablation of tissue)
Bronchoscopy with intrabronchial radiotherapy (afterloading) in cooperation with the department of radiation therapy
Bronchoscopy with stenting
Non-endoscopic procedures:
Ultrasound of the thoracic organs
Drainage of the pleural cavity
Transthoracic puncture
Cardiac catheterization of the right heart
Restless and depraved sleep is very common - almost every second person faces this problem today. Therefore, the department had an equipped modern sleep laboratory, in which a wide range of studies are conducted to identify the causes of sleep disorders. The most common cause of poor sleep are breathing disorders. Of particular interest to laboratory specialists is snoring and the syndrome of obstructive sleep apnea, which in most cases leads to serious health problems and worsens the quality of human life.
Photo of the doctor: (c) ViDia Kliniken Karlsruhe
Department of Pulmonology.
St. Vincentius Hospital Karlsruhe-Academic Hospital of the University of Freiburg:

Request more information now.
We will be happy to answer all your questions.
---