St. Vincentius Hospital Karlsruhe-Academic Hospital of the University of Freiburg
Department of Diagnostic and Interventional Radiology (

333815

)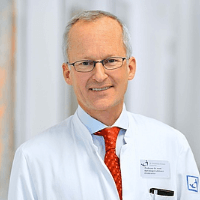 Prof. Dr.
Karl-Jürgen Lehmann
Specialized in: diagnostic and interventional radiology
About the department
The Department of Diagnostic and Interventional Radiology at the St. Vincentius Hospital-Academic Hospital of the University of Freiburg performs diagnosis and treatment of patients by using diagnostic imaging and the possibilities of interventional radiology both in outpatient and in inpatient settings. The head of the department is Prof. Dr. Karl-Jürgen Lehmann.

The spectrum of services of the department covers classical radiographic and functional radiology diagnostics, computed tomography, magnetic resonance imaging, angiography, mammography and sonography. In cooperation with the Department of Nuclear Medicine, the department performs PET-CT and SPECT-CT.
Interventional Radiology covers complex treatment of vascular diseases, pain relief and drainage of internal organs, treatment of tumors with chemo-perfusion, embolization and radiofrequency ablation, analgesic therapy and biopsies of suspicious lesions under the supervision of visualization methods. Emergency medical care, for example, in constant bleeding and occlusion of blood vessels is performed around the clock.
The spectrum of medical services of the Department of Interventional Radiology covers:
Diseases of blood vessels
Vascular dilation and balloon catheter implantation (STA), stenting and other methods (eg, lysis, atherectomy, thrombectomy)
Interventions on vessels with aneurysms and other vascular malformations, eg, with arteriovenous malformations
Bronchial arteriography and embolism in hemoptysis
Interventions for occlusion of vessels (embolization) in tumors and bleeding
Implantation of vascular prostheses (endovascular aneurysm correction)
Embolization of uterine myoma
Sclerotherapy with varicocele in men or iliac vein syndrome in women
Repeated surgeries dialysis shunts
Visualization of tear ducts and dilatation
Lymphography for treatment of persistent postoperative lymphatic fistulas
Emergency medical care (acute bleeding, acute occlusion of vessels, etc.)
Oncological diseases
Chemoembolization, especially for liver tumors (TACHE)
Radiofrequency ablation, especially in liver tumors
Embolization of the portal vein
Percutaneous transhepatic cholangiostomy (CCHC)
Preoperative embolization of blood vessels
Treatment of acute or recurrent bleeding from a tumor
Installation of nephrostomy / double J-catheter
Also the department offers the following services:
CT and MRI of the heart
Mammography
MR mammography
Biopsy under the control of mammography
Pain therapy under the control of visualization methods (the focus is on the treatment of back pain: nerve roots, facet joints)
PET-CT and SPECT-CT (in cooperation with the Department of Nuclear Medicine)
Photo of the doctor: (c) ViDia Kliniken Karlsruhe
Department of Diagnostic and Interventional Radiology.
St. Vincentius Hospital Karlsruhe-Academic Hospital of the University of Freiburg:

Request more information now.
We will be happy to answer all your questions.
---