Tel Aviv Sourasky Medical Center
Department of Adult and Pediatric Ophthalmology (

302985

)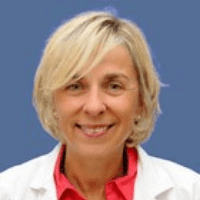 Prof. Dr. med.
Anat Loewenstein
Specialized in: adult and pediatric ophthalmology
About the Department of Adult and Pediatric Ophthalmology at Tel Aviv Sourasky Medical Center
The Department of Adult and Pediatric Ophthalmology at the Tel Aviv Sourasky Medical Center provides the highly accurate diagnostics and effective treatment of the full range of diseases of the eye and its appendages in patients of all age groups. It offers an inpatient treatment, outpatient medical care and emergency care. The department's successful clinical practice is based on the use of cutting-edge medical equipment, innovative treatment methods, as well as on the exceptional professionalism of doctors who have long experience and internships in the best clinics in America and Europe. The Chief Physician of the department is Prof. Dr. med. Anat Loewenstein.
The department carries out specialized diagnostic imaging examinations. The most common of them include optical coherence tomography, ultrasound examination of the eye, visual field testing, as well as angiogram for the assessment of blood flow in the retinal vessels. The above examinations are the basis for provision of the most accurate diagnostics and selection of the appropriate treatment in glaucoma, diseases of the central or peripheral part of the retina, diseases of the eyelids and optic nerve.
The inpatient treatment in the department includes preoperative preparation, surgical interventions, postoperative monitoring, emergency care for eye injuries, as well as planned operations. Emergency care is provided around the clock. The emergency care specialists mostly have to deal with the treatment of traumatic eye injuries, severe eye infections, removal of foreign objects, treatment of chemical burns and sudden vision loss.
The department's ophthalmologists also offer consultations on such medical issues as headaches (which can be caused by increased intracranial pressure), visual loss due to neurological disorders and facial trauma, including eye socket fractures.
The department specializes in the diagnostics and treatment of the following ophthalmic diseases:
Retinal and vitreous disorders
Cataract
Eye diseases and strabismus in children
Corneal and anterior eye diseases
Glaucoma
Neuro-ophthalmological diseases
Inflammatory eye diseases
Diseases of the eyelids, lacrimal duct and orbit (oculoplastics)
Poor vision
Other pathologies
The department's range of medical services includes:
Intravitreal injections for retinal diseases
Retinal surgery
Modern corneal transplantation surgery
Trabeculectomy for glaucoma treatment
Strabismus correction surgery
Pterygium removal surgery to remove benign conjunctival neoplasms
Surgery to correct upper eyelid ptosis
Cataract surgery
Plastic eyelid surgery
Orbital surgery
Surgery to treat eyelid cysts
Other treatment methods
Curriculum vitae of Prof. Dr. med. Anat Loewenstein
Education
Medical School, Hebrew University, Jerusalem, Israel.
Continuing Education
Wilmer Eye Institute (Vitreoretina), Johns Hopkins University Hospital, Baltimore, USA.
Clinical Experience
Senior Ophthalmologist, Specialist in Vitreoretinal Diseases and Surgery.
Academic Experience
Vice Dean, Sackler Faculty of Medicine, Tel Aviv University, Israel.
Full Professor of Ophthalmology, Tel Aviv University, Israel.
Health Administration, Recanati School of Business Administration, Tel Aviv University, Israel.
Conference Participation
More than 200 presentations at scientific meetings and lectures as invited professor.
Memberships in Professional Societies
Executive Positions

Secretary General of the Euretina Board, European Society of Ophthalmology.
Macula Society (since 2012, International Representative to the Executive Board).
National Council for Surgery, Anaesthetics and Intensive Care.
Chair Academia Ophthalmologica Internationalis.

Memberships

Association for Clinical Research.
Club Jules Gonin.
Retina Society.
Israeli Medical Association.
Israeli Ophthalmological Society.
Israeli Society for Research.
Association for Research in Vision and Ophthalmology.
American Academy of Ophthalmology.
American Society of Retina Specialists.
Photo of the doctor: (c) Tel Aviv Sourasky Medical Center
Department of Adult and Pediatric Ophthalmology.
Tel Aviv Sourasky Medical Center:

Request more information now.
We will be happy to answer all your questions.
---