TravelMEDI Clinic Istanbul
Department of Adult and Pediatric Plastic Surgery (

612691

)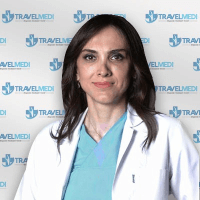 Dr. med.
Esra Bilgen
Specialized in: adult and pediatric plastic surgery
About the Department of Adult and Pediatric Plastic Surgery at TravelMEDI Clinic Istanbul
The Department of Adult and Pediatric Plastic Surgery at the TravelMEDI Clinic Istanbul offers various types of modern interventions to improve the appearance, rejuvenate skin, correct congenital and acquired defects. The department's specialists mostly admit patients who want to improve their appearance or get rid of age-related changes. The department successfully performs such procedures as face and neck lift, nose and ear reshaping, liposuction, arm and thigh lift, intimate plastic surgery, breast plastic surgery and other operations. If possible, sparing surgical techniques are used to repair scars and guarantee rapid postoperative recovery. The department is headed by Dr. med. Esra Bilgen.
One or another operation is preceded by a consultation, during which the plastic surgeon discusses in detail with the patient his complaints, wishes and expectations from the final result. Then the surgeon offers possible options for operations and prescribes the necessary set of diagnostic tests. In addition, the department has the very latest computer systems for the simulation of the expected result of plastic surgery on the face or body, which helps to achieve the desired outcome of the intervention.
The department has a pleasant and friendly atmosphere. The specialists are happy to inform patients about all the nuances of treatment, possible postoperative consequences and risks. The department strictly adheres to national and international clinical protocols, uses state-of-the-art equipment and surgical instruments, which, in combination with the excellent professional skills of plastic surgeons, guarantees the desired result.
The department's range of surgical services includes:
Facial plastic surgery

Nose reshaping (rhinoplasty)

Open rhinoplasty
Closed rhinoplasty
Nose reshaping using fillers in minor deformities
Ultrasound rhinoplasty
Nasal tip rhinoplasty
Septoplasty (surgery to correct the nasal septum deviation)
Revision rhinoplasty

Ear reshaping (otoplasty), including in children (after the age of 6 years)
Facelift

Non-surgical facelift using high-intensity focused ultrasound (HIFU)
Mini facelift
Mid-facelift
Full face lift

Neck lift
Eyelid surgery (blepharoplasty)

Upper blepharoplasty
Lower blepharoplasty
Non-surgical eyelid correction using Jett Plasma technique

Brow lift

Surgical methods – classical surgical lifting, endoscopic surgical lifting
Non-surgical facelift using high-intensity focused ultrasound (HIFU)
Threads brow lift

Bichectomy (removal of Bisha lumps)

Body plastic surgery

Liposuction

Ultrasonic liposuction (Vaser)
Laser liposuction
High Definition liposuction

Abdominoplasty

Mini-abdominoplasty
Circular abdominoplasty

Brazilian butt lift using fillers, autologous fat injections, silicone implants
Lipofilling for breast augmentation, penis augmentation, buttock augmentation
Hand lift
Thigh lift
Intimate plastic surgery

Labiaplasty
Vaginoplasty
Pubis reduction surgery
Correction of incisions made during natural childbirth
Hymenoplasty

Mommy Makeover for body shaping after childbirth

Breast plastic surgery

Breast augmentation
Breast reduction
Breast lift
Gynecomastia treatment in men

Other plastic surgeries
Curriculum vitae of Dr. med. Esra Bilgen
Surgeon Esra Bilgen was born in Ankara in 1977. She completed her Medicine Education at 19 Mayıs University Faculty of Medicine in 2000 and she completed her major education of Plastic and Reconstructive Surgery at Ankara Dışkapı Yıldırım Beyazıt Training and Research Hospital in 2010. She attended many international and national scientific meetings. Furthermore, she has internationally recognized publications and bulletins. She worked at big hospital chains such as Medical Park and Memorial HealthCare Group.
Professional skills: Plastic Surgery, Rhinoplasty, Liposuction, Mammoplasty, Gynecomasty, Otoplasty, Abdominal Esthetics, Facial Rejuvenation
Place of Birth: Ankara
Language: English, Turkish
Education: 19 Mayis University Faculty of Medicine (1994-2000)
History of Study: Ankara Diskapi Yildirim Bayezit Training and Research Hospital (2006-2010), MedicalPark (2010-2013), Memorial Healthcare Group (2012-2015)
Associations: Turkish Society of Plastic Surgeons, Istanbul Medical Chamber, Turkish Doctors Union
Photo of the doctor: (c) TravelMEDI
Correction of the nose tip and deviated septum
Rhinoplasty (nose job) for nose deformity (without septum)
Facelift with endoscopic lifting
Department of Adult and Pediatric Plastic Surgery.
TravelMEDI Clinic Istanbul:

Request more information now.
We will be happy to answer all your questions.
---
Certificates