Diagnostic tests for syringomyelia (program ID:

532115

)
University Hospital Marburg UKGM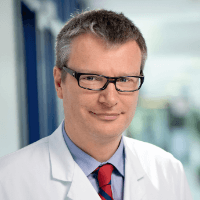 Head Physician
Prof. Dr. med.
Christopher Nimsky
Specialized in: adult and pediatric neurosurgery
Department of Adult and Pediatric Neurosurgery
The program includes:
Initial presentation in the clinic
clinical history taking
review of medical records
physical examination
general neurological examination
neuropsychological tests:

electroneuromyography (ENMG)

laboratory tests:

complete blood count
inflammatory indicators (CRP, ESR)
indicators of blood coagulation

CT scan of spinal cord (on indication 650 €)
MRI scan of spinal cord (on indication 1200 €)
nursing services
consultation of all leading experts
development of individual treatment plan
written statement
Required documents:
Medical records
MRI/CT scan (if available)
Service
Price:
Type of program :
Expected duration of the program:
You may also book:

Price:
About the department
The Department of Adult and Pediatric Neurosurgery at the University Hospital Marburg UKGM offers all modern surgical interventions for the treatment of pathologies of the nervous system. The clinical focuses include the treatment of oncological diseases of the nervous system (neuro-oncology), skull base surgery, vascular neurosurgery, spinal surgery and functional neurosurgery, including the surgical treatment of epilepsy. The Chief Physician of the department is Prof. Dr. med. Christopher Nimsky.
As a state-of-the-art medical facility, the department has the advanced systems for deep brain stimulation, multimodal neuronavigation devices, intraoperative neuronavigation using CT, ultrasound systems, fluorescence imaging devices and endoscopy equipment. Thus, the department has all the possibilities to ensure effective treatment according to the international standards.
Since the key to successful therapy is the accurate diagnostics, the department also offers advanced diagnostic tests, such as CT, MRI, angiography, myelography, ultrasound, electrophysiological studies, etc.
One of the department's key focuses is the surgical treatment of oncological diseases of the nervous system, in particular, brain tumors and metastases (Neuro-Oncology Center certified by the German Cancer Society). The first stage is the comprehensive diagnostics, after which there is developed a treatment regimen at a weekly tumor board with the participation of radiation therapists, oncologists, neurologists, neuroradiologists, neuropathologists, etc. The department's neurosurgeons have unique experience in the treatment of gliomas located near the eloquent regions of the brain. In the course of such operations, the surgeons widely use multimodal navigation and intraoperative imaging methods, which allow to perform resection as complete as possible with a low risk of developing postoperative neurological deficit.
Particular attention is paid to the treatment of young patients. Children are treated in close collaboration with experts from the related fields, such as neuropediatricians, pediatric oncologists, pediatric surgeons, neonatologists. The department's neurosurgeons mostly perform operations in children to treat hydrocephalus, spina bifida, brain and spinal cord tumors, brachial plexus paralysis, pathology of the skull base. Whenever possible, minimally invasive and endoscopic techniques are used. Neurosurgical interventions in children are also performed using neuronavigation, intraoperative ultrasound, fluorescence and advanced neuromonitoring.
The department's spectrum of medical services includes:
Surgical treatment of cancers of the nervous system (neuro-oncology)
Skull base surgery
Vascular neurosurgery (focus on the treatment of intracranial and spinal vascular malformations)
Functional neurosurgery

Surgical treatment of epilepsy
Deep brain stimulation (for example, in patients with Parkinson's disease, dystonia, tremor)

Surgical treatment of trigeminal neuralgia

Thermocoagulation
Neurovascular decompression

Pain therapy using implantation of special pumps with drugs or stimulation probes (for chronic pain syndromes in patients with cancer, chronic degenerative spinal diseases, angina pectoris)
Pediatric neurosurgery

Surgical treatment of hydrocephalus
Surgical treatment of spina bifida
Surgical treatment of tumors of the nervous system
Surgical treatment of brachial plexus paralysis
Minimally invasive skull base surgery

Neurosurgical intensive care

General intensive care (replacement therapy for respiratory and renal failure)
Complete neuromonitoring with invasive measurement of intracranial pressure, microdialysis to assess brain metabolism, long-term EEG and nerve conduction velocity measurement to assess damage to nerve endings

Spinal surgery

Microsurgical treatment of herniated discs and degenerative spinal stenosis
Treatment of complex spinal diseases
Minimally invasive treatment of intraspinal tumors, vascular malformations
Various ablative and stimulatory treatments for chronic spinal pain

Other surgical options
Photo of the doctor: (c) UKGM - Universitätsklinikum Gießen und Marburg GmbH
---
About hospital
Accommodation in hospital
Syringomyelia
Program [Description]
Diagnostic tests for syringomyelia
Hospital: University Hospital Marburg UKGM
Type:
Duration:
Price:
date_range
There are 91 syringomyelia diagnostic hospitals on Booking Health website
Show all clinics
Certificates