Prostate Cancer Treatment with Lutetium-177 PSMA (program ID:

280689

)
University Hospital Bonn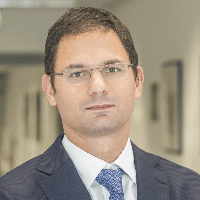 Head Physician
Prof. Dr. med.
Markus Essler
Specialized in: nuclear medicine
Department of Nuclear Medicine
The program includes:
Initial presentation in the clinic
history taking
general clinical examination
laboratory tests:

complete blood count
biochemical analysis of blood
urinalysis
TSH-basal, fT3, fT4
PSA blood test
tests for urogenital infections
indicators of inflammation
indicators of blood coagulation

ultrasound scan of the urogenital system
renal scintigraphy
PSMA PET-CT (if indicated)
PSMA treatment
full body scintigraphy after 24 hours
full body scintigraphy after 48 hours
symptomatic treatment
cost of essential medicines
nursing services
elaboration of further recommendations
stay in the hospital with full board
accommodation in a room with 2 beds
How program is carried out
During the first visit, the doctor will carry out a general physical examination and go through the results of your previous laboratory and instrumental tests. After that, you will undergo any necessary additional tests, such as an assessment of your liver and kidney function, a scintigraphy of your skeleton and salivary glands, a PSMA PET/CT. This will allow the doctor to assess how effective PSMA therapy with Lutetium-177 will be for you, and how well you will tolerate it. The doctor will also calculate your individual dosage of the radionuclide.
PSMA therapy with Lutetium-177 is carried out via intravenous administration of a solution containing the radioactive isotope, Lutetium-177. The solution is injected through a catheter. This is a short procedure, as the infusion usually takes no more than 20 minutes.
During the procedure, you will need to apply cooling bags to your salivary glands, as Lutetium-177 partially accumulates in the salivary glands, affecting their function and causing a dry mouth. You will also receive intravenous saline solutions to protect your kidneys.
After the infusion of Lutetium-177, you will stay in a specially equipped (radiation-shielded) ward for 48 hours. The drug is quickly excreted by the kidneys, and after 48 hours you will no longer be dangerous to others. During these 48 hours, you can read, use a mobile phone, tablet or computer – none of these devices will be a source of radiation in the future.
Follow-up examinations include either a whole-body scintigraphy or a computed tomography in 24 hours, and then again 48 hours after the procedure. Based on the results of this examination, the doctor will determine whether one procedure is enough for you, or whether you will need to visit the hospital again. As a rule, 1-2 procedures are required for achieving a stable, positive result. Procedures are carried out with an interval of 8 weeks.
Required documents:
Medical records
MRI/CT scan (not older than 3 months)
Biopsy results (if available)
Service
Price:
Type of program :
Expected duration of the program:
You may also book:

Price:
About the department
The Department of Nuclear Medicine at the University Hospital Bonn offers the full range of radioisotope diagnostics and treatment of various diseases. The department began its work in 1951 and today it is one of the leading and most reputable medical facilities of this kind in Germany. The clinical activities mainly focus on the detection and treatment of pathologies of the thyroid gland, heart, lung cancer, breast cancer, prostate gland, liver cancer and metastases, neuroendocrine tumors, malignant melanoma, and brain tumors. The doctors use only reliable, the most effective innovative methods of examination and therapy, which guarantee an optimal result. The department is headed by Prof. Dr. med. Markus Essler.
Since October 2014, the department has introduced and actively uses the very latest newest treatment method for prostate cancer. The Lutetium-177 PSMA therapy represents a unique option for the provision of targeted specialized medical care to patients with prostate cancer who do not have a positive dynamic during hormonal therapy or chemotherapy. Unlike the treatment with Radium-223, the advantage of Lutetium-177 PSMA therapy is its effectiveness in metastases to the lymph nodes or other organs.
The department's priority is the diagnostics and treatment of thyroid diseases. The diagnostic capabilities include the ultrasound examinations, scintigraphy, puncture biopsy of the thyroid gland, while radiation therapy is the main therapy method in this field. The department's physicians specialize in the treatment of "hot" thyroid nodules, Graves' disease, Hashimoto's thyroiditis, De Quervain's thyroiditis, amiodarone-induced thyrotoxicosis, goiter, thyroid cancer and thyroid dysfunction during pregnancy (in collaboration with the Department of Reproductive Medicine).
The service range of the department includes:
Diagnostics

Ultrasound examinations of the thyroid gland
Thyroid scintigraphy
Positron emission tomography and PET-CT
Ga-68-PSMA PET-CT
Myocardial scintigraphy
Sentinel lymph node scintigraphy
Lung scintigraphy
Kidney scintigraphy
Skeletal scintigraphy
Bone mineral density measurement (osteodensitometry)

Therapy

Radioactive iodine therapy with I-131 for the treatment of benign thyroid diseases (functional autonomy of the thyroid gland, Graves' disease, goiter)
Radioactive iodine therapy I-131 for the treatment of thyroid cancer
Peptide-receptor radionuclide therapy (PRRT) with 177Lu-DOTATATE for the treatment of neuroendocrine tumors
Selective internal radiation therapy/transarterial radioembolization with yttrium-90 microspheres
Lutetium-177 PSMA therapy for the treatment of hormone-resistant metastatic prostate cancer
Ra-223 therapy in prostate cancer with bone metastases
Radiosynovectomy
Radioimmunotherapy using 90Y-ibritumomab tiuxetan (Zevalin)
Radionuclide MIBG therapy with I-131
Yttrium-90 radioembolization (Y-90)

Other diagnostic and therapeutic services
Curriculum vitae
Education and Professional Career
1989 - 1995 Study of Medicine at Ludwig Maximilian University of Munich.
09.11.1995 Medical examination.
1993 - 1996 Doctoral thesis defense at the Institute for the Prevention and Epidemiology of Hematopoietic Diseases, Muenster (under the direction of Prof. Dr. med. Peter K. Weber). Subject: "The role of Ras-like GTPases in the regulation of cytokinesis of myelomonocytic cells".
25.04.1996 Doctoral thesis defense with honors.
1996 - 2000 Research Fellow, Innenstadt Hospital, Ludwig Maximilian University of Munich.
2000 - 2002 Research Grant from the German Research Foundation, Burnham Institute, Cancer Research Center.
11.2001 Award from the US Department of Defense (breast cancer).
Since 07.2002 Research Fellow, Department of Nuclear Medicine, Rechts der Isar Hospital Munich (Head: Prof. Dr. med. Markus Schweiger).
15.11.2004 PhD thesis defense and appointment to the position of PD in Clinical Pathophysiology at Ludwig Maximilian University of Munich.
26.06.07 Medical Specialist in Nuclear Medicine and Professional Certification of the Bavarian Medical Association.
10.2007 Appointment to the position of W3 Professor of Nuclear Medicine, University Hospital Ulm (refusal).
06.2009 Position in the Department of Nuclear Medicine at the Hannover Medical School (Successor of Prof. Dr. med. W. Knapp), 2nd place in the list.
07.2010 PhD thesis defense and appointment as PD at the Technical University of Munich.
11.2010 Appointment as the Clinical Senior Physician.
11.2010 Appointment as the Extraordinary Professor, Technical University of Munich.
06.2011 Invitation to the Department of Nuclear Medicine, University of Cologne (3rd place in the list).
12.2012 Invitation to the Department of Nuclear Medicine at the University of Vienna (2nd place in the list).
04.2013 Invitation to the Department of Nuclear Medicine (Successor of the Prof. Dr. med. V. A. Weber), 2nd place in the list.
05.2013 Invitation to the Department of Nuclear Medicine, University of Bonn.
Since 11.2013 Head of the Department of Nuclear Medicine at the University Hospital Bonn.
Additional Qualifications
2010 University Certification in Medical Didactics, Carl von Linde Institut, Munich.
2011 Healthcare Management Certification, Medical Association of North Rhine, MIBEG Institute, Cologne.
Publications
60 publications in international journals, including the review activities.
33 publications as the first and last "Corresponding Author".
Patents
Specific vascular peptide affiliated to breast tumors ("homing-peptide") for the administration of drugs into the breast tissue in precancerous conditions.
2003 Modifications of non-fibrillar collagen in tumor blood vessels and substances tropic to it.
2008 Peptides, which are specifically connected to a modified matrix metalloproteinase that breaks down collagen (registered model 20 2008 012716.59)
2013 Bi-213 labeled antibodies to the CD38 antigen in the treatment of multiple myeloma.
Memberships in Professional Societies
German Society of Nuclear Medicine (DGN).
European Association of Nuclear Medicine (EANM).
Society of Nuclear Medicine (SNM).
German Society of Radiation Oncology (DEGRO).
Bavarian Society of Nuclear Medicine (BGN).
Photo of the doctor: (c) Universitätsklinikum Bonn
---
About hospital
Accommodation in hospital
Prostate cancer
Program [Description]
Prostate Cancer Treatment with Lutetium-177 PSMA
Hospital: University Hospital Bonn
Type:
Duration:
Price:
date_range
There are 46 prostate cancer treatment hospitals on Booking Health website
Show all clinics
Certificates