Charite University Hospital Berlin
Department of Adult and Pediatric Dermatology, Venereology and Allergology (

26111

)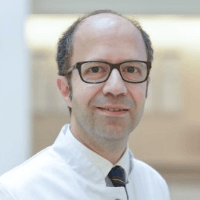 Prof. Dr. med.
Kamran Ghoreschi
Specialized in: adult and pediatric dermatology, venereology, allergology
About the Department of Adult and Pediatric Dermatology, Venereology and Allergology at Charite University Hospital Berlin
The Department of Adult and Pediatric Dermatology, Venereology and Allergology at the Charite University Hospital Berlin offers the full range of medical services in these fields. The department's specialists treat all skin diseases, including rare clinical cases, sexually transmitted infections and allergic reactions. The Chief Physician of the department is Prof. Dr. med. Kamran Ghoreschi.
The department's modern technical facilities and fruitful research activities aimed at the optimization and development of therapeutic techniques are the key to the successful clinical practice. Also, the department uses the concept of holistic approach to treatment, which provides for the adaptation of therapy to specific indications and needs of the patient, respectful and sympathetic attitude.
The department annually diagnoses and treats more than 45,000 patients. Depending on the diagnosis and condition of the patient, the treatment may be provided on an inpatient or outpatient basis. The department specializes in allergy, immunology, andrology, aesthetic dermatology, dermatosurgery, pediatric dermatology, phlebology, competent treatment of acne, psoriasis, chronic wounds, scalp pathologies, scars, as well as in the treatment of skin pathologies within the specialized center. The department has 3 state-of-the-art operating rooms, in which about 7,000 operations are performed annually. The surgical interventions are performed under local anesthesia, as well as under general anesthesia, on an inpatient and outpatient basis (depending on the complexity of the operation).
The department's employees care about the quality of medical services, so the quality control system functions here. It includes monitoring of the medical services, organizational issues and work processes of the medical facility. The department is certified in accordance with the highest DIN EN ISO 9001: 2015 standards.
The service range of the department includes:
Diagnostics and treatment of acne inverse (surgical or conservative treatment, for example, systemic immunotherapy using biological drugs, special surgical procedures)
Diagnostics and treatment of allergic and immunological diseases

Autoimmune diseases
Eczema
Anaphylaxis and insect venom allergy
Atopic dermatitis
Autoinflammatory diseases
Occupational allergies
Mastocytosis
Itch
Food intolerance
Hives

Diagnostics and treatment of andrological problems

Infertility
Erectile dysfunction
Gynecomastia
Hypogonadism
Age-related problems in men

Aesthetic dermatology and laser therapy

Treatment of acne and rosacea
Laser therapy in pigmentation, aesthetic problems and superficial skin tumors
Hyperhidrosis (excessive sweating)
Skin rejuvenation using chemical peels with fruit acids, lipohydroxy acid and trichloroacetic acid
Treatment of wrinkles and correction of facial skin defects using botulinum toxin A and fillers

Dermatosurgery

Surgical oncology

Basal cell carcinoma, squamous cell carcinoma, Bowen's disease
Malignant melanoma
Merkel-cell carcinoma
Pigmented dermatofibrosarcoma protuberans
Atypical fibroxanthomas (sweat gland cancer, angiosarcoma, Paget's disease)
Sentinel lymph node biopsy

Laser therapy

Warts, genital warts
Actinic cheilitis (cheilitis actinica)
Hailey-Hailey disease

Acne inversa surgery
Venous interventions

Vein stripping using Babcock technique
Miniflebectomy
Perforating vein ligation
Spider vein sclerotherapy

Dermatosurgical interventions in children

Biopsy
Removal of skin tumors
Serial resections of congenital moles
Treatment of molluscum contagiosum
Laser treatment of warts

Surgical treatment of chronic wounds
Treatment of benign skin lesions

Lipoma, atheroma
Nevi
Rhinophyma
Scar revision
Surgical interventions on the nail

Removal of axillary sweat glands using curettage technique in hyperhidrosis
Muscle biopsy

Diagnostics and treatment of hair diseases (within the Center of Competence)

Severe focal areata
Cicatricial alopecia (lichen planopilaris, frontal fibrosing alopecia)
Alopecia caused by chemotherapy
Hair disorders in children

Diagnostics: microscopic hair follicle analysis (trichogram), assessment of the density and hair growth (phototrichogram), standardized photo documentation, microscopic techniques of hair shaft analysis
Therapy: use of diphenylcyclopropenone in patients with focal alopecia

Diagnostics and treatment of skin cancer (as part of the Charité Comprehensive Cancer Center)

Early detection of skin tumors
Comprehensive diagnostics
Treatment of skin tumors and follow-up care
Treatment as part of clinical trials

Diagnostics and treatment of dermatological diseases in children (under the age of 17 years)

Autoimmune diseases

Focal alopecia
Systemic scleroderma
Systemic lupus erythematosus
Bullous skin diseases

Rare hereditary skin diseases

Genetic hair diseases
Ichthyosis
Epidermolysis bullosa
Immunodeficiencies
Congenital malformations and syndromes

Oncological diseases

Skin tumors
Langerhans cell histiocytosis

Severe chronic inflammatory skin diseases

Psoriasis
Graft-versus-host disease
Lichen acuminatus
Lichen sclerosus

Treatment of scars (hypertrophic scars and keloids), color and atrophic scars (for example, acne scars)

Local therapy, use of silicone
Compression therapy
Cortisone injections
5-fluorouracil injections
Laser therapy
Surgical interventions
Cryotherapy

Diagnostics and treatment of phlebological diseases (venous pathologies)

Varicose veins
Telangiectasia
Chronic venous insufficiency
Swollen feet
Open leg ulcer (ulcus cruris)
Phlebitis
Venous thrombosis

Sparing endovenous procedures (modern laser technologies, radio-wave therapy)
Minimally invasive surgical procedures using modern technologies (cross-sectional surgery with small incisions, stripping and mini-phlebectomy according to Varady)
Open leg treatment (ulcus cruris), including surgery and negative pressure therapy
Compression therapy

Diagnostics and treatment of psoriasis (all modern therapy methods)
Diagnostics and treatment of chronic wounds, including diabetic foot syndrome
Diagnostics and treatment of sexually transmitted infections

Genital warts and other anogenital disorders associated with HPV
Syphilis
Gonorrhea
Chlamydia infection
Mycoplasma, ureaplasma
Lymphogranuloma venereum
Chancroid
Granuloma inguinale
Genital herpes
HIV prevention
Proctological diseases
Vaccination and prevention of sexually transmitted infections
HIV-associated dermatological diseases

Other medical services
Curriculum vitae of Prof. Dr. med. Kamran Ghoreschi
Prof. Dr. med. Kamran Ghoreschi studied medicine at Ludwig Maximilian University of Munich, where in 2001 he received his doctoral degree. In 2006, he had his specialization in Dermatology and Venereology. In 2008, he received additional qualification in Allergology. In the same year, the doctor received a scholarship for the training of postdoctoral students.
In 2013, Ghoreschi was the European Rapporteur on the subject "International Dermatology Research" at the Rising Star Conference. In addition, in 2014 he received Paul Langerhans Award of the Society for Dermatological Research. Since 2014, Prof. Ghoreschi has worked as the Leading Senior Physician in the Department of Dermatology at the University Hospital Tuebingen. In 2017, he was appointed as Professor of Dermatology, Allergology and Immunology at the Faculty of Medicine at the Eberhard Karls University of Tuebingen. In 2018, Kamran Ghoreschi was appointed as the Chief Physician of the Department of Adult and Pediatric Dermatology, Venereology and Allergology at the Charite University Hospital Berlin.
Photo of the doctor: (c) Charité – Universitätsmedizin Berlin
Department of Adult and Pediatric Dermatology, Venereology and Allergology.
Charite University Hospital Berlin:

Request more information now.
We will be happy to answer all your questions.
---
Certificates