Charite University Hospital Berlin
Department of Nephrology, Transplantology, Hypertensiology and Internal Intensive Care (

26113

)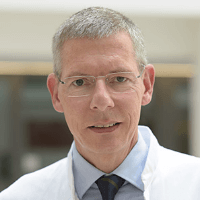 Prof. Dr. med.
Kai-Uwe Eckardt
Specialized in: nephrology, transplantology, hypertensiology, internal intensive care
About the department
The Department of Nephrology, Transplantology, Hypertensiology and Internal Intensive Care at the Charite University Hospital Berlin offers the full range of services in these medical fields. The competence covers the treatment of all kidney diseases, arterial hypertension, kidney transplantation and intensive care in internal diseases. The department has in its arsenal all types of renal replacement therapy. If it is not effective, the patient is recommended a kidney transplantation. In the field of intensive care, special attention is paid to the procedures aimed at organ function replacement, mechanical ventilation, extracorporeal membrane oxygenation in acute respiratory distress syndrome and emergency medical care in cardiovascular insufficiency. The Chief Physician of the department is Prof. Dr. med. Kai-Uwe Eckardt.
The department annually performs about 100 kidney transplantations, including in blood type incompatibility. The therapeutic offer also covers combined transplantations of the kidney and pancreas in patients with type I diabetes mellitus. In addition, the department has modern stations for dialysis, particularly, hemodialysis, peritoneal dialysis, emergency dialysis, etc. The department includes the specialized Center for Rare Kidney Diseases.
The service range of the department includes:
General nephrology

Acute kidney failure
Chronic kidney diseases
Acid-base balance and water and electrolyte metabolism disorders
Glomerulonephritis
Diabetic nephropathy
Polycystic kidney disease
Rare hereditary kidney diseases

Autosomal dominant tubulointerstitial kidney disease
Von Hippel-Lindau disease
Alport syndrome
Hereditary types of glomerulonephritis (for example, C3 glomerulonephritis)
Fabry disease
Tuberous sclerosis
Distal renal tubular acidosis

Symptomatic diseases with kidney lesion

Vasculitis
Autoimmune diseases (for example, systemic lupus erythematosus, systemic scleroderma)
Infectious diseases (for example, hepatitis B or HIV)
Oncological diseases (for example, tumor lysis syndrome, multiple myeloma, renal cell carcinoma)
Sarcoidosis
Diabetes mellitus (any type)
Arterial hypertension
Hepatorenal syndrome (kidney failure in liver failure)
Cardiorenal syndrome (kidney failure in patients with impaired cardiac function)

Dialysis procedures

Hemodialysis (also without heparin, citrate dialysis)
Hemofiltration (real-time and regular)
Hemodiafiltration (real-time)
Ultrafiltration (sequential)
Plasmapheresis
Immunoadsorption
Bilirubin adsorption
Lipid apheresis
Peritoneal dialysis (for example, continuous ambulatory peritoneal dialysis)

Transplantology

Preparation for transplantation and follow-up care after surgery
Kidney transplantation from living and deceased donors
Combined pancreatic and kidney transplantation
Combined liver and kidney transplantation
Combined heart, lung and kidney transplantation (in collaboration with the German Heart Center)
Kidney transplantation in ABO-incompatibility from a living donor

Diagnostics and treatment of all types of vasculitis with kidney lesion
Diagnostics and treatment of rare kidney diseases (within the specialized center)
Hypertension

Diagnostics and treatment of primary arterial hypertension
Diagnostics and treatment of secondary arterial hypertension

General intensive care

Procedures for organ function replacement, including kidney and liver replacement therapy
Mechanical ventilation and extracorporeal membrane oxygenation in acute respiratory distress syndrome
Intensive care in sepsis and multiple organ dysfunction syndrome

Other medical services
Curriculum vitae
Since 2017 Professor in Internal Medicine and Head of the the Department of Nephrology, Transplantology, Hypertensiology and Internal Intensive Care at the Charite University Hospital Berlin.
2004 - 2007 Head of the Department of Internal Medicine (Nephrology and Hypertension), Friedrich-Alexander University Erlangen-Nuremberg.
Education in Munster and Cardiff, doctoral thesis defense in Muenster.
Training in Pathology, Physiology and Internal Medicine in Muenster, Zurich, Oxford and Regensburg, as well as at Charite in Berlin.
1993 Habilitation at the Faculty of Natural Sciences III at the University of Regensburg.
Research Focuses
Molecular mechanisms and pathophysiological significance of gene expression caused by hypoxia.
Development and progression of acute and chronic kidney failure.
Other Activities
Initiator and Leader of National Сohort Study on Chronic Kidney Disease.
Review Committee Member of the German Research Foundation.
Member of numerous international expert committees and editorial boards.
Former Board Member of the German, European and International Society of Nephrology.
Founding Member and Former Chairman of the International Association of the Kidney Disease: Improving Global Outcomes (KDIGO).
Photo of the doctor: (c) Charité – Universitätsmedizin Berlin
Department of Nephrology, Transplantology, Hypertensiology and Internal Intensive Care.
Charite University Hospital Berlin:

Request more information now.
We will be happy to answer all your questions.
---
Certificates