Charite University Hospital Berlin
Department of Hepatology and Gastroenterology (

26116

)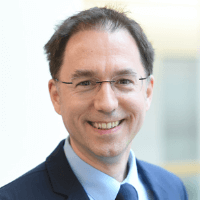 Prof. Dr. med.
Frank Tacke
Specialized in: hepatology, gastroenterology
About the Department of Hepatology and Gastroenterology at Charite University Hospital Berlin
The Department of Hepatology and Gastroenterology at the Charite University Hospital Berlin offers all modern options for the diagnostics and treatment of diseases of the liver, biliary tract, pancreas and other gastrointestinal organs. An important component of the department's clinical practice is the cooperation with related disciplines, such as surgery, radiology and nuclear medicine. The department positions itself as a maximum care medical facility, which priority task is to provide high-quality individualized treatment using the very latest scientific achievements and current medical standards. The Chief Physician of the department is Prof. Dr. med. Frank Tacke.
One of the department's key activities is the treatment of oncological diseases of the gastrointestinal tract and liver. The department's clinical activities are marked by many prestigious certificates of the German Cancer Society, for example, in the treatment of intestinal, liver, pancreatic and stomach cancer.
The department is part of the Section for Central Interdisciplinary Endoscopy, which provides patients with the full range of diagnostic, therapeutic, endoscopic and sonographic procedures. Most often, the department's experienced doctors perform gastroscopy and colonoscopy, as well as endoscopic examinations of the pancreas and biliary tract, including therapeutic minimally invasive procedures.
The main clinical focuses of the department include:
Diagnostics and treatment of pancreatic diseases (in particular, acute and chronic pancreatitis)
Diagnostics and treatment of chronic inflammatory bowel diseases (Crohn's disease and ulcerative colitis)
Diagnostics and treatment of liver and biliary tract diseases (within the specialized center)

Malignant liver tumors

Hepatocellular carcinoma
Intrahepatic cholangiocarcinoma
Rare tumors, such as sarcomas
Liver metastases of varying genesis

Malignant tumors of the extrahepatic bile ducts

Klatskin tumor (intraductal cholangiocarcinoma)
Distal bile duct carcinoma
Gallbladder cancer

Benign tumors and liver lesions

Focal nodular hyperplasia
Liver hemangioma
Liver adenoma
Congenital hepatic cyst
Polycystic liver

Benign biliary diseases

Acute and chronic cholecystitis
Bile duct cysts

Viral hepatitis A, B, C, D, E
Alcoholic liver diseases

Acute alcoholic hepatitis
Alcoholic liver disease
Acute and chronic liver failure

Fatty liver disease

Nonalcoholic fatty liver disease
Non-alcoholic fatty hepatosis

Autoimmune diseases

Primary sclerosing cholangitis
Primary biliary cholangitis
Autoimmune hepatitis
Autoimmune cholangitis
Sarcoidosis

Genetic liver diseases

Wilson's disease
Hemochromatosis
Alpha-1 antitrypsin deficiency

Emergency conditions and injuries of the liver and biliary tract

Acute liver failure (toxic, drug, etc.)
Traumatic liver rupture
Acute haemorrhage from the hepatic vessels
Bile duct injury (for example, in the case of operations)

Liver vascular lesions

Acute and chronic portal vein thrombosis
Budd-Chiari syndrome (hepatic vein thrombosis)
Sinusoidal obstruction syndrome

Parasitic liver diseases
Liver diseases in pregnant women

Diagnostics and treatment of gastrointestinal cancers

Endoscopic treatment for colorectal tumors
Expanded diagnostics and treatment planning within the interdisciplinary boards with the participation of surgeons, oncologists, radiation therapists, radiologists
Follow-up care of patients
Planning and carrying out palliative care in advanced cancers
Systemic chemotherapy
Endoscopic therapy (for example, stent implantation, laser therapy and biliary drainage)
Local ablation therapy
Radiation therapy
Symptomatic treatment (for example, pain therapy, diet therapy)

Diagnostics and treatment of neuroendocrine tumors (within the Center of Competence)

Diagnostics

Ultrasound examination
Gastroscopy and colonoscopy (esophagogastroduodenoscopy and ileocolonoscopy), if necessary in combination with endosonography
Endoscopic examination of the small intestine using push enteroscopy and capsule endoscopy
Computed tomography (with or without contrast enhancement)
Magnetic resonance imaging (if necessary with the use of a special contrast agent)
Scintigraphy with radioactive-labeled somatostatin analogue (indium-111 octreotide)
68Gallium DOTATOC PET-CT
PET-CT with radioactively labeled glucose
18F-DOPA PET-CT
Cardiac ECG and ultrasound examination

Therapy

Somatostatin analogue therapy (octreotide LAR, lanreotide autogel)
Different types of chemotherapy
Local ablation procedures (transarterial embolization, transarterial chemoembolization, radiofrequency ablation)
Peptide receptor radionuclide therapy (with labeled yttrium-90 or lutetium-177 somatostatin analogue)
Selective internal radiation therapy
Nutrition counseling

Endoscopic diagnostic and therapeutic procedures

Diseases of the esophagus, stomach and duodenum

Diagnostic esophagogastroduodenoscopy (gastroscopy)
Upper gastrointestinal tract examination using chromoendoscopy and high-resolution endoscopy
Treatment of varicose veins using ligation, sclerotherapy and injection therapy
Treatment of upper gastrointestinal stenosis using balloon dilatation, bougienage or stent implantation
Treatment of Barrett's esophagus using resection of submucosal layer, radiofrequency ablation or hybrid argon plasma coagulation
Botulinum toxin injection in motility disorders
Treatment of achalasia cardia
Therapy of vascular malformations be means of argon plasma coagulation
Treatment of acute and chronic haemorrhages
Percutaneous endoscopic gastrostomy
Surgical treatment of precancerous lesions and malignant neoplasms by means of endoscopic resection or dissection of the submucosal layer
Endoscopic vacuum therapy
Treatment of Zenker's diverticulum
Endoscopic sleeve gastroplasty (in collaboration with the Department of Surgery)

Colon diseases

Diagnostic ileocolonoscopy
High resolution chromoendoscopy and endoscopy
Polyp removal
Endoscopic resection or dissection of the submucosal layer
Therapy of vascular malformations using argon plasma coagulation
Treatment of acute and chronic haemorrhages
Treatment of stenosis of the lower gastrointestinal tract (balloon dilatation, bougienage, stent implantation)
Endoscopic vacuum therapy
Hemorrhoid treatment

Diseases of the small intestine

Small intestine diseases
Balloon endoscopy with single and double balloon system
Capsule endoscopy

Diseases of the biliary tract and pancreas

Endoscopic retrograde cholangiopancreatography, percutaneous transhepatic cholangiography
Cholangioscopy
Endoscopic removal of papillary adenomas
Removal of bile duct stones and pancreatic duct stones using laser lithotripsy, electrohydraulic lithotripsy
Treatment of stenoses using implantation of plastic or metal stents, balloon dilatation
Multimodal treatment of bile duct cancer
Monitoring of patients with primary sclerosing cholangitis

Endosonography

Diagnostic endosonography of the upper and lower gastrointestinal tract using radial and linear transducer
Contrast-enhanced endoscopic ultrasound
Ultrasound-guided puncture
Ultrasound-guided installation of drainage and sanitation in necrosis

Ultrasound examinations and ultrasound-guided interventions

Functional diagnostics of the gastrointestinal tract
Treatment within the clinical trials
Dietology

Special enteral nutrition
Parenteral nutrition

Other diagnostic and therapeutic services
Curriculum vitae of Prof. Dr. med. Frank Tacke
​Education and Professional Career
1994 - 2001 Study of Human Medicine, Hannover Medical School.
1998 - 1999 Scholar of the German Academic Exchange Service, University of Texas MD Anderson Cancer Center, Houston, USA.
2001 - 2004 Department of Gastroenterology, Hepatology and Endocrinology at the Hannover Medical School.
2002 Doctor of Medicine, Department of Hematology and Oncology, Hannover Medical School.
2001 - 2004 Training for the title of PhD, Molecular Medicine, Hannover Medical School.
2004 PhD, Department of Gastroenterology and Hepatology, Hannover Medical School.
2004 - 2006 Scholarship of the German Research Foundation, Mount Sinai School of Medicine, New York, USA.
2006 - 2019 Senior Physician, Department of Internal Medicine III, University Hospital Aachen.
2008 - 2019 Leading Senior Physician.
2007 Habilitation, Rhine-Westphalian Technical Aachen University (Experimental Internal Medicine).
2012 - 2014 Master of Business Administration in Healthcare, University of Erlangen-Nuremberg.
2012 - 2019 W2 Professor in Hepatology and Gastroenterology, Rhine-Westphalian Technical Aachen University.
Since 2019 W3 Professor of Hepatology and Gastroenterology, Head of the Department of Hepatology and Gastroenterology at the Charite University Hospital Berlin.
Clinical Focuses
Hepatology (liver diseases).
Gastroenterology (gastrointestinal diseases).
Intensive care.
Hepatobiliary, gastrointestinal and neuroendocrine tumors.
Diagnostic and interventional endoscopy.
Research Focuses
Non-alcoholic fatty liver disease and hepatocellular carcinoma.
Biology of monocytes and macrophages.
Gastroenterological and internal intensive care.
Memberships in Professional Societies
American Association for the Study of Liver Diseases (AASLD)
German Society of Infectious Diseases (DGI).
German Society of Internal Medicine (DGIM).
German Society for Medical Intensive Care Medicine and Emergency Medicine (DGIIN).
German Society for Digestive and Metabolic Diseases (DGVS)
German Liver Foundation (Associate Scientist).
European Academy of Tumor Immunology (EATI).
European Association for the Study of the Liver (EASL).
International Liver Transplantation Society (ILTS).
Photo of the doctor: (c) Charité – Universitätsmedizin Berlin
Department of Hepatology and Gastroenterology.
Charite University Hospital Berlin:

Request more information now.
We will be happy to answer all your questions.
---
Certificates