Charite University Hospital Berlin
Department of Neurology (

26119

)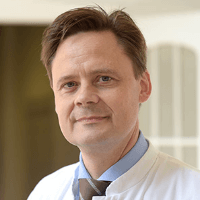 Prof. Dr. med.
Matthias Endres
Specialized in: neurology
About the department
According to the Focus magazine, the Department of Neurology at the Charite University Hospital Berlin ranks among the top German medical facilities specializing in the treatment of multiple sclerosis, Alzheimer's disease and Parkinson's disease!
The department offers the full range of diagnostic options and conservative treatments for diseases of the nervous system. The department has 170 beds for patient hospitalization. An important structural section of the department is a specialized Intensive Care Unit (in interdisciplinary collaboration with the Departments of Neurosurgery and Anesthesiology with a focus on intensive surgical care). The department annually treats and diagnoses more than 8,000 inpatients and about 20,000 outpatients. Such indicators show high quality of medical service and tremendous trust of patients. The department is headed by Prof. Dr. med. Matthias Endres.
The priority fields of clinical practice include the diagnostics and treatment of stroke and neurovascular pathologies, neuroimmunological disorders, multiple sclerosis, motor disorders (for example, Parkinson's disease, essential tremor), neuropathies and muscular diseases, epilepsy, convulsions, headaches, facial pain syndromes. Thanks to active research activities and exceptional qualifications of the medical personnel, the department also treats rare and extremely complex pathologies, for example, amyotrophic lateral sclerosis, myasthenia, encephalitis, etc.
The diagnostic options of the department include:
Functional diagnostics of the peripheral nervous system (electroneurography, electromyography, multimodal evoked potentials)

Motor and sensory neurography using F-waves
Needle electromyography with quantitative analysis of evoked potentials
Examinations of neuromuscular connections (synapses)
Single-fiber electromyography
Reflex testing, including brainstem reflexes
Examination of the functionality of small nerve fibers, for example, sympathetic skin reaction
Motor evoked potentials
Visual and acoustic evoked potentials
Somatosensory evoked potentials

Electroencephalography

Classical electroencephalography
Sleep-deprived EEG test
EEG for the diagnostics of brain death

Ultrasound diagnostics of the cervical and brain vessels

Extra- and intracranial duplex ultrasonography of arteries and veins
Extra- and intracranial Doppler ultrasonography
Brain perfusion, measurement of cerebral circulation time
Transcranial B-mode sonography

Neuropsychological examinations for the diagnostics of cognitive disorders
Magnetic resonance imaging for patients with acute or chronic stroke
Other diagnostic examinations
The service range of the department covers the diagnostics and treatment of the following neurological diseases:
Amyotrophic lateral sclerosis
Different types of ataxia
Movement disorders

Parkinson's disease
Atypical parkinsonian syndromes (multisystem atrophy, NCV, CBD)
Dystonias
Tremor
Rare motor disorders (caused by metabolic disorders or genetically determined)

Differential diagnostics of movement disorders, including rare ones
High-quality additional diagnostics (including MRI, PET, SPECT, CSF testing, skin biopsy, tremor and movement analysis, neuropsychology, genetic diagnostics, examinations within a Sleep Laboratory)
Escalation therapy in Parkinson's disease with indications for deep brain stimulation, drug therapy using Duodopa and apomorphine therapy
Follow-up care after deep brain stimulation and therapy using special pumps
Comprehensive drug therapy in Parkinson's disease
Outpatient botulinum toxin therapy in dystonia and spasticity
Constant monitoring of patient and therapy progress
Participation in multicenter researches in pharmacotherapy and deep brain stimulation

Dementias and cognitive disorders
Encephalitis and paraneoplasias (for example, anti-NMDA receptor encephalitis, limbic encephalitis, paraneoplastic brain inflammation, Morvan's syndrome, etc.)
Epilepsy and other convulsive syndromes
Headaches

Migraines
Chronic migraines
Tension headaches
Cluster headaches

Multiple sclerosis and chronic central nervous system inflammatory diseases
Myasthenia gravis (diagnostics and treatment within a specialized center)
Neuromuscular diseases

Immunoneuropathies

Chronic inflammatory demyelinating polyneuropathy
Multifocal motor neuropathy
Polyneuropathies of the rheumatic type (for example, polyneuropathies associated with systemic lupus erythematosus) or due to chronic inflammatory bowel diseases
Polyneuropathy in monoclonal gammopathy of undetermined significance
Guillain-Barré syndrome

Muscular diseases
Small fiber neuropathy

Neuro-AIDS and HIV neurological disorders

HIV-associated neurocognitive deficit: forgetfulness, difficulty concentrating and impaired fine motor skills
HIV-associated neuropathy: sensory processing disorders, pin sensations and pain, usually starting in the toes and feet and gradually increasing over several weeks
HIV-associated vacuolar myelopathy: sensory processing disorders and leg paralysis, bladder dysfunction and rectal diseases
HIV-associated myopathy: muscle aches, muscle weakness and loss of muscle mass
Neurological complications of antiretroviral therapy: emotional disorders, forgetfulness, difficulty concentrating, muscle aches and muscle weakness
Progressive multifocal leukoencephalopathy

Sleep disorders in neurological genesis

Sleep problems (for example, sleepwalking)
Parasomnia, sleep-related seizures and other movement disorders during sleep
Narcolepsy with and without cataplexy and other disorders associated with increased daytime sleepiness
Restless legs syndrome
Sleep wake rhythm disorders
Differential diagnostics of primary sleep disorders and primary mental disorders caused by sleep disorders

Neurological disorders caused by cancers and their therapy
Neurovascular disorders

Ischemic stroke
Hemorrhagic stroke
Subarachnoid hemorrhage
Cerebral venous thrombosis
Intracranial aneurysm
Inflammatory cerebrovascular diseases (vasculitis)

Urgent diagnostics using MRI, CT, ultrasound, electrophysiological examination
"Multimodal monitoring", i.e. continuous recording of blood pressure, ECG, pulse oximetry, respiratory rate, body temperature
Intravenous and intra-arterial thrombolysis in acute ischemic stroke
Acute cardiological diagnostics and therapy, including echocardiography in collaboration with the Department of Cardiology
Emergency treatment of vascular stenosis (in collaboration with the Department of Vascular Surgery (сarotid artery surgery) and interventional radiology (stent implantation))
Treatment of intracranial hypertension
Botulinum toxin spasticity therapy
Immunosuppressive therapy
Diagnostics and therapy of strokes, specific brain disorders (neuropsychology)
Early rehabilitation (physiotherapy, speech therapy, ergotherapy and dysphagia treatment)

Other diseases of the nervous system, other medical services
Curriculum vitae
​Education and Professional Сareer
Since 2009 Medical Director of the Charité Center 15 for Neurology, Neurosurgery and Psychiatry, Charite University Hospital Berlin.
Since 2008 Head of the Department of Neurology at the Charite University Hospital Berlin.
Since 2008 W3 Professor, Charite University Hospital Berlin.
2005 - 2008 Lichtenberg Professorship, Interdisciplinary Stroke Research, Volkswagen Foundation, Charite University Hospital Berlin.
2004 - 2007 Senior Physician, Department of Neurology, Charite University Hospital Berlin.
2003 - 2005 Heisenberg Scholarship, German Research Foundation.
2001 Habilitation, Charite University Hospital Berlin.
1998 - 2004 Head of the Research Group on Cerebral Ischemia, Department of Experimental Neurology, Charite University Hospital Berlin.
1998 - 2003 Research Fellow, Department of Neurology, Charite University Hospital Berlin.
1996 - 1998 Research Fellow, Neurology Center, Massachusetts General Hospital, Harvard Medical School, Boston.
1994 - 1996 Assistant Physician, Department of Neurology, University Hospital Lübeck.
1995 Doctoral thesis defense, University of Hamburg.
1988 - 1994 Study of Human Medicine, Ruhr University in Bochum and University of Hamburg.
Positions in Scientific Societies and Organizations
Since 2015 Emergency Board Member of the German Stroke Society.
2009 - 2015 Board Member of the German Stroke Society.
Since 2008 Board Member, Center for Stroke Research, Charite University Hospital Berlin.
2005 - 2009, 2013 - 2017 Board Member of the International Society of Cerebral Blood Flow and Metabolism (ISCBFM).
Awards and Honorary Memberships
Since 2016 Member of the National Academy of Sciences Leopoldina.
2008 Heinrich Pette Prize, German Society of Neurology.
2002 Paul Martini Prize.
2000 Adolf Wallenberg Prize, German Society of Neurology.
1999 Nils Lassen Prize, International Society of Cerebral Blood Flow and Metabolism.
1999 Scientific Prize of the German Stroke Foundation.
1998 Oskar Lapp Research Prize, German Cardiac Society.
Research Focuses
Vascular mechanisms of stroke protection
Risk factors and prevention, degeneration and regeneration, as well as depression after a stroke.
Photo of the doctor: (c) Charité – Universitätsmedizin Berlin
Department of Neurology.
Charite University Hospital Berlin:

Request more information now.
We will be happy to answer all your questions.
---
Certificates