Chronic lymphocytic leukemia (CLL) diagnosis (program ID:

229161

)
Charite University Hospital Berlin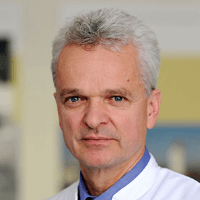 Head Physician
Prof. Dr. med.
Ulrich Keilholz
Specialized in: oncology, hematology
Charité Comprehensive Cancer Center
The program includes:
Initial presentation in the clinic
clinical history taking
review of medical records
physical examination
laboratory tests:

complete blood count
general urine analysis
biochemical blood test
inflammation markers (CRP, ESR)
blood coagulation analysis (aPTT, PT, INR)
differential blood count

ultrasound of the abdomen
CT/MRI scan (if clinically indicated, additional cost is 650/1200 €)
aspiration biopsy of bone marrow (if clinically indicated, additional cost is 2500 €)

immunohistochemical study
cytogenetic analysis (Philadelphia chromosome detection)

nursing services
tumor board: consultation of specialists in
hematology, radiology, radiation therapy
treatment by chief physician and all leading experts
explanation of individual treatment plan
Required documents:
Medical records
MRI/CT scan (not older than 3 months)
Bone marrow biopsy results (if available)
Service
Price:
Type of program :
Expected duration of the program:
You may also book:

Price:
About the department
Charité Comprehensive Cancer Center at the Charite University Hospital Berlin offers patients the full range of classical and innovative examinations, treatment of malignant diseases of all organs and anatomical structures of the human body. The spectrum is complemented by follow-up medical care, rehabilitation, modern schemes for the prevention and early detection of malignant diseases. An important component of the therapeutic process in the center is psycho-oncological care. The centerdals with the treatment of patients of all age groups, ranging from small children to elderly patients. The center is headed by Prof. Dr. med. Ulrich Keilholz.
The center takes part in many leading clinical researches on the optimization of existing and the development of innovative therapeutic techniques. It integrates the work of all departments of the hospital engaged in the treatment of various types of cancers, therefore, the specialists from all medical fields cooperate closely here.
The center specializes in the diagnostics and treatment of the following malignant diseases:
Eye tumors

Choroidal melanoma in adults
Retinoblastoma in children

Breast cancer
Bowel cancer

Colon cancer
Small intestine cancer
Rectal cancer
Anal cancer
Neuroendocrine tumors

Gynecological tumors

Cervical cancer
Uterine cancer
Ovarian cancer
Vulvar cancer
Vaginal cancer

Skin cancer

Malignant melanoma
Basal cell carcinoma
Cancroid
Merkel-cell carcinoma
Skin lymphoma
Skin metastases

Tumors of the brain and spinal cord

Glioblastomas
Astrocytomas
Ependymomas
CNS lymphoma
Medulloblastomas
Neuromas
Meningiomas
Pituitary adenomas
Craniopharyngiomas
Metastases

Bone and soft tissue tumors
Sarcomas
Head and neck tumors

Mouth cancer
Tumors with localization in the nose or paranasal sinuses
Lower jaw tumors
Pharyngeal cancer
Laryngeal cancer
Salivary gland cancer

Cancer of the liver and biliary tract
Leukemia, lymphoma, multiple myeloma
Lung cancer, including thymus cancer and pleural mesothelioma
Esophageal and stomach cancer
Metastases

Liver metastases
Peritoneal carcinomatosis
Brain metastases
Bone metastases
Lymph node metastases
Lung metastases
Skin metastases
Metastases of cancer of unknown primary

Adrenal cancer, neuroblastoma, pheochromocytoma
Neuroendocrine tumors with localization in the small and large intestines, pancreas, lung, stomach, cancer with unknown primary localization
Pancreatic cancer
Prostate cancer
Thyroid cancer
Urogenital tumors

Kidney cancer
Bladder cancer
Ureteral cancer
Testicular cancer
Penile cancer

Cancer in children and adolescents

Leukemia
Lymphomas
Sarcomas
Brain tumors
Eye tumors
Neuroblastomas

Other oncological diseases
Curriculum vitae
2015 Appointed as Professor in Oncology (W3) and Head of the Charite Comprehensive Cancer Center.
2013 - 2015 Acting Director of the Charite Comprehensive Cancer Center, Berlin.
2008 - 2013 Deputy Director of the Charite Comprehensive Cancer Center.
2003 - 2015 C3 Professor in Clinical and Molecular Oncological Immunology, Charite University Hospital Berlin.
1998 Visiting Professor in Internal Medicine, Free University of Berlin.
1997 - 2013 Deputy Head, Department of Hematology, Oncology and Oncological Immunology, Charite University Hospital Berlin.
1993 Habilitation, Internal Medicine, Heidelberg University.
1993 Qualification in Hematology and Internal Oncology.
1990 - 1997 Senior Physician, Department of Hematology, Oncology and Rheumatology, University Hospital Heidelberg.
1990 Medical Specialist in Internal Medicine.
1986 Scientific Internship at the National Cancer Institute, Bethesda, USA, Surgery, Department of Immunotherapy.
1983 - 1990 Fellow, Heidelberg University, University Hospital Heidelberg.
1984 PhD defense, Institute of Pathophysiology and Sports Medicine, Heidelberg University.
1977 - 1983 Study of Medicine at the University of Mainz, Heidelberg University, University of Lexington (USA).
Activities in the Scientific Societies
1999 - 2006 Board Member of the Working Group on Internal Oncology.
2003 - 2005 Working Group on Melanoma Treatment (EORTC), Secretary (2001 - 2003), Board Member (2003 - 2005).
2003 - 2006 International Society for Biological Cancer Therapy (iSBTc), Vice President (2003 - 2005), President (2005 - 2006).
2006 - 2009 National Representative of Germany in the European Society for Medical Oncology (ESMO).
Photo of the doctor: (c) Charité – Universitätsmedizin Berlin
---
About hospital
Accommodation in hospital
Chronic lymphocytic leukemia (CLL)
Program [Description]
Chronic lymphocytic leukemia (CLL) diagnosis
Hospital: Charite University Hospital Berlin
Type:
Duration:
Price:
date_range
There are 63 chronic lymphocytic leukemia (cll) diagnostic hospitals on Booking Health website
Show all clinics
Certificates