Multimodality treatment of peritoneal carcinomatosis with cytoreductive surgery and HIPEC (program ID:

372642

)
Charite University Hospital Berlin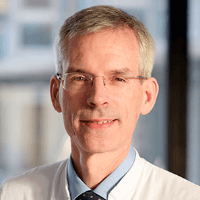 Head Physician
Prof. Dr. med.
Martin Kreis
Specialized in: general, abdominal and vascular surgery
Department of General, Abdominal and Vascular Surgery
Program includes:
Initial presentation in the clinic
clinical history taking
review of medical records
physical examination
laboratory tests:

complete blood count
general urine analysis
biochemical analysis of blood
TSH-basal, fT3, fT4
tumor markers
inflammation indicators (CRP, ESR)
indicators blood coagulation

abdominal ultrasound
CT/MRI or PET-CT examination of abdomen
preoperative care
cytoreductive surgery to remove visible tumors
within the abdomen and HIPEC
histologically and immunohistochemically
examination of removed tissue
symptomatic treatment
cost of essential medicines
nursing services
stay in the hospital with a full board
accommodation in a 2-bed room
elaboration further recommendations
Required documents
Medical records
MRI/CT scan (not older than 3 months)
Biopsy results (if available)
Service
Price:
Type of program :
Expected duration of the program:
You may also book

Price:
About the department
According to the Focus magazine, the Department of General, Abdominal and Vascular Surgery at the Charite University Hospital Berlin ranks among the top German medical facilities specializing in the treatment of bowel and lung cancer!
The department offers all the modern surgical options for the treatment of diseases of the abdominal cavity and blood vessels. The department's doctors have expert knowledge and vast experience in the treatment of colorectal cancer, stomach, esophageal, pancreatic cancers, liver metastases, inflammatory bowel diseases (diverticular disease, Crohn's disease, ulcerative colitis). Also, they specialize in the surgical treatment of vascular pathologies and thyroid diseases. The department is headed by Prof. Dr. med. Martin Kreis.
The department's medical team provides first-class medical care using the very latest scientific achievements and demonstrates understanding of the needs and wishes of each patient. The excellent technical equipment plays a significant role in the successful clinical practice of a medical institution as well. The department offers modern operating rooms with high-precision computer equipment, monitoring systems, devices for robot-assisted surgery, etc. In addition, the department has a hybrid operating room.
The department's surgeons widely practice both classical surgical interventions and modern surical procedures, including minimally invasive surgery ("keyhole surgery") and robot-assisted surgeries (surgery using the da Vinci Surgical System). In the field of vascular surgery, the doctors also offer endovascular interventions. Due attention is paid to interdisciplinary cooperation, for example, with the Departments of Gastroenterology and Oncology. Thanks to cutting-edge equipment for endoscopic and radiological examinations, the department's specialists can make the most accurate diagnosis, determine the stage of the pathology and its localization, and also accurately plan the surgical treatment.
The main clinical focuses of the department include:
Surgical oncology

Bowel cancer
Liver metastases

Surgical techniques (for example, partial liver resection)
Minimally invasive ablation techniques (for example, radiofrequency ablation, microwave ablation)

Esophageal carcinoma
Stomach cancer
Recurrent rectal cancer
Pancreatic cancer
Thyroid cancer

Surgical treatment of chronic inflammatory bowel diseases

Crohn's disease
Ulcerative colitis

Abdominal surgery

Sigmoid diverticulitis
Gastroesophageal reflux disease
Cholelithiasis
Inguinal hernia
Incisional hernia
Coloproctological diseases (minimally invasive surgery, robotic interventions)

Fecal incontinence
Defecation disorders
Hemorrhoids
Rectal prolapse
Anal fissures, fistulas, abscesses
Anal, rectal tumors

Vascular surgery

Aortic aneurysm repair

Minimally invasive removal of aortic aneurysm
Open surgeries

Treatment of peripheral arterial occlusive disease of the lower extremities

Conservative treatment (drug therapy)
Minimally invasive treatment techniques (for example, percutaneous transluminal angioplasty, stent implantation)
Open surgery (in advanced stages of the disease)

Treatment of carotid stenosis
Treatment of thrombosis and postthrombotic syndrome
Dialysis access formation in patients with kidney failure
Treatment of varicose veins

Thermal ablation
Mechanical and chemical endovenous ablation
Open surgical interventions

Other diseases and treatment methods
Curriculum vitae
1986 - 1993 Study of Human Medicine.
1994 Doctoral thesis defense.
1994 - 2004 Work in the Department of Surgery at the University Hospital Tuebingen.
2001 Medical Specialist in Surgery.
2003 Qualification in Abdominal Surgery.
2003 Habilitation and appointment as a Senior Physician.
2004 - 2012 Work in the Department of Surgery, Campus Grosshadern.
Since 01.10.2012 W3 Professor and Head of the Department of General, Abdominal and Vascular Surgery at the Charite University Hospital Berlin, Campus Benjamin Franklin.
Clinical Focuses
Cancer surgery.
Chronic inflammatory bowel diseases.
Minimally invasive surgery.
Membership in Professional Societies
German Society of Surgery (DGCH).
German Society of General and Abdominal Surgery (DGAV).
Society for Surgery of the Alimentary Tract (SSAT).
German Society of Coloproctology (DGK).
German Society of Neurogastroenterology and Motility (DGNM).
European Society of Neurogastroenterology (ESN).
Photo of the doctor: (c) Charité – Universitätsmedizin Berlin
---
About hospital
Accommodation in hospital
Ovarian cancer
Program [Description]
Multimodality treatment of peritoneal carcinomatosis with cytoreductive surgery and HIPEC
Hospital: Charite University Hospital Berlin
Type:
access_time Duration:
Price:
date_range
There are 31 ovarian cancer treatment hospitals on Booking Health website
Show all clinics
Certificates