Prostate Cancer Treatment with Actinium-225 PSMA (program ID:

447968

)
University Hospital Duesseldorf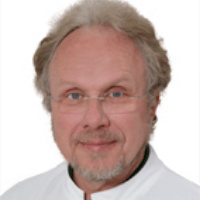 Head Physician
Prof. Dr. med.
Hans-Wilhelm Müller
Specialized in: nuclear medicine
Department of Nuclear Medicine
Program includes:
Initial presentation in the clinic
clinical history taking
general physical examination
laboratory tests:

complete blood count
biochemical analysis of blood
urinalysis
TSH-basal, fT3, fT4
PSA blood level
tests for urogenital infections
indicators of inflammation
indicators of blood coagulation

ultrasound scan of the urogenital system
renal scintigraphy
PSMA PET-CT
PSMA treatment with Actinium-225
full body scintigraphy after 24 hours
full body scintigraphy after 48 hours
symptomatic treatment
cost of essential medicines
nursing services
elaboration of further recommendations
stay in the hospital with full board
accommodation in 2-bedded room
How program is carried out
During the first visit, the doctor will carry out a general physical examination and go through the results of previous laboratory and instrumental tests. After that, you will undergo the necessary additional tests such as the assessment of liver and kidney function, scintigraphy of the skeleton and salivary glands, PSMA PET / CT. This will allow the doctor to assess how effective PSMA therapy with Actinium-225 will be and how well you will tolerate it. Also, the doctor will calculate your individual dosage of the radionuclide.
PSMA therapy with Actinium-225 is carried out via intravenous administration of a solution with the radioactive isotope Actinium-225. The solution is injected through a catheter. This is a short procedure, as the infusion usually takes no more than 20 minutes.
During the procedure, you will need to apply cooling bags to the salivary glands, as Actinium-225 partially accumulates in the salivary glands, affecting their function and causing dry mouth. You will also receive intravenous saline solutions to protect your kidneys.
After the infusion of Actinium-225, you will stay in a specially equipped (radiation-shielded) ward for 48 hours. The drug is quickly excreted by the kidneys, and after 48 hours you will no longer be dangerous to others. During these 48 hours, you can read, use a mobile phone, tablet or computer – all these devices will not be a source of radiation in the future.
Follow-up examinations include whole-body scintigraphy or computed tomography in 24 hours and 48 hours after the procedure. Based on the results of the examination, the doctor will determine whether one procedure is enough for you, or whether you will need to visit the hospital again. As a rule, 1-2 procedures are required for achieving a stable positive result. Procedures are carried out with an interval of 8 weeks.
Required documents
Medical records
PSA blood test
MRI/CT scan (not older than 3 months)
Bone scintigraphy (if available)
Biopsy results (if available)
Service
Price:
Type of program :
Expected duration of the program:
You may also book

Price:
About the department
The Department of Nuclear Medicine at the University Hospital Duesseldorf offers the full range of diagnostics and treatment with radioactive substances. It conducts many scintigraphic examinations, ranging from the diagnostics of the thyroid gland and skeleton to amino acid metabolism studies in brain tumors and metabolic studies in other malignant tumors. The department has at its disposal a specialized outpatient clinic for the diagnostics and treatment of thyroid diseases. The department is headed by Prof. Dr. med. Hans-Wilhelm Müller.
Along with several traditional gamma cameras, the department has two SPECT cameras, each of which is equipped with several detectors. The diagnostic capabilities are also complemented by the very latest techniques, for example, positron emission tomography (PET). This method is one of the most informative, because using it the doctor can see a complete picture of glucose metabolism in cancer, cardiac, neurological and psychiatric diseases.
The service range of the department includes:
Diagnostics and treatment of thyroid diseases
Radioiodine therapy for treating tumors, in particular, thyroid tumors
Diagnostics of coronary heart diseases and complications after myocardial infarction
Scintigraphy

Thyroid and parathyroid scintigraphy
Scintigraphy to detect oncopathology

Whole-body scintigraphy
Radioactive gallium scintigraphy
Somatostatin receptor scintigraphy with octreotide
MIBG scintigraphy
Scintigraphy using cancer embryonic antigen (CEA)

Scintigraphy in heart diseases

Myocardial scintigraphy
Radionuclide ventriculography

Brain scintigraphy

IBZM brain scintigraphy
Brain perfusion scintigraphy
Cerebrospinal fluid scintigraphy
Dopamine transporter scintigraphy (FP-CIT)

Kidney scintigraphy

Kidney tubular scintigraphy
Glomerular kidney scintigraphy
Static kidney scintigraphy

Scintigraphy of the blood system

Determination of the bleeding source
Schilling test
Scintigraphy with labeled red blood cells
Leukocyte scintigraphy

Scintigraphy of the gastrointestinal tract

Esophageal scintigraphy
Stomach scintigraphy
Salivary gland scintigraphy

Lymphatic scintigraphy
Lung scintigraphy
Liver scintigraphy
Spleen scintigraphy

Positron emission tomography
Other diagnostic and treatment methods
Curriculum vitae
Study of Medicine at the Catholic University of Leuven (Belgium) and the Heinrich Heine University Duesseldorf.
1980 German state medical exam, admission to medical practice.
1981 American preclinical medical exam.
1982 American clinical medical exam.
1986 Medical Specialist in Nuclear Medicine.
1986 Doctoral dissertation defense.
1989 Habilitation.
1978 - 1993 Numerous internships abroad (UK and USA): John Hopkins School of Medicine in Baltimore as a Fellow of the German Research Foundation (1989 - 1993).
1993 Invitation to the post of C4 Professor C4 Heinrich Heine University Duesseldorf, as well as obtaining the post of Head of the Department of Nuclear Medicine at the University Hospital Duesseldorf.
2000 Award of the European Department, College de France in Paris.
Photo of the doctor: (c) Universitätsklinikum Düsseldorf
---
About hospital
Accommodation in hospital
Program [Description]
Prostate Cancer Treatment with Actinium-225 PSMA
Hospital: University Hospital Duesseldorf
Type:
access_time Duration:
Price:
date_range
There are 26 metastatic prostate cancer treatment hospitals on Booking Health website
Show all clinics
Certificates