University Hospital Mainz
Department of Pediatric Cardiology (

501014

)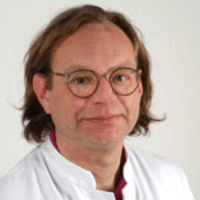 Prof. Dr. med.
Christoph Kampmann
Specialized in: pediatric cardiology
About the Department of Pediatric Cardiology at University Hospital Mainz
The Department of Pediatric Cardiology at the University Hospital Mainz offers outpatient treatment of the full range of diseases of the heart and vessels in children of all age groups, ranging from newborns to young adolescents. The department specializes in the diagnostics and treatment of congenital heart defects. Also, the department offers a broad range of treatments for heart arrhythmia, including catheter ablation. With an experienced medical team and state-of-the-art equipment, the department ranks among the leading Pediatric Cardiology Centers in Germany. The Chief Physician of the department is Prof. Dr. med. Christoph Kampmann.
The department pays much attention to a trusting relationship between the physician and parents / patient, as well as to the individual approach to each patient. In order to prescribe an effective treatment program, it is required to make the precise diagnosis. Therefore, the department has at its disposal the entire range of modern cardiac diagnostic methods. In cooperation with the Departments of Radiology and Pediatric Radiology, there are conducted examinations with the use of X-ray, MRI and CT.
The diagnostic range of the department includes the following options:
Clinical cardiac examination
Electrocardiography
Phonocardiography
Long-term electrocardiography
Long-term blood pressure measurement
Color Doppler and Duplex echocardiography
Transesophageal echocardiography
Stress electrocardiography (on a bicycle)
Stress echocardiography (on an exercise bicycle or with the use of medicines)
Pacemakers (adjustment and check-ups)
And other diagnostic options
The range of the department's therapeutic services includes:
Treatment of congenital heart defects (CHD)

Drug treatment to improve the condition of vessels and myocardium for patients with CHD
Closure of foramen ovale with endovascular occluders
Minimally invasive correction of valvular heart disease, in particular, of a rheumatic origin
Combined operations in case of complex heart defects, such as Fallot's tetralogy, Ebstein's disease, etc.

Treatment of heart arrhythmias and conduction disorders, including catheter ablation

Sinus tachycardia and brachycardia
Extrasystole
Paroxysmal rhythm disturbances
Heart block

Treatment of heart muscle pathologies

Allergic myocarditis
Bacterial myocarditis and endocarditis
Viral myocarditis
Myocarditis in case of diffuse diseases of the connective tissue

Drug treatment to normalize (low or high) blood pressure
And other diseases and treatment methods
Photo of the doctor: (c) Universitätsmedizin der Johannes Gutenberg-Universität Mainz
Department of Pediatric Cardiology.
University Hospital Mainz:

Request more information now.
We will be happy to answer all your questions.
---