University Hospital Freiburg
Department of Adult and Pediatric Plastic, Aesthetic and Reconstructive Surgery, Hand Surgery (

459506

)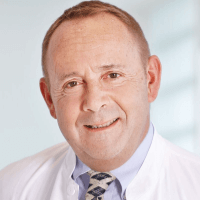 Prof. Dr. med.
Björn Stark
Specialized in: adult and pediatric plastic, aesthetic and reconstructive surgery, hand surgery
About the Department of Adult and Pediatric Plastic, Aesthetic and Reconstructive Surgery, Hand Surgery at University Hospital Freiburg
The Department of Adult and Pediatric Plastic, Aesthetic and Reconstructive Surgery, Hand Surgery at the University Hospital Freiburg offers the full range of modern surgical techniques to restore and improve aesthetic appearance of the body shape after injuries, diseases and in congenital anomalies. The department is headed by Prof. Dr. med. Björn Stark.
The doctors of the department have vast experience and regularly demonstrate excellent treatment results in various fields of plastic surgery: reconstructive surgery, hand surgery, breast surgery, burn surgery and aesthetic surgery. The versatility of modern technologies and microsurgical methods allows providing the optimal solution to problems of any degree of complexity.
The service range of the department includes:
Aesthetic surgery
Breast augmentation (including with implants)
Breast reduction
Male breast reduction (in gynecomastia)
Breast lift
Liposuction
Abdominoplasty
Upper thigh lift surgery
Upper arm lift
Upper and lower eyelid correction
Nose reshaping
SMAS facelift surgery
Forehead lift (endoscopic)
Midface lift (endoscopic)
Chin augmentation with osteotomy
Earlobe reshaping
Correction of protruding ears
Wrinkle treatment with autologous fat injections (lipofilling)
Lip lift
Laser facial dermabrasion
Sweat gland removal surgery
Other aesthetic services
Hand surgery
Emergency medical care (around the clock), for example, in case of accidents
Conservative treatment methods (for example, the very latest injection therapy with Xiapex© collagenase in Dupuytren's contracture)
Surgical treatment methods (operations are performed mostly on an outpatient basis)
Treatment of children with congenital hand defects (for example, syndactyly, thumb duplication)
Hand and finger joint arthroplasty
Postoperative care with the use of ergotherapy, lymphatic drainage, massage, etc.
Other services
Surgery for injuries of peripheral and spinal nerves, pinched nerves and neoplasms
Surgical treatment of compression syndromes (also with endoscopic methods)
Tumor removal
Neurolysis (freeing of a nerve from pinching scar tissue)
Interventions to treat any lesions of the peripheral nervous system
Surgery for injuries of the brachial plexus and lumbosacral plexus
Tendon and muscle transfer
Reconstructive interventions in facial paralysis
Other services
Reconstructive surgery
Treatment of vascular malformations (for example, hemangiomas)
Body contouring surgery, for example, after bariatric surgery

Body lift
Abdominoplasty
Upper thigh lift
Upper arm lift
Breast lift
Other services

Correction of ear malformations (for example, protruding ears, absent external ear)

Otoplasty (ear reshaping)
Reconstructive interventions in microtia

Treatment of facial paralysis

Facial nerve reconstruction (primary facial nerve suture)
Facial nerve reconstruction using interponate (secondary facial nerve suture)
Hypoglossal-facial nerve anastomosis
Cross-facial nerve grafting (CFNG)
Neuromuscular transposition
Static methods in facial nerve paralysis
Other treatments

Plastic reconstructive interventions in cancers

Full range of surgical interventions in soft tissue sarcomas and skin tumors

Reconstructive microsurgical interventions
Other medical services
Plastic surgery in children and adolescents (correction of various congenital and acquired defects)
Removal of hemangiomas (planning therapy within an interdisciplinary case conference)
Removal of birthmarks (nevi)
Treatment of burns in children
Scar revision
Correction of congenital thoracic/chest wall deformities
Correction of congenital hand deformities
Otoplasty
Reconstruction of ear defects
Nerve injury (especially facial nerve injury) repair
Profile correction
Treatment of gynecomastia
Other therapeutic options
Curriculum vitae of Prof. Dr. med. Björn Stark
1976 - 1982 Study of Medicine at the University of Freiburg, Degree of Doctor of Medicine.
1982 - 1990 Board Certification in Surgery and Habilitation at the University of Bonn.
1985 - 1986 Research Fellowship, Plastic and Reconstructive Surgery, University of Pittsburgh, USA.
1989 - 1990 Residency in Plastic Surgery, Tulane University, New Orleans, USA.
1990 - 1993 Attending Physician of the Department for Plastic, Hand and Reconstructive Surgery, Center for Severe Burns Cologne.
1994 Head of the Adult and Pediatric Plastic, Aesthetic and Reconstructive Surgery, Hand Surgery at the University Hospital Freiburg.
Since 1998 Medical Director.
Since 2002 Full Professorship (C4).
Research Focuses
Reconstructive microsurgery.
Tissue regeneration und tissue engineering.
Aesthetic surgery.
Photo of the doctor: (с) Universitätsklinikum Freiburg
Department of Adult and Pediatric Plastic, Aesthetic and Reconstructive Surgery, Hand Surgery.
University Hospital Freiburg:

Request more information now.
We will be happy to answer all your questions.
---