University Hospital Freiburg
Department of Adult and Pediatric Dermatology, Venereology (

462155

)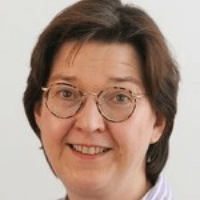 Prof. Dr. med. Dr. h.c.
Leena Bruckner-Tuderman
Specialized in: adult and pediatric dermatology, venereology
About the Department of Adult and Pediatric Dermatology, Venereology at University Hospital Freiburg
The Department of Adult and Pediatric Dermatology, Venereology at the University Hospital Freiburg offers the full range of services in these fields of medicine. The main clinical focuses of the department include the diagnostics and treatment of diseases of the skin, mucous membranes, superficial venous systems, as well as sexually transmitted diseases. For these purposes, the department has in its arsenal a variety of modern diagnostic and therapeutic methods that provide optimal results. The department is headed by Prof. Dr. med. Dr. h.c. Leena Bruckner-Tuderman.
The treatment is provided on an inpatient basis (two stations), within a day clinic and on an outpatient basis. In addition, the department offers high-quality intensive care and specialized care for patients in severe clinical condition.
Special attention should be paid to the Center of Excellence "Fragile Skin" (Kompetenzzentrum Fragile Haut), which deals with the treatment of patients with problem skin, such as skin blisters, impaired wound healing, etc. The concept of the center is based on the implementation of scientific research in clinical practice. The high qualifications of doctors and nursing staff, modern molecular diagnostics, innovative therapy, interdisciplinary cooperation in combination with international scientific achievements and clinical trials guarantee a professional solution to all skin problems.
Also, one of the main focuses of the department is the treatment of benign and malignant skin tumors within the framework of the certified Skin Cancer Center, which is part of the department (certified by the German Cancer Society). Cooperation with other departments and centers of the hospital, as well as with external partners allows providing interdisciplinary medical care. If desired, patients can participate in clinical trials.
The service range of the department includes:
Diagnostics and treatment of complex skin pathologies

Epidermolysis bullosa
Impaired wound healing

Prevention, diagnostics and treatment of benign and malignant skin neoplasms (melanoma, basal cell carcinoma, squamous cell carcinoma and rare skin tumors (lymphoma, sarcoma)) within the specialized center

Diagnostics: dermatoscopy, histopathology, ultrasound of the skin and lymph nodes, imaging techniques (classical X-ray, CT, MRI, PET-CT, scintigraphy)
Therapy: surgical treatment, reconstructive interventions after skin tumor removal, phototherapy, laser therapy, photodynamic therapy, immunotherapy, chemotherapy, targeted therapy, radiation therapy
Social and psycho-oncology support
Self-help groups
Clinical trials
Aftercare (follow-up examinations necessary for the monitor of treatment results and relapse prevention)

Diagnostics and treatment of psoriasis
Diagnostics and treatment of autoimmune skin diseases
Diagnostics and treatment of allergic diseases
Diagnostics and treatment of pediatric skin diseases, as well as consultations on pediatric dermatology
Diagnostics and treatment of venous diseases (for example, varicose veins)
Diagnostics and treatment of sexually transmitted diseases
Dermatologic cosmetic procedures (for example, acne treatment)
Professional skin cleansing
Other diagnostic and therapeutic options
Curriculum vitae of Prof. Dr. med. Dr. h.c. Leena Bruckner-Tuderman
Prof. Dr. med. Dr. h.c. Leena Bruckner-Tuderman studied medicine in Oulu, Finland, and after an experimental dissertation in molecular medicine, continued her postdoctoral work in biochemistry in Piscataway, New Jersey, USA, and in structural biology in Basel, Switzerland. She specializes in dermatology and qualified for her state doctorate (habilitation) at University of Zurich, Switzerland (1988). From 1990 to 1994 she was a Score Fellow of the Swiss National Science Foundation. Thereafter she became a Heisenberg Fellow of the German Research Foundation (DFG) and moved to the Muenster University, Germany, where she became Professor of Dermatology and Venereology. During this period in Muenster she was also a Visiting Professor at the University of Hong Kong and at the Harvard Medical School, Boston.

In 2002, she received a call as a Professor and Head of the Department of Dermatology and Venereology at the University of Freiburg, which she accepted in 2003. Since 2007, she is a Fellow and a Deputy Director of the School of Life Sciences (LIFENET) of the newly founded institute (Freiburg Institute for Advanced Studies).

She has been and continues to be a Board Member of numerous national and international foundations, programmes and committees such as, DEBRA, ADF, ESDR, SID, DDG, EU, Gordon Research Conferences, etc. She is a Member of the Editorial Board for Journals in Dermatology and Venereology, as well as a Scientific Advisor to the German Research Foundation (DFG) and the Federal Ministry for Education and Research (BMBF).

Bruckner-Tuderman has been distinguished by many awards, both nationally and internationally. In 1992 she was awarded the Swiss Prof. Dr. Max Cloetta Research Award followed in the next year by the Friedrich Götz Foundation Research Award of the Zurich University, Switzerland. She held the Maria Duran Lecture at the International Society of Dermatology in 2007 and the Rudi Cormane Lecture of the European Society of Dermatological Research in 2008. In 2009 Leena Bruckner-Tuderman received the Eva Luise Köhler Research Award (the prize awarded to scientists with a record of exceptional research on rare diseases (€50,000), she was awarded in the presence of the Federal President Horst Köhler). She is a Member of the German Academy of Sciences Leopoldina. She serves as a Corresponding Member of the Finnish, Swedish and Swiss Dermatology Societies and an Honorary Member of the Hungarian Dermatological Society.
Photo of the doctor: (с) Universitätsklinikum Freiburg
Department of Adult and Pediatric Dermatology, Venereology.
University Hospital Freiburg:

Request more information now.
We will be happy to answer all your questions.
---