University Hospital Freiburg
Department of Gynecology and Gynecologic Oncology (

462158

)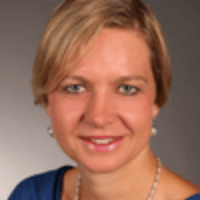 PD Dr. med.
Michaela Bossart
Specialized in: gynecology, gynecologic oncology
About the Department of Gynecology and Gynecologic Oncology at University Hospital Freiburg
The Department of Gynecology and Gynecologic Oncology at the University Hospital Freiburg offers treatment of the full range of diseases of the female genital organs and mammary gland, endometriosis, atonic bladder, dysplasia, as well as cancer prevention. The department specializes in all types of female genital cancers, for example, uterine, cervical, ovarian, fallopian tube, vaginal cancer, etc., as well as the treatment of malignant diseases that may occur as a result of miscarriage or during pregnancy (for example, trophoblastic tumor). The Chief Physician of the department is PD Dr. med. Michaela Bossart.
The department's focuses include:
Diagnostics and treatment of all gynecologic diseases
Center for Endometriosis Care
Treatment of urinary incontinence and weakened pelvic floor
Outpatient surgery
Diagnostics and treatment of dysplasia, cancer prevention
Gynecologic oncology
Other diseases and treatments
The department provides comprehensive treatment of oncological diseases in accordance with the latest scientific achievements. All modern therapeutic options are available here, such as chemotherapy, antibody therapy, anti-hormonal therapy. Due to modern concomitant drug therapy, treatment is usually well tolerated by patients. In case of bone metastases, an additional treatment option are bone-strengthening drugs. In special cases, immunotherapy or antibody therapy is recommended. In addition, the department has in its arsenal various methods of naturopathic therapy.
In the field of cancer surgery, there is offered the whole range of surgical treatment of ovarian, uterine, cervical, vulvar and vaginal cancers in compliance with international standards. If indicated, even major cancer surgery may be minimally invasive. This ensures the highest possible quality of life for patients. In addition, thanks to the collaboration with other departments, doctors perform organ preservation interventions and reconstructive organ repair. Also, the department has equipment for intraoperative irradiation used in the treatment of relapses of various tumors or lymph node metastases. This allows increasing the radiation dose in the tumor area without damaging the adjacent organs and tissues.
The department is the first European center certified by the European Society of Gynecological Oncology since 2005, and by the German Cancer Society since 2009.
Photo of the doctor: (с) Universitätsklinikum Freiburg
Department of Gynecology and Gynecologic Oncology.
University Hospital Freiburg:

Request more information now.
We will be happy to answer all your questions.
---