University Hospital Freiburg
Department of Pediatric Cardiology and Congenital Heart Defects (

467435

)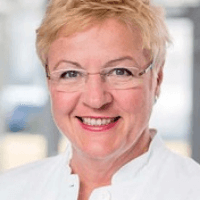 Prof. Dr. med.
Brigitte Stiller
Specialized in: pediatric cardiology, congenital heart defects
About the Department of Pediatric Cardiology and Congenital Heart Defects at University Hospital Freiburg
The Department of Pediatric Cardiology and Congenital Heart Defects at the University Hospital Freiburg offers the full range of diagnostics and treatment of heart diseases and defects in young children, school-age children, and adolescents. Over 4,000 young inpatients and outpatients are treated here annually. Each child is guaranteed an individual approach and therapy adapted to his particular clinical situation. Considerable importance is also attached to comprehensive counseling of child's parents. The Chief Physician of the department is Prof. Dr. med. Brigitte Stiller.
It should be noted that the treatment of congenital heart defects in adults is of particular interest to the department. Since the department regularly demonstrates excellent treatment results in this field, it was awarded the title of supra-regional certified Center for Congenital Heart Defects in Adults. An interdisciplinary team of pediatric cardiologists, cardiovascular surgeons and cardiologists, as well as psychologists and social employees is working for the benefit of patients.
The service range of the department includes:
Diagnostics and treatment of adults with congenital heart defects

Interventional catheter treatments of congenital heart defects, coronary interventions
Electrophysiological investigations, monitoring of the patient's condition after pacemaker, defibrillator implantations
Surgical interventions on the heart and vessels, including hybrid surgery
Cardiac CT and MRI
Pregnancy counseling, genetic counseling, psychological help

Catheter interventions in congenital heart diseases in adults and children

Dilatation in valve stenosis or valve leaflets fusion (balloon valvuloplasty)
Dilatation in vascular stenosis (balloon dilatation and stenting)
Closure of atrial or interventricular septal defects
Correction of vascular cross-connections (patent ductus arteriosus, collaterals, fistulas, shunts)
Heart valve implantation (for example, transcatheter pulmonary valve implantation)

Installation of pacemakers
Intensive therapy in children with heart pathology
Installation of artificial heart support systems in children
Care for young patients after heart transplantation
Diagnostics and treatment of Marfan syndrome
Prenatal diagnosis of heart defects
Diagnostics and treatment of pulmonary arterial hypertension in children
Other medical services
Curriculum vitae of Prof. Dr. med. Brigitte Stiller
1982 - 1988 Study of Medicine at the Universities of Duesseldorf and Cologne.
1988 Admission to medical practice.
1988 - 1993 Training in General Pediatrics, Cologne.
1993 - 1996 Training in Cardiology.
1996 - 2008 Consultant in Pediatric Cardiology, German Heart Institute of Berlin.
1998 Medical Specialist in Pediatric Cardiology.
2000 Medical Specialist in Pediatric Intensive Care.
2004 Habilitation at the Charité, Berlin. Subject: "Mechanical circulatory support in children".
Since 2008, Full Professor of Pediatric Cardiology (W3), University of Freiburg, as well as Head of the Department of Pediatric Cardiology and Congenital Heart Defects at the University Hospital Freiburg.
2015 - 2016 President and Vice President of the German Society of Pediatric Cardiology (DGPK).
Research Focuses
Adults with congenital heart defects.
Myocardial failure.
Pediatric mechanical circulatory support.
Heart transplantation in children.
Photo of the doctor: (с) Universitätsklinikum Freiburg
Department of Pediatric Cardiology and Congenital Heart Defects.
University Hospital Freiburg:

Request more information now.
We will be happy to answer all your questions.
---