University Hospital Freiburg
Department of Adult and Pediatric Neuroradiology (

487064

)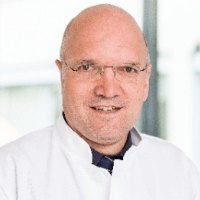 Prof. Dr. med.
Horst Urbach
Specialized in: adult and pediatric neuroradiology
About the Department of Adult and Pediatric Neuroradiology at University Hospital Freiburg
The Department of Adult and Pediatric Neuroradiology offers the full range of imaging diagnostics and minimally invasive therapy for diseases of the brain and spinal cord, neuromuscular pathology, etc. The department is equipped with the state-of-art CT and MRI systems for the most accurate imaging of anatomical structures, as well as the examination of cerebral blood flow, metabolic processes, brain functions, etc. The priorities of the department are the interventional neuroradiology, epilepsy diagnostics, and imaging diagnostics of neurological diseases in children. The department is headed by Prof. Dr. med. Horst Urbach.
The service range of the department includes:
Magnetic resonance imaging (MRI) for the diagnostics of head diseases, including pathologies of the brain, spine, spinal cord and peripheral nervous system

Standard neuroradiological diagnostics (for epilepsy diagnostics and pathological changes associated with it, dynamic blood flow imaging, as well as for anatomical and functional imaging of special brain areas and peripheral nerves during preoperative neurosurgical planning (functional MRI and tractography))
Acute stroke diagnostics
Diagnostics of neurodegenerative diseases (Alzheimer's disease, Parkinson's disease)
Specially adapted MRI examinations in children (in collaboration with the Department of Neuropediatrics and Muscular Diseases)

Computed tomography (CT)

Stroke diagnostics
Diagnostics of brain tumors and herniated spinal discs
Imaging of the arteries and veins in the neck and brain (for example, in order to detect aneurysms or artery stenosis)

Myelography (X-ray method for the examination of the spine and spinal cord structures, which involves injection of a radiopaque substance into the spinal canal)
Angiography of cerebral vessels (invasive contrast-enhanced examination method), for example, for the detection of aneurysms, arteriovenous malformations and fistulas
Treatment of arteriovenous malformations

Microsurgical removal
Stereotactic radiotherapy

Other diagnostic and therapeutic options
Curriculum vitae of Prof. Dr. med. Horst Urbach
Since 2013 Head of the Department of Adult and Pediatric Neuroradiology at the University Hospital Freiburg.
2000 Habilitation.
1997 - 2013 Senior Physician, Department of Neuroradiology, University Hospital Bonn.
1996 Senior Physician, Department of Neuroradiology, University Hospital Würzburg.
1995 Specialization in Neuroradiology.
1994 Medical Specialist in Radiological Diagnostics.
1988 - 1995 Medical education, Radiology and Neuroradiology, Andernach, Koblenz and Bonn.
1989 Doctoral thesis defense.
1988 Admission to medical practice.
1981 - 1988 Study of Human Medicine and Chemistry, University Hospital Bonn.
Main Research Focuses
Epilepsy diagnostics.
Interventional neuroradiology.
Memberships
German Society of Radiology (DRG).
German Society of Neuroradiology (DGNR).
European Society of Neuroradiology (ESNR).
Co-editor of the Journal Clinical Neuroradiology.
Member of the Editorial Board of the Journal Neuroradiology.
Co-editor of the European Neurological Review.
Photo of the doctor: (с) Universitätsklinikum Freiburg
Department of Adult and Pediatric Neuroradiology.
University Hospital Freiburg:

Request more information now.
We will be happy to answer all your questions.
---