University Hospital Freiburg
Department of Nuclear Medicine (

488816

)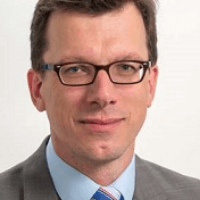 Prof. Dr. med.
Philipp Tobias Meyer
Specialized in: nuclear medicine
About the department
The Department of Nuclear Medicine at the University Hospital Freiburg offers the full range of modern diagnostics and therapy in this field. The department specializes in the examination and treatment of patients with benign and malignant thyroid diseases, scintigraphy and functional diagnostics of the skeleton, lungs, brain, heart, kidneys and sentinel lymph nodes. In addition, more than 3,000 PET-CT examinations are performed annually in the department. In this field, the focus is on the diagnostics of cancer and neurological diseases. The department is headed by Prof. Dr. Dr. med. Philipp Tobias Meyer.
The following advanced medical equipment contributes to the accurate diagnostics and successful treatment: SPECT and SPECT-CT systems, two PET-CT scanners (including fully digital PET-CT scanner with CT detectors, for example, a big-bore-System for radiotherapy planning). It should be noted that the department is a partner of the Comprehensive Cancer Center Freiburg, therefore it provides high-quality diagnostics and treatment of various cancer diseases.
Special attention should be paid to the research activities of the department, which focuses on the development and clinical trials of innovative methods of molecular diagnostics and therapy, as well as a hybrid imaging (PET-CT and SPECT-CT). In this case, key attention is paid to oncological and neurological diseases. For these purposes, the department also has a Section for Preclinical Examinations (including PET and CT in animals).
The main clinical focuses of the department include:
Positron emission tomography for the diagnostics and treatment of cancers
Modern combined PET-CT diagnostic method
Diagnostics with the help of gamma camera (SPECT and SPECT-CT)
Nuclear medicine methods for early diagnostics and treatment of the heart diseases
Scintigraphy of the skeleton, lungs, brain, heart, kidneys and sentinel lymph nodes
Radioiodine therapy for the treatment of benign and malignant thyroid diseases
Radioligand therapy (for example, Lu-177-PSMA therapy in prostate cancer)
Selective internal radiation therapy for liver tumors
Other diseases and treatment methods
Curriculum vitae
1994 - 2000 Study of Human Medicine, RWTH Aachen and the University of Pennsylvania.
2000 Final examination.
2001 Doctoral thesis defense.
2002 - 2005 Research Fellow, Juelich Research Center, Institute of Medicine.
2004 - 2007 University of Cologne, Interdisciplinary Training Program in Molecular Medicine.
2001 - 2002 and 2005 - 2008 Assistant Physician, University Hospital Aachen and University Hospital Leipzig, Nuclear Medicine and Neurology.
2008 Medical Specialist in Nuclear Medicine.
Since 2008 Head of the Department of Nuclear Medicine at the University Hospital Freiburg and W3 Professor (since 2014).
Main Research Focuses
Molecular neuroimaging with the help of PET and SPECT. Focus: diagnostics and prognosis in neurodegenerative diseases.
Preclinical and clinical examinations of radiopharmaceuticals for neurological and oncological imaging and therapy (in particular, ligand receptors).
Development of techniques (PET-CT and SPECT-CT, quantitative assessment of blood flow and conductive nerve paths).
Photo of the doctor: (с) Universitätsklinikum Freiburg
Department of Nuclear Medicine.
University Hospital Freiburg:

Request more information now.
We will be happy to answer all your questions.
---