University Hospital Greifswald
Department of General and Abdominal Surgery, Endocrine Surgery, Hepatopancreatobiliary Surgery, Hernia Surgery, Colorectal Surgery, Thoracic Surgery, Vascular Surgery and Bariatric Surgery (

568596

)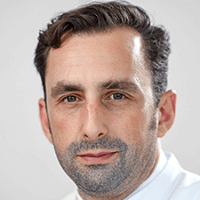 Prof. Dr. med.
Stephan Kersting
Specialized in: general and abdominal surgery, endocrine surgery, hepatopancreatobiliary surgery, hernia surgery, colorectal surgery, thoracic surgery, vascular surgery, bariatric surgery
About the Department of General and Abdominal Surgery, Endocrine Surgery, Hepatopancreatobiliary Surgery, Hernia Surgery, Colorectal Surgery, Thoracic Surgery, Vascular Surgery and Bariatric Surgery at University Hospital Greifswald
The Department of General and Abdominal Surgery, Endocrine Surgery, Hepatopancreatobiliary Surgery, Hernia Surgery, Colorectal Surgery, Thoracic Surgery, Vascular Surgery and Bariatric Surgery at the University Hospital Greifswald offers the full range of services in these medical fields. The department is equipped with modern operating rooms for both classical open and sparing minimally invasive surgical interventions, which significantly reduce blood loss and minimize the risk of complications. The department's specialists have outstanding qualifications and unique clinical experience, which allows them to perform complex interventions. The priority areas of the department's work are abdominal cancer surgery, operations for vascular pathologies, and interventions to treat lung diseases. In total, the department performs more than 3,000 surgical procedures annually. Prior to surgery, patients undergo full diagnostics and receive a comprehensive consultation on the upcoming treatment and postoperative recovery. The department is headed by Prof. Dr. med. Stephan Kersting.
Of particular interest in the practice of the department's clinicians is treating abdominal cancers. Colon cancer is one of the most common and life-threatening types of cancer in this group, so surgeons pay special attention to its treatment. An important method for diagnosing colon cancer is a colonoscopy (an endoscopic examination) with a biopsy. This technique allows doctors to examine the colon from the inside and reliably detect pathological changes, if any. If a malignant process in the colon is detected in its early stages, the department's specialists can perform endoscopic treatment without resorting to open surgery. However, patients often do not seek medical attention at the right time when surgery is required. Each clinical case of colon cancer is considered during an interdisciplinary tumor board, where surgeons, oncologists, radiation therapists, and other doctors are necessarily present. The surgical resection of the colon tumor or a portion of the affected organ is the mainstay of treatment for colon cancer. Whenever possible, the department's surgeons prefer low-traumatic operations. Surgical treatment is often supplemented with chemotherapy and/or radiation therapy.
An innovative treatment that has been successfully used in patients with metastatic colon cancer is hyperthermic intraperitoneal chemotherapy (HIPEC). The procedure consists of the following two stages: cytoreduction (removal of all foci of metastasis in the abdominal cavity) and hyperthermic intraperitoneal chemotherapy (a single administration of a solution of chemotherapeutic agents heated to 42-43°C into the patient's abdominal cavity). This form of chemotherapy allows doctors to directly target the tumor with a high dose of chemotherapy, eliminating the severe side effects typical of intravenous drug administration. In addition, heating chemotherapeutic agents to high temperatures enhances their effectiveness by penetrating deeper tissue layers. The HIPEC technique also provides good results for rectal cancer, gastric cancer, pseudomyxoma peritonei, and peritoneal mesothelioma. The procedure is available only at leading German medical facilities.
The department's team of hepatopancreatobiliary surgeons is responsible for performing surgeries to treat liver, gallbladder, biliary tract, and pancreatic diseases. A large number of surgical interventions include operations to remove liver tumors and liver metastases, operations to remove calculi due to gallstone disease, and operations to remove pancreatic cysts and tumors. In many cases, the department's surgeons manage to perform the operation using minimally invasive techniques, so that patients do not need a long hospital stay. Following such surgical procedures, a patient does not experience any severe pain, and the risks of postoperative complications are almost zero.
The department's endocrine surgeons focus on patients with thyroid diseases such as goiter, cysts, and benign and malignant neoplasms. Patients are offered low-traumatic operations to treat the above-mentioned pathologies. During interventions for thyroid cancer, advanced neuromonitoring systems are used to exclude damage to the recurrent laryngeal nerve (such damage can provoke voice disorders or even its complete loss). Such an approach by the specialists to operations for endocrine diseases contributes not only to high efficiency but also to the safety of surgical treatment.
Surgical procedures for hernia repair are also demanded in the department. The department's doctors treat inguinal, umbilical, femoral, incisional, and epigastric hernias. The specialists have particular experience in the provision of medical care to patients with recurrent hernias. Physicians have at their disposal both conventional open and laparoscopic surgical techniques. Most often, surgeons perform Lichtenstein hernioplasty, Bassini hernioplasty, and Shouldice hernioplasty, as well as total extraperitoneal hernioplasty and transabdominal preperitoneal (TAPP) hernia repair. It is these methods of hernia repair that are considered the most effective in modern European medicine.
An integral part of the work of the department's medical team is thoracic surgery. A key role in this field is played by the surgical treatment of malignant lung tumors. Surgical treatment is highly effective for lung cancer. In the early stages of lung cancer, sparing thoracoscopic surgery is preferred in the department. If the oncological process is in an advanced stage, thoracic surgeons strive to perform a low-traumatic operation, resorting to open surgery only in the most complex clinical cases.
The department's surgical options are complemented by the treatment of diseases of the arteries, veins, and lymphatic vessels. In this field, there is close cooperation with interventional radiologists, due to which, in most cases, vascular interventions are performed without any large skin and soft tissue incisions, through punctures or miniature incisions, using catheter-based techniques. Doctors effectively treat circulatory disorders in the upper and lower limbs caused by obstruction, carotid artery stenosis, abdominal aortic aneurysms, varicose veins, renal artery stenosis, etc.
The department also includes a specialized Bariatric Surgery Center, whose specialists perform surgery for morbid obesity. The main indications for bariatric surgery are the inability to lose weight with the help of diet therapy, physical activity, and drug therapy, a body mass index of more than 35 kg/m² in the presence of severe concomitant diseases, and a body mass index of more than 40 kg/m². The department offers the following four operations to treat morbid obesity: intragastric balloon placement, gastric banding, gastric bypass, and sleeve gastroplasty. The optimal type of intervention is prescribed on an individual basis based on the particular clinical data. The therapeutic effect after each of the operations is achieved by reducing food portions and preventing malabsorption of nutrients.
The department's range of medical services includes:
General and abdominal surgery

Surgery for stomach diseases

Surgery for stomach ulcers
Surgery for benign stomach tumors
Surgery for malignant stomach tumors
Surgery for gastrointestinal bleeding

Surgery for colon diseases

Surgery for colon cancer
Surgery for colon obstruction
Surgery for benign colon neoplasms
Surgery for colon adhesions
Surgery for diverticulitis
Surgery for intestinal ischemia

Surgery for esophageal diseases

Surgery for a Zenker's diverticulum
Surgery for esophageal cancer
Surgery for esophageal varices
Surgery for gastroesophageal reflux disease
Surgery for traumatic esophageal injuries

Surgery for bone and soft tissue sarcomas

Endocrine surgery

Surgery for thyroid diseases

Surgery for goiter
Surgery for thyroid cysts
Surgery for benign thyroid tumors
Surgery for thyroid cancer

Surgery for parathyroid diseases

Surgery for hyperparathyroidism

Hepatopancreatobiliary surgery

Surgery for liver diseases

Surgery for liver cysts
Surgery for benign liver tumors
Surgery for malignant liver neoplasms
Surgery for liver metastases

Surgery for gallbladder and biliary tract diseases

Surgery for cholecystitis
Surgery for cholecystolithiasis
Surgery for biliary stenosis
Surgery for gallbladder and bile duct cancer

Surgery for pancreatic diseases

Surgery for pancreatic cancer
Surgery for acute and chronic pancreatitis
Surgery for pancreatic cysts
Surgery for congenital pancreatic malformations
Surgery for traumatic injuries of the pancreas

Hernia surgery

Liechtenstein hernioplasty
Bassini hernioplasty
Shouldice hernioplasty
Total extraperitoneal hernioplasty
Transabdominal preperitoneal (TAPP) hernia repair

Colorectal surgery

Surgery for rectal cancer
Surgery for adenomatous polyps

Thoracic surgery

Surgery for lung cancer
Surgery for mediastinal tumors
Surgery for inflammatory lung diseases

Vascular surgery

Surgery for circulatory disorders in the upper and lower limbs
Surgery for abdominal aortic aneurysms
Surgery for carotid artery stenosis
Surgery for acute vascular occlusion
Surgery for varicose veins
Surgery for dialysis access formation

Bariatric surgery

Intragastric balloon placement
Gastric banding
Gastric bypass
Sleeve gastroplasty

Other surgical options
Curriculum vitae of Prof. Dr. med. Stephan Kersting
Higher Education
2010 - 2012 Master's Degree in Healthcare Management, Dresden University of Technology.
1995 - 1999 Human Medicine studies and thesis defense, Ludwig Maximilian University of Munich.
1993 - 1995 Human Medicine studies and state exams, Albert Ludwig University of Freiburg.
Professional Career
Since 2020 Head of the Department General and Abdominal Surgery, Endocrine Surgery, Hepatopancreatobiliary Surgery, Hernia Surgery, Colorectal Surgery, Thoracic Surgery, Vascular Surgery and Bariatric Surgery at the University Hospital Greifswald.
2017 - 2020 Deputy Head Physician of the Department of Hepatology at the University Hospital Erlangen.
2015 - 2017 Medical Director at the St. Joseph Hospital.
2014 - 2017 Head Physician at the St. Joseph Hospital.
2010 Habilitation. Subject: "Regeneration and proliferation of cells of the islets of Langerhans".
2000 - 2013 Senior Physician at the University Hospital Carl Gustav Carus Dresden.
Special Clinical Interests
Minimally invasive and classical operations for liver, pancreatic, intestinal, stomach, and esophageal cancers.
Memberships in Professional Societies
German Society for General and Visceral Surgery (DGAV).
German Society of Surgery (DGCH).
Working Group on Surgery (CAM) of the German Society of Surgery (DGCH).
Photo of the doctor: (c) Universitätsmedizin Greifswald
Department of General and Abdominal Surgery, Endocrine Surgery, Hepatopancreatobiliary Surgery, Hernia Surgery, Colorectal Surgery, Thoracic Surgery, Vascular Surgery and Bariatric Surgery.
University Hospital Greifswald:

Request more information now.
We will be happy to answer all your questions.
---
Certificates