University Hospital Greifswald
Department of Gastroenterology, Endocrinology, Nephrology and Rheumatology (

568614

)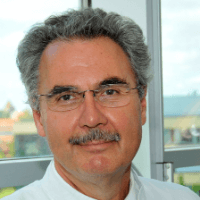 Prof. Dr. med.
Markus Lerch
Specialized in: gastroenterology, endocrinology, nephrology, rheumatology
About the Department of Gastroenterology, Endocrinology, Nephrology and Rheumatology at University Hospital Greifswald
The Department of Gastroenterology, Endocrinology, Nephrology and Rheumatology at the University Hospital Greifswald offers the full range of first-class medical care for patients with diseases of the gastrointestinal tract, liver, kidneys, including arterial hypertension, endocrine glands, as well as with rheumatic pathologies. One of the key focuses of the department is the therapy of oncological diseases of the gastrointestinal tract (certification of the German Cancer Society). To this end, the department has in its arsenal a variety of surgical techniques, modern types of chemotherapy and radiation therapy, pain therapy, etc. The competent specialists with long experience, who have gained an excellent reputation in Germany and abroad, take care of the health of patients. The department is headed by Prof. Dr. med. Markus Lerch.
The department's specialization includes:
Gastroenterology and hepatology

Diagnostic services

Duplex sonography of the abdominal organs and thyroid gland
Contrast-enhanced ultrasound examination (CEUS)
Interventional ultrasound
Esophagogastroduodenoscopy
Ileum endoscopy
Endoscopic ultrasound examinations
Endoscopic retrograde cholangiopancreatography (ERCP)
Double balloon enteroscopy
Rectoscopy
Diagnostic laparoscopy
Percutaneous transhepatic cholangiography and drainage
Gastroenterological functional diagnostics

Therapeutic services

Chromoendoscopy and video-assisted endoscopy
Treatment of esophageal varices using the ligation and sclerotherapy
Dilatation of benign and malignant stenosis of the gastrointestinal tract, biliary tract and excretory ducts of the pancreas
Treatment of esophageal achalasia using the pneumatic dilation
Treatment of gastrointestinal bleeding ulcers using injections, special clamps, fibrin glue
Mucosectomy and polypectomy in neoplasms of the upper and lower gastrointestinal tract (endoscopic excision within the submucosal layer, endoscopic mucosal resection)
Rectoscopy
Diagnostics and treatment of hemorrhoids (on an outpatient and inpatient basis)
Implantation of metal and plastic endoprostheses for the treatment of malignant stenosis
Papillotomy, nasobiliary probes, extraction of stones from the ducts of the gallbladder and pancreas
Mechanical lithotripsy of the pancreatic and bile duct stones
Argon plasma coagulation for the treatment of stenosing or bleeding tumors
Deep duodenal biopsy for the diagnostics of malabsorption syndromes
Percutaneous endoscopic gastrostomy (PEG)
Enteroscopy for the diagnostics of hard-to-reach diseases of the small intestine
Endosonography, endosonography-guided biopsy and drainage of the cyst
Endoscopic interventions on the pancreas and biliary tract, including necrotomy

Endocrinology and diabetology

Diagnostics and treatment of diseases of the pituitary and hypothalamus
Diagnostics and treatment of diseases of the adrenal glands
Diagnostics and treatment of thyroid and parathyroid diseases
Type 1 and type 2 diabetes mellitus
Diagnostics and treatment of gonadal disorders
Diagnostics and treatment of metabolic disorders
Diagnostics and treatment of metabolic bone disorders
Diagnostics and treatment of neuroendocrine tumors

Nephrology and hypertension

Diagnostics of acute and chronic kidney diseases using all modern imaging-techniques, kidney functional diagnostics, including kidney puncture
Diagnostics and treatment of acute, chronic kidney failure
Preparation for kidney transplantation, including the preparation of living donors, follow-up monitoring after kidney transplantation
Diagnostics and treatment of endogenous and exogenous intoxications
Preparation for renal replacement therapy and treatment of concomitant diseases due to uremia
Diagnostics and treatment of hypertension
Diagnostics and therapy of hereditary kidney diseases
Diagnostics and treatment of renal osteopathy
Dopplerography
Ultrasound-guided renal puncture
Dialysis

Hemodialysis
Hemofiltration
Hemodiafiltration
High-flux hemodialysis
Apheresis
Acetate dialysis
Bicarbonate dialysis
Single needle dialysis
Hemoperfusion
Plasma exchange
Techniques for maintaining liver function (for example, MARS)
Peritoneal dialysis
Continuous ambulatory peritoneal dialysis
Intermittent peritoneal dialysis
Long-term dialysis at night
Dialysis for patients with hepatitis C, HIV-positive patients

Rheumatology

Diagnostic services

Ultrasound examinations
X-ray diagnostics
Magnetic resonance imaging
Computed tomography
Scintigraphy

Diagnostics and treatment of inflammatory rheumatic diseases
Diagnostics and treatment of metabolic joint disorders
Diagnostics and treatment of systemic autoimmune diseases of the skeleton and connective tissue
Pain therapy

Other medical services
Curriculum vitae of Prof. Dr. med. Markus Lerch
Prof. Lerch was educated in the Rhineland. He studied Philosophy and Art History at the University of Freiburg before attending the Medical School in Freiburg, Glasgow, Toronto and at the University of Massachusetts.
He received his doctoral degree (magna cum laude) in Freiburg in 1984 for experimental studies on the pathophysiology of the exocrine pancreas in renal insufficiency. After a Pathology Internship in Freiburg he completed a residency in Internal Medicine at the Technical University of Aachen. On a DFG research scholarship he spend three years at Harvard and the University of Milano, Italy, where he was trained in Pathophysiology and Cell Biology. After the fellowship in Ulm and his board certification in Gastroenterology (1993), he obtained his second doctorate (habilitation) in 1994, for work on the cell biology of pancreatitis, from the University of Ulm.
He then moved to the Max Planck Institute for Biochemistry in Munich to join the Molecular Biology Department of Axel Ullrich as a Staff Scientist and was board certified in Biochemistry. After serving as an Assistant Professor and Consultant Gastroenterologist in Homburg (Saar), and as tenured Associate Professor at the University of Muenster (1997 - 2003) he accepted the Professorship at the University of Greifswald (founded in 1456) where he was appointed the Head of the Department of Gastroenterology, Endocrinology, Nephrology and Rheumatology (2007).
The research of his group focuses on the pathophysiology, cell biology and genetics of pancreatic disorders and is by design translational. His research has been supported by the European Union (EU-FP7, EU-EFRE), the German Research Foundation (DFG), the German Federal Ministry of Science and Education (BMBF) and the German Cancer Aid (Deutsche Krebshilfe), as well as several foundations and charities.
The implementation of a bench-to-bedside strategy for this translational research found its way into three investigator initiated clinical trials (e.g. ISRCTN 00142233 & ISRCTN 46556454) and to several patent applications and patents (e.g. EP06776693.1, EP10164624, EP11167708), particularly in the area of biomarker development. Prof. Lerch is an elected Study Section Member (Grants Committee of the German Research Foundation) since 2008 and was appointed by the President of the Federal Republic to serve on the Council of Science and Humanities of the German government in 2015.
Photo of the doctor: (с) Universitätsmedizin Greifswald
Department of Gastroenterology, Endocrinology, Nephrology and Rheumatology.
University Hospital Greifswald:

Request more information now.
We will be happy to answer all your questions.
---