University Hospital Greifswald
Department of Pediatric and Adolescent Medicine (

568623

)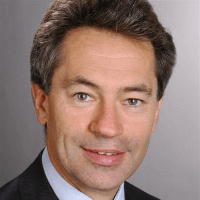 Prof. Dr. med.
Holger Lode
Specialized in: pediatric and adolescent medicine
About the Department of Pediatric and Adolescent Medicine at University Hospital Greifswald
The Department of Pediatric and Adolescent Medicine at the University Hospital Greifswald offers the full range of services in the field of treatment of general pediatric diseases, oncological, hematological, neurological pathologies, as well as endocrine diseases and metabolic disorders. A large team of competent specialists takes care of the health of young patients. The doctors have in their arsenal a variety of modern diagnostic and therapeutic methods. The department is awarded by the prestigious Ausgezeichnet FÜR KINDER certification, which is an undeniable confirmation of the outstanding top-class medical care.
The Chief Physician of the department is Prof. Dr. med. Holger Lode. He is a world-famous highly qualified expert in the field of his specialization. He conducts active research activities, the results of which are striking in their innovation and create the opportunities for the treatment of diseases that were previously considered incurable.
In the field of general pediatrics, the focus is on the treatment of respiratory diseases, infections, allergic reactions, gastrointestinal diseases, kidney diseases, and rheumatic diseases. If necessary, the specialists from other departments of the hospital are involved, which contributes to the comprehensive, interdisciplinary medical care.
The key focus of the department's clinical activities is pediatric oncology and hematology. All therapeutic measures are carried out in accordance with the strictest standards of the Society for Pediatric Oncology and Hematology (GPOH) and in accordance with the quality criteria of the Federal Joint Committee for the Medical Care of Children and Adolescents with Hematological and Oncological Diseases. The competence of the department's physicians also includes the therapy of benign blood diseases in children, for example, congenital and acquired blood clotting disorders and immunodeficiency states.
In addition, the department specializes in the treatment of young patients with diseases of the endocrine glands, diabetes mellitus and metabolic disorders. The department also has a unique experience in the treatment of children of different age groups with neurological disorders, neuromuscular diseases, psychosomatic disorders, etc.
The service range of the department includes:
General pediatrics
Diagnostics and treatment of infectious diseases

Exanthem and non-exanthem infections
HIV/AIDS
Tropical infections
Complications from infectious diseases
Vaccination of at-risk patients
Vaccine side effects
Diagnostic options

Virological, bacteriological and parasitological diagnostics, including PCR and serology
Determination of viral load
Imaging diagnostic methods

Diagnostics and treatment of respiratory diseases

Bronchial asthma
Acute and chronic bronchitis of various etiologies
Lung malformations
Cystic fibrosis
Foreign body aspiration
Diagnostic options

Body plethysmography with the determination of diffusing capacity and spiroergometry on a treadmill
Tracheobronchoscopy and radiography (with video recording)
Sweat test
In vivo measurement of transmural electrical potential difference
PCR diagnostics
Alpha-1 antitrypsin test
Determination of the level of eosinophil cationic protein
Diagnostic imaging methods
Daily pH-metry

Diagnostics and treatment of allergic reactions

Insect venom allergy
Drug allergy
Food allergy
Atopic dermatitis/endogenous eczema/neurodermatitis
Acute and chronic urticaria
Diagnostic options

Specific and non-specific bronchial and nasal provocative test
Various skin tests (including epicutane, scratch, prick test, etc.)
Laboratory diagnostics, including the specific IgE/IgG 4/LTT, etc.
Provocative tests for the diagnostics of urticaria
Provocative tests for detecting body reaction to drugs

Diagnostics and treatment of diseases of the gastrointestinal tract, liver

Crohn's disease
Ulcerative colitis
Celiac disease
Diseases of the liver, bile ducts and pancreas (for example, infectious hepatitis, autoimmune hepatitis, primary sclerosing cholangitis, copper accumulation, pancreatitis)
Diseases caused by food intolerance (carbohydrate malabsorption, food intolerance)
Nutrition disorders, including the feeding problems (need for feeding tubes)
Diagnostic options

Daily pH-metry
H2-breath test
Esophagogastroduodenoscopy
Ileum endoscopy
Percutaneous endoscopic gastrostomy
Helicobacter pylori testing
Liver biopsy
Diagnostic imaging methods

Diagnostics and treatment of rheumatic diseases
Diagnostics and treatment of kidney diseases
Diagnostics and treatment of heart diseases
Pediatric hematology and oncology
Diagnostics and treatment of malignant diseases

Acute lymphocytic leukemia, including the recurrent types
Acute and chronic myeloid leukemia
Malignant liver tumor (hepatoblastoma)
Non-Hodgkin lymphoma
Hodgkin's lymphoma
Anaplastic large-cell lymphoma, including the recurrent types
Nephroblastoma
Neuroblastoma
Osteosarcoma
Ewing's sarcoma
Soft tissue sarcomas
Craniopharyngioma
Brain tumors, including the recurrent types
Choroid plexus tumors
Langerhans cell histiocytosis
Nasopharyngeal cancer

Diagnostics and treatment of benign blood diseases

Spherocytosis
Autoimmune hemolytic anemia
Iron deficiency anemia
Transient erythroblastopenia of childhood
Fanconi anaemia
Severe aplastic anemia
Neutropenia (for example, Kostmann syndrome, cyclic neutropenia, autoimmune neutropenia)
Blood clotting disorders

Quantitative or qualitative platelet abnormalities
Disorders of plasma coagulation factors
Thrombophilia
Neuropediatrics, diseases of the endocrine glands, metabolic disorders
Diagnostics and treatment of neurological diseases in children

Complex types of epilepsy, including the diagnostics before the surgical treatment
Neuromuscular diseases
Multidisciplinary therapy of cerebral palsy (use of orthoses, surgical interventions, botulinum toxin therapy)
Follow-up care for children with perinatal risk factors
Migraine and other types of headaches
Developmental disorders

Diagnostics and treatment of metabolic disorders

Neurometabolic diseases
Congenital disorders
Malformations

Diagnostics and treatment of diseases of the endocrine glands

Diseases of the thyroid gland and adrenal glands, adrenogenital syndrome
Diabetes mellitus
Obesity and its consequences
Disorders of puberty
Growth disorders

Other diagnostic and therapeutic services
Curriculum vitae of Prof. Dr. med. Holger Lode
Professional Career and Scientific Contribution
Prof. Lode completed his undergraduate training in Medicine at the University of Tuebingen in 1992 and received his doctoral degree (summa cum laude) in 1993. He was awarded a Research Fellowship of the German research Foundation in 1996, which he used for postdoctoral training at the Scripps Research Institute, La Jolla, CA in the area of tumor immunology. In 1999 he became a Junior Faculty Member at Scripps, where he developed a tumor model to study immunotherapeutic approaches in a deadly malignancy in childhood called neuroblastoma. He demonstrated that treatment with immunocytokines, which are antibody-cytokine fusion proteins, is effective in this model and that this approach is synergistic with inhibition of angiogenesis, as well as tumor vaccines. This seminal discovery was translated to clinical application and is subject to ongoing clinical trials (PM Sondel). In 2000 he continued training in Pediatrics at the Charité University Hospital Berlin. At the same time he was awarded an Emmy Noether Fellowship by the German Research Foundation with focus on immunotherapy approaches in neuroblastoma. In this time period, he developed novel approaches by means of genetic vaccination to treat malignant disease. In particular combinations of DNA vaccines with tumor specific delivery of immunocytokine lead to important step forward to optimize efficacy of DNA vaccination. In 2002 he became a Member of the SIOPEN group and got involved in the clinical development of a monoclonal antibody directed against ganglioside GD2 (ch14.18/CHO). Professor investigated for the first time a novel delivery method of this antibody (patent) and he is currently leading two international clinical trials with this antibody.
Awards
2005 Science4life, Venture Cup.
Memberships in Professional Societies
German Society for Pediatric and Adolescent Medicine (DGKJ).
German Society of Pediatric Hematology and Oncology (GPOH).
International Society for Pediatric Oncology Europe Neuroblastoma (SIOPEN).
American Association of Cancer Research.
American Society of Hematology.
American Association of Immunologists (AAI).
American Society of Clinical Oncology (ASCO).
Since 2013, Member of the SIOP Scientific Programme Advisory Committee (SPAC) of the International Society for Pediatric Oncology Europe Neuroblastoma (SIOP), Chair of the Immunotherapy Committee and Member of the Executive Board of SIOPEN.
Reviewer Activities
Journal of Immunology.
Blood.
Cancer Research.
Cancer Gene Therapy.
Clinical Cancer Research.
Oncogene.
Photo of the doctor: (с) Universitätsmedizin Greifswald
Department of Pediatric and Adolescent Medicine.
University Hospital Greifswald:

Request more information now.
We will be happy to answer all your questions.
---