University Hospital Greifswald
Department of Adult and Pediatric Oral and Maxillofacial Surgery, Facial Plastic Surgery (

568626

)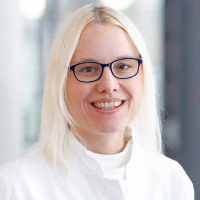 Prof. Dr. med. Dr. med. dent.
Andrea Rau
Specialized in: adult and pediatric oral and maxillofacial surgery, facial plastic surgery
About the Department of Adult and Pediatric Oral and Maxillofacial Surgery, Facial Plastic Surgery at University Hospital Greifswald
The Department of Adult and Pediatric Oral and Maxillofacial Surgery, Facial Plastic Surgery at the University Hospital Greifswald offers the full range of services in the areas of its competence. An important place in the work of the department's doctors is the provision of medical care to patients with fractures and injuries of the facial skeletal bones, head and neck tumor removal surgery, and temporomandibular dysfunction repair. The department's surgeons have vast experience in the correction of cleft lip and palate in adults and children. The medical facility also successfully performs aesthetic and reconstructive facial plastic surgery. In addition, the placement of the latest generation of dental implants is carried out here. The department is certified in accordance with the requirements of the German Cancer Society in the treatment of head and neck tumors, which confirms the high competence of the medical facility in this field. High-tech equipment and expert knowledge, combined with the long experience of the department's doctors, form a solid base for providing effective medical care for patients. The department's specialists guarantee not only high standards of medical assistance but also comprehensive care, a humane attitude, and respect for each patient's individual needs and wishes. The department is headed by Prof. Dr. med. Dr. med. dent. Andrea Rau.
The department houses a specialized Head and Neck Tumor Center, whose doctors regularly treat complex types of cancer of the oral cavity, larynx, pharynx, salivary glands, nasal cavity, paranasal sinuses, etc. The German Cancer Society has awarded the center a quality certificate. This is the most prestigious certificate in the field of cancer treatment in Germany. If, based on the results of the preliminary diagnostics, the patient's diagnosis is confirmed, the department's specialists immediately begin to develop an effective treatment regimen. As a rule, the first-line treatment is tumor resection surgery. When performing the intervention, surgeons use the latest technologies, including navigation systems and neuromonitoring, which ensures the highest accuracy and safety of each surgical procedure. In some clinical cases, doctors manage to remove the tumor using advanced laser equipment or cold atmospheric plasma. A treatment regimen usually also includes other methods, including chemotherapy, radiation therapy, targeted antibody therapy, etc. It should be noted that at the stage of treatment planning, oral and maxillofacial surgeons consider the patient's case in cooperation with doctors from related medical specialties, due to which the optimal complex of therapeutic measures is prescribed. At the end of the main course of treatment, reconstructive plastic surgery can be performed because it is important for the department's doctors to guarantee the patient an aesthetic appearance. Whenever required, the department provides functional rehabilitation to restore the muscles of mastication, as well as phoniatric and speech rehabilitation.
The department's priority clinical interests include correction of temporomandibular joint (TMJ) dysfunction. When patients with a decrease in the range of motion in the TMJ, periodic muscle pain, tinnitus, headaches, and the presence of unusual sounds during jaw movement seek medical help from the department's oral and maxillofacial surgeons, they are indicated for diagnostics to exclude TMJ dysfunction. The main diagnostic procedures include laboratory tests, CT and/or MRI scans, and electromyography. As for the treatment, at the early stages of the pathological process, oral and maxillofacial surgeons strive to solve the problem using conservative methods, such as the placement of special caps and splints to eliminate jaw occlusion disorders and bite correction, drug therapy, intra-articular injections, and physiotherapy. Surgery for temporomandibular joint dysfunction is the last-line treatment. The department's team of surgeons prefers sparing arthroscopic techniques, which contributes to a quick and successful patient's recovery.
Doctors at the medical facility also specialize in dysgnathia correction. The condition is an abnormal development of the facial skeleton. The pathology impairs the aesthetics of the face and the function of the lower jaw. As a rule, patients have pain in the temporomandibular joint, head, and back and have difficulties with pronunciation and chewing food. The pathology often causes not only discomfort but also jaw displacement, which impairs the location of the dentition, causes difficulty breathing, and contributes to the development of complexes associated with appearance. The only effective way to correct dysgnathia is surgery (an osteotomy). Before proceeding with the operation, the department's specialists carry out a number of preparatory measures, which include 3D X-ray modeling of the desired result of a corrective osteotomy. During the procedure, the facial skull is fixed with special titanium plates, which are removed after the intervention. The operation is performed under general anesthesia using minimally invasive techniques to avoid facial skin trauma and scarring. The patient stays in the department under medical supervision for about a week, depending on the severity of the pathology and the extent of the surgical intervention. During this time, the specialists monitor the patient's general condition, which helps to prevent possible inflammatory processes and reduce the risk of infection.
The department's surgeons most often admit patients with the following diseases:
Oral and maxillofacial surgery

Benign and malignant head and neck tumors
Temporomandibular joint dysfunction
Dysgnathia
Cleft lip and palate (in adults and children)
Actinic keratosis
Alveolar process atrophy
Oral and maxillofacial fractures and malformations
Anterior teeth injuries
Leukoplakia
Lip and oral mucosal diseases
Bleeding after tooth extraction and other oral surgery
Odontogenic and purulent infections
Salivary gland stones
Lacrimation
Abnormal teeth position
Loss of teeth
Glossitis

Facial plastic surgery

Eyebrow asymmetry (such as drooping eyebrows)
Eyelid defects
Blepharochalasis
Elastolysis
Exophthalmos
Enophthalmos
Facial nerve paralysis
Lagophthalmos
Protruding ears
Ptosis

Other diseases
The department's diagnostic and surgical range of services includes:
Diagnostic options

Laboratory tests
Biopsy
Functional diagnostics of the temporomandibular joint
Temporomandibular joint arthroscopy
Imaging tests: ultrasound, CT, MRI, PET, and X-ray scans, angiography, three-dimensional volumetric computed tomography

Surgical options

Oral and maxillofacial surgery

Treatment of benign and malignant head and neck tumors

Surgical resection
Laser therapy and cold atmospheric plasma therapy in the early stages of head and neck tumors
Chemotherapy, targeted antibody therapy, and radiation therapy
Reconstructive plastic surgery

Jaw bone augmentation
Treatment of chronic wounds with plasma therapy and vacuum therapy
Botulinum toxin therapy
Operations on the temporomandibular joint, including arthroscopic ones
Dental implantation
Osteosynthesis using mini- and microplates
Necrotic tissue removal
Periprosthetic surgery
Sinus lift (external and internal)
Wound debridement
Wisdom teeth removal
Root apex resection
Dental debridement under general anesthesia
Application of special medicated dressings (for example, iodine-containing dressings)

Facial plastic surgery

Blepharoplasty
Forehead and brow lift
Facelift
Chin plastic surgery
Treatment of wrinkles with fillers
Complex plastic reconstructive surgery for oral and maxillofacial defects
Flap plastic surgery (transplantation of free flaps with microsurgical vascular connection)
Scar revision
Nerve reconstruction, including nerve transplant procedures

Other diagnostic and treatment methods
Curriculum vitae of Prof. Dr. med. Dr. med. dent. Andrea Rau
Higher Education and Professional Career
1997 - 2004 Human Medicine studies, Ruhr University Bochum.
2004 Diploma of Doctor of Medicine.
2004 - 2008 Dentistry studies, University of Duesseldorf.
2011 Diploma in Dentistry.
2014 Board certification in Oral and Maxillofacial Surgery, University Hospital Rechts der Isar Munich.
2016 Habilitation on the treatment of cleft lip and palate.
2016 Additional qualification in Facial Plastic Surgery.
2018 W2 Professorship at the University of Erlangen-Nuremberg; position of Senior Physician and Deputy Head of the Department of Oral and Maxillofacial Surgery, University Hospital Erlangen.
2019 Board certification in Surgical Dentistry.
2020 Master's Degree in Healthcare Management.
Since January 2021 Professor and Head of the Department of Adult and Pediatric Oral and Maxillofacial Surgery, Facial Plastic Surgery at the University Hospital Greifswald.
Clinical and Research Focuses
Treatment of head and neck tumors.
Reconstructive oral and maxillofacial surgery.
Microvascular tissue transplantation.
Repair of cleft lip and palate, and craniofacial malformations.
Surgical treatment of dysgnathia (malocclusion).
Treatment of facial injuries.
Memberships in Professional Societies
American Cleft Palate-Craniofacial Association (ACPA).
German Society of Orthodontics.
German Society of Oral and Maxillofacial Surgery.
German-Austrian-Swiss Working Group on Tumors in the Maxillofacial Region (DÖSAK), Director.
European Association for Cranio-Maxillo-Facial Surgery (EACMFS).
Cleft Lip and Palate Association.
Photo of the doctor: (c) Universitätsmedizin Greifswald
Department of Adult and Pediatric Oral and Maxillofacial Surgery, Facial Plastic Surgery.
University Hospital Greifswald:

Request more information now.
We will be happy to answer all your questions.
---
Certificates