University Hospital Greifswald
Department of Nuclear Medicine, Diagnostic and Interventional Radiology, Neuroradiology (

569778

)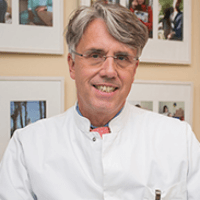 Prof. Dr. med.
Norbert Hosten
Specialized in: nuclear medicine
About the Department of Nuclear Medicine, Diagnostic and Interventional Radiology, Neuroradiology at University Hospital Greifswald
The Department of Nuclear Medicine, Diagnostic and Interventional Radiology, Neuroradiology at the University Hospital Greifswald offers the full range of modern diagnostic imaging and image-guided interventions, therapy using radioactive pharmaceuticals. The department specializes in diagnostic angiography, stenting / balloon dilatation, sympaticolysis, treatment of stroke, aneurysms, angiomas, pain therapy for the spine, diagnostics of breast pathologies in women, etc. Particular attention is given to the treatment of lung and liver metastases, as well as other oncological diseases. The main areas of application of nuclear therapy are thyroid diseases, metastases in bones, liver tumors, etc.
The Chief Physician of the department is Prof. Dr. med. Norbert Hosten. Prof. Hosten is the author of a number of textbooks on radiology, including on the X-ray diagnostics of eye tumors. He is the author of more than 250 scientific publications and has held numerous invited lectures in a broad range of subject fields, such as telemedicine, radiological diagnostics of the eye, MRI, etc.
One of the department's focuses is minimally invasive thermoablation of lung and liver metastases as part of the multimodal tumor therapy. The treatment is partially conducted within the clinical trials.The department offers interdisciplinary treatment concepts including laser-induced ablation of lung metastases and laser- and radiofrequency-induced ablation of liver metastases by using tomography. The specialists of the department constantly introduce the very latest medical advances in clinical practice.
The department belongs to the specialized centers in Germany, which offer transarterial treatment of the vascular deformities and brain tumors. In this field, there is maintained intensive cooperation with the Departments of Neurology and Neurosurgery. The third focus of interventional radiology is on the transarterial treatment of pathologies of the trunk vessels and lower limbs, including abdominal aortic endoprosthetics (stent graft). Thanks to close cooperation with vascular surgeons, the department successfully treats even complex clinical cases in patients with occlusive arterial disease. The diagnostics and treatment of vascular diseases can also be carried out on an outpatient basis.
The department has at its disposal the most advanced methods of сross-sectional diagnostic imaging. These include CT colonography (as an alternative for colonoscopy and irrigoscopy), non-invasive methods of MR and CT angiography of the arteries in the pelvis and lower limbs, cardiac MRI and CT as part of a complete medical examination for coronary heart disease, etc. Within the framework of clinical trials, diffusion-weighted MRI can be used for the early diagnostics of strokes, while perfusion CT serves to diagnose strokes and tumors. Thus, the department actively participates in the further development of modern methods of diagnostic and interventional radiology, thereby providing the most advanced diagnostic and treatment options for each patient.
The department's service range includes the following options of diagnostic and interventional radiology, neuroradiology:
General radiology

Diagnostic angiography

Sonography (doppler and duplex scanning)
CT (including CT angiography)
MRI (including MRI angiography)
Digital subtraction angiography

Procedures to restore vascular patency (stenting, balloon dilatation)
Sympathicolysis
Biopsies / tissue sampling
Transjugular intrahepatic portosystemic shunting
Selective internal radiation therapy (SIRT)
Laser therapy for liver tumors (laser ablation)
Laser therapy for lung tumors (laser ablation)
PET-CT

Neuroradiology

Stroke treatment
Aneurysm treatment
Angioma treatment
Carotid stenting
Arteriovenous fistula
Kyphoplasty / vertebroplasty
Pain therapy for the spine

Special treatment methods

Uterine myoma embolization
Vertebroplasty
Breast diagnostics and mammography screening

Non-invasive methods (digital mammography, galactography)
Minimally invasive examinations (ultrasound-guided biopsy, stereotactic vacuum-assisted aspiration biopsy, MRI-guided biopsy, preoperative tumor marking and x-rays with the introduction of radiopaque contrast agents, etc.)

And other diagnostic and therapeutic options
In the field of nuclear medicine, radioiodine therapy is successfully used for the treatment of benign and malignant thyroid diseases. This therapy is the most sparing and safe for the patient, since radioactive iodine acts directly on the thyroid gland and almost do not cause any harm to the cells of other organs. Radioiodine therapy is indicated for hyperthyroidism, diffuse goiter, thyroid cancer (after surgery), etc.
The department also specializes in pain therapy for bone metastases (for example, in prostate cancer, breast cancer or other types of cancer with osteoblastic metastases). This method allows to improve the quality of life and reduce pain for up to 4 months. The advantage of this type of pain therapy is also a low risk of side effects and a small radiation load on the patient. In addition, this therapy is carried out on an outpatient basis.
The service range in the field of nuclear medicine includes:
Diagnostics

Scintigraphy of various organs with a gamma camera

Thyroid
Whole body / skeleton
Kidney
Lungs
Heart
Brain
Lymph nodes
And other organs and systems

Diagnostics using PET-CT (in collaboration with the Department of Radiology)

Therapy

Therapy of benign and malignant thyroid diseases using iodine-131

Hyperthyroidism due to nodular goiter, autoimmune process, etc.
Diffuse goiter, recurrent goiter (repeated thyroid enlargement after surgery)
Thyroid cancer after surgery (treatment of relapses and metastases)

Pain therapy for bone metastases
Treatment of liver tumors

Selective internal radiation therapy (SIRT therapy) with Yttrium-90
Internal radiotherapy using lipiodol with iodine-131

Anti-tumor therapy with antibodies
131I-MIBG therapy for neuroblastoma in children

Diagnostics and treatment of other diseases with radioactive pharmaceuticals
Curriculum vitae of Prof. Dr. med. Norbert Hosten
1980 - 1986 Study of Human Medicine at the Free University of Berlin.
1986 Approbation (medical license).
1987 Doctoral thesis defense.
1987 - 1992 Internship as a Specialist in Radiology at the Westend Clinic and the Virchow Hospital of the Free University of Berlin.
1992 Board certification in Radiology.
1993 - 1994 Senior Physician at the Rudolf Virchow Hospital of the Free University of Berlin.
1994 - 2000 Head of the Department of Radiology.
1994 Habilitation and Venia Legendi in Radiology.
1999 Appointment as an Extraordinary Professor of the Humboldt University of Berlin.
2001 Invitation to the Chair of Diagnostic and Interventional Radiology at the University of Greifswald.
Since 2008, Chairman of the Board of Directors "Telemedicine in the Euroregion POMERANIA".
2013 - 2015 President of the German Radiological Society.
Photo of the doctor: (с) Universitätsmedizin Greifswald
Department of Nuclear Medicine, Diagnostic and Interventional Radiology, Neuroradiology.
University Hospital Greifswald:

Request more information now.
We will be happy to answer all your questions.
---