University Hospital Greifswald
Department of Urology (

569790

)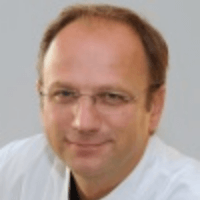 Prof. Dr. med.
Martin Burchardt
About the department
The Department of Urology at the University Hospital Greifswald offers the full range of diagnostics and treatment for all diseases of the male genitourinary system, including the andrological and uro-oncological disorders. The Chief Physician of the department is Prof. Dr. med. Martin Burchardt, who has proven himself as a high-class expert at the national and international levels. He is the co-author of the current S3 guideline for the treatment of prostate cancer of the German Society of Urology.
The department's doctors are fluent in modern laparoscopic techniques and laser technologies, which allow them to provide treatment with minimal traumatization, and also reduce pain. One of the department's priorities is the treatment of prostate cancer. In this field, the department is certified by the German Cancer Society, which indicates high standards of medical care. The scope of tasks of the department's specialists includes the treatment of kidney, bladder, testicular, penile cancers. The treatment plan is developed in an interdisciplinary cooperation based on the specific clinical indications. The patients have the opportunity to participate in various national and international clinical trials.
Also, the department's doctors specialize in the treatment of urinary incontinence, urolithiasis, potency disorders, male infertility, etc. For these purposes, they apply both traditional and progressive therapeutic techniques. For example, for the treatment of urinary incontinence, the implantation of an artificial urethral sphincter (Scott-Sphincter®, Flow Secure®), the implantation of ligaments (TOT, Advance®) and other modern techniques are used.
The service range of the department includes:
Uro-oncology

Diagnostics and treatment of prostate cancer
Open radical/nerve-sparing prostatectomy
Bladder removal surgery (cystectomy) with all types of bladder replacement
Open kidney removal surgery (nephrectomy)/partial resection of the kidney (partial nephrectomy)
Removal of retroperitoneal lymph nodes
Testicle removal (orchiectomy)
Partial/total removal of the penis (penectomy)
Drug therapy in oncopathology
Brachytherapy in prostate cancer
Diagnostics of prostate cancer using c-TRUS-ANNA technology

Laparoscopy and minimally invasive surgical uro-oncology

Laparoscopic radical prostatectomy (EERPE)
Laparoscopic/open renal pelvis plastic surgery
Laparoscopic kidney removal (nephrectomy)/partial kidney removal (partial nephrectomy)
Laparoscopic kidney fixation (nephropexy)
Laparoscopic removal of renal cysts
Ureteral intraperitonealization (in Ormond's disease)
Laparoscopic/open removal of the kidneys and ureters (nephroureterectomy)
Laparoscopic adrenal gland removal (adrenalectomy)

Transurethral resection and laser therapy

Transurethral resection of the prostate (TURP), including the laser one
Turner-Warwick bladder neck incision
Transvesical enucleation of prostate adenoma
Transurethral resection of the bladder
Photodynamic diagnostics
Laser ablation of warts

Reconstructive urology and surgery in urinary incontinence

Urethral plastic surgery (open and endoscopic techniques)
Implantation of an artificial urethral sphincter (Scott-Sphincter®, Flow Secure®)
Implantation of ligaments in urinary incontinence (TOT, Advance®)
Ureter formation (Boari flap surgery, Psoas Hitch technique)
Correction of penile curvature in Peyronie's disease

Neurourology

Functional assessment of the bladder (videourodynamics)
Botulinum toxin injection therapy
EMDA therapy
Bladder augmentation
Neuromodulation

Sexology

Sexual disorders due to the male reproductive system diseases/their treatment
Sexual dysfunction
Disorders of sexual development
Male reproductive disorders
Gender identity disorders

Andrology

Fertility disorders (infertility)
Age-related changes in the male reproductive system
Disorder of the testicular hormone synthesis (hypogonadism)
Ejaculation/orgasm disorders
Erectile dysfunction
Male contraception (for example, vasectomy)

Minimally invasive treatment of urolithiasis

Extracorporeal shock wave lithotripsy
Ureteroscopy/ureterorenoscopy (semi-rigid / flexible)
Percutaneous nephrolitholapaxy (mini-PNL)
Lithotripsy in bladder stones

Endourology of the upper urinary tract

Ureterorenoscopy (semi-rigid/flexible)
Ureteral splinting (for example, double-J ureteral catheter, stent implantation)
Catheter insertion in kidney fistula (percutaneous nephrostomy)

Interventions on the external genitals

Testicle removal surgery (orchiectomy)
Implantation of testicular prostheses
Resection in hydrocele
Resection of the spermatic cord cyst
Varicocele surgery (removal of varicose veins of the scrotum)
Vasectomy (male sterilization)
Vasovasostomy (surgical intervention for the restoration of fertility)
Circumcision (foreskin removal)
Penile frenulum plastic surgery

Other medical services
Curriculum vitae
Education and Professional Experience
Till 1995 Studied Human Medicine at the University of Hamburg.
Till 1997 Intern, Department of General Surgery, Alton General Hospital, Hamburg.
Till 1999 Postdoctoral Fellow, Urology, Columbia University, New York.
Till 2004 Training to get a title of the Medical Specialist in Urology, Department of Urology, University Hospital Duesseldorf.
Since 01.2005, Senior Physician in the Department of Adult and Pediatric Urology, Hannover Medical School.
Since 04.2006, Head of the Department of Adult and Pediatric Urology, Hannover Medical School.
Since 12.2009, Professor in the Chair of Urology and Head of the Department of Urology at the University Hospital Greifswald.
Scientific Awards
1999 First Poster Award of the Society for the Study of Impotence (SSI Meeting, Boston, 10.99): "Study of the microvascular bed of the rat's vagina using the technique of vascular corrosion casting." Int J Impot Res 1999; Suppl 1: 23-30.
1999 Travel Award of the Society for Basic Urologic Research (SBUR Meeting, Paris, 10.99): "Effects of modulated p53 expression in LNCaP cells in vitro and in vivo using the induced antisense approach". Prostate 2001; 48 (4): 225-230.
2001 Travel Award of the Society for Basic Urologic Research (SBUR Meeting, Phoenix 11.01): "Phenotypic effects of modulated expression of p53 in LNCaP cells using the induced antisense approach".
2003 Third Poster Award: "The inhibition of p53 function reduces the androgen receptor signaling in prostate cancer cell lines". Urologe 2003 (A); 42 (Suppl.1): 16.
Main Clinical Focuses
Tumor surgery and oncology.
Laparoscopy

Radical prostatectomy.
Radical / partial nephrectomy.
Pelvis plastic surgery.

Counseling in uro-oncology.
Counseling in laparoscopy and pediatric urology.
Memberships in Professional Societies
German Society of Urology.
European Association of Urology.
Endourological Society.
Association of North German Urologists.
European Society of Urological Technology.
Urological Research Society.
Working Group on Urological Oncology.
Working Group on Laparoscopy and Endourology.
European Urological Scholarship Programme (EUSP) of the European Association of Urology (EAU).
Photo of the doctor: (с) Universitätsmedizin Greifswald
Department of Urology.
University Hospital Greifswald:

Request more information now.
We will be happy to answer all your questions.
---