University Hospital Halle (Saale)
Department of Dermatology and Venereology (

229527

)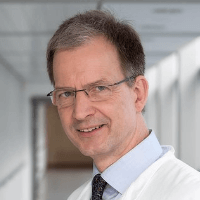 Prof. Dr. med.
Cord Sunderkötter
Specialized in: dermatology, venereology
About the Department of Dermatology and Venereology at University Hospital Halle (Saale)
The Department of Dermatology and Venereology at the University Hospital Halle (Saale) offers the full range of services for the diagnostics and treatment of all skin and sexually transmitted diseases. Of particular interest are general dermatology, oncological, allergic and surgical dermatology. The department is headed by Prof. Dr. med. Cord Sunderkötter.
The department has specialized laboratories, which conduct all modern laboratory tests. The department's competent specialists have a huge number of effective surgical techniques and vast experience in the treatment of diseases of the veins, lymphatic vessels and capillaries.
The service range of the department includes:
Surgical dermatology, phlebology, lymphology

Diseases

Malignant melanoma (primary tumors, skin metastases, lymph node metastases) and other malignant skin tumors
Benign skin tumors
Skin malformations
Infectious skin diseases (for example, viral acanthomas, warts, boils)
Acne inversa
Ingrown toenail and other nail changes
Primary and secondary forms of varicose veins
Leg ulcers
Hyperhidrosis (pathological excessive sweating)
Foreign bodies
Skin scars
Chronic wounds
Lymphatic diseases

Diagnostic and therapeutic methods

Biopsy of the skin, subcutaneous adipose tissue, mucous membranes, salivary glands, fascia, muscle tissue, blood and lymphatic vessels of all skin areas
Diagnostic examination (removal) of lymph nodes
Nail biopsy and its partial removal (fusiform resection)
Diagnostic and therapeutic punctures
Histographic-guided localized removal of various skin tumors
Radical and extensive skin resections (up to 2 cm)
Flap surgery (plastic surgery using stretched flap, plastic surgery using rotary flaps, plastic surgery using transposition flaps, etc.)
V-shaped resection and other surgical interventions in diseases of the outer ear
Sentinel lymph node biopsy
Radical lymphadenectomy
Radical skin excision in acne and surgery to treat pilonidal sinus
Plastic interventions to restore skin defects (split, whole flaps, skin plastic surgery according to Reverdin, mesh graft, artificial skin, autologous keratinocytes)
Necretomy, wound debridement
Resection and rehabilitation of abscesses, furuncles
Foreign body removal
Superficial skin layer removal (curettage, dermabrasion)
Ablative laser procedures, cosmetic laser procedures, photodynamic therapy, cryotherapy
Crossectomy and stripping in varicose veins
Parachibial fasciotomy according to the Hach technique in ulcers of the lower limbs
Varadi microphlebectomy (minimally invasive treatment of varicose veins)
Thrombectomy from superficial veins
Removal of subcutaneous hematomas
Subcutaneous curettage and removal of sweat glands in hyperhidrosis
Local and regional anesthetic procedures
Tumescent anesthesia

Oncological dermatology

Diseases

Malignant melanoma (primary tumors, skin metastases, lymph node metastases)
Other skin cancers (including Merkel cell carcinoma)
Skin lymphomas
Soft tissue tumors (sarcomas)
Skin malformations

Diagnostic and therapeutic methods

Dermatoscopy
Ultrasound diagnostics of the skin and lymph nodes
Analysis of mutations in tumor tissues (BRAF)
Outpatient and inpatient treatment of malignant skin tumors (surgery, cryotherapy, immunotherapy, chemotherapy)
Monitoring of patients with malignant skin tumors
Treatment within the clinical trials

Allergic dermatology

Diseases

Hay fever (allergic rhinitis and allergic conjunctivitis) and allergic bronchial asthma
Anaphylactic reactions, including anaphylactic shock with loss of consciousness (anaphylaxis)
Insect venom allergies
Hives
Quincke's edema (angioedema)
Latex allergy
Food allergies and food intolerance
Drug allergies (for example, antibiotics, analgesics, local anesthetics, contrast media, heparins)
Contact allergy (contact eczema, contact urticaria)
Eczema (atopic eczema)

Diagnostic and therapeutic methods

Diagnostic skin tests (in vivo diagnostics, including epicutaneous tests, prick tests, intracutaneous tests)
Allergological laboratory diagnostics (in vitro diagnostics)
Provocative tests
Desensitization (specific immunotherapy) in allergies to insect bites and inhalation allergies
Elimination diet
Consultations and prevention of allergies, including the occupational allergies

Diagnostics and treatment of sexually transmitted diseases
Other medical services
Curriculum vitae of Prof. Dr. med. Cord Sunderkötter
Since February 1, 2017, Prof. Dr. med. Cord Sunderkötter heads the Department of Dermatology and Venereology at the University Hospital of Halle (Saale). Previously, he was the Head of the Department of Translational Dermatology at the University Hospital Muenster.
His research interests encompass signal transduction in the molecular medicine research.
Photo of the doctor: (c) Universitätsklinikum Halle (Saale)
Department of Dermatology and Venereology.
University Hospital Halle (Saale):

Request more information now.
We will be happy to answer all your questions.
---
Certificates