University Hospital Halle (Saale)
Department of Neurosurgery (

229623

)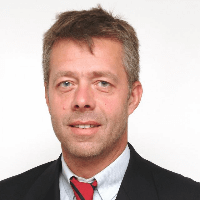 Prof. Dr. med.
Christian Strauss
Specialized in: neurosurgery
About the department
The Department of Neurosurgery at the University Hospital Halle (Saale) offers the full range of diagnostics and surgical treatment of diseases of the nervous system. All operating rooms are equipped with the cutting-edge technology, which provides the most reliable and effective treatment of neurosurgical pathology. The department employs competent neurosurgeons with rich clinical experience and deep expert knowledge, who have in their arsenal many modern therapeutic methods. The department is headed by Prof. Dr. med. Christian Strauss.
The very latest neuromonitoring system ("Hallenser Ampel") is widely used in the department's clinical practice. It has the function of real-time EMG analysis during surgery. Thus, the surgeon can see the reaction of the nervous system to each of his manipulations and is able to eliminate the wrong steps, which may lead to the development of a neurological deficit. The structure of this system resembles the work of a traffic light. During the manipulations in the "green zone", the doctor will not harm the nervous system, while moving into the "yellow zone", his actions can cause only minor disturbances, which will recover within a few weeks or months after surgery. However, when the manipulations go into the "red zone", the surgeon should respond as quickly as possible and change tactics in order to avoid irreversible functional damage. This is an internationally unique automated neuromonitoring system, which is an innovation in neurosurgery.
The service range of the department includes:
Surgery to treat acoustic neuromas
Skull base tumor surgery
Brain and spinal cord tumor surgery
Spinal stenosis surgery
Surgical treatment of epilepsy
Peripheral nerve surgery
Surgical treatment of intervertebral disc diseases
Surgical treatment of severe traumatic brain injuries
Vascular neurosurgery
Pituitary surgery
Neuronavigation surgery ("Hallenser Ampel" innovative system)
Other surgical services
Curriculum vitae
Prof. Dr. med. Christian Strauss is Professor of Neurosurgery and Head of the Department of Neurosurgery at the University Hospital of Halle (Saale). Prior to this, he worked as a Senior Physician in the Department of Neurosurgery at the University Hospital Erlangen-Nuremberg. Dr. Strauss is a recognized expert in the field of intraoperative functional monitoring.
Photo of the doctor: (c) Universitätsklinikum Halle (Saale)
Department of Neurosurgery.
University Hospital Halle (Saale):

Request more information now.
We will be happy to answer all your questions.
---
Certificates