University Hospital Halle (Saale)
Department of Nuclear Medicine (

289942

)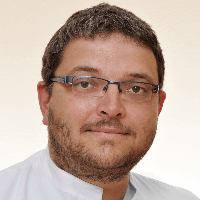 Dr. med.
Andreas Odparlik
Specialized in: nuclear medicine
About the Department of Nuclear Medicine at University Hospital Halle (Saale)
The Department of Nuclear Medicine at the University Hospital Halle (Saale) offers the full range of services in this ​​medical field. It carries out all common and proven types of scintigraphic diagnostics and treatment. A unique offer of the department is SPECT-CT and PET-CT using various tracers and modern targeted radiopharmaceuticals. The department is headed by Dr. med. Andreas Odparlik.
The department has an in-house Section of Radiochemistry, in which all the necessary radiopharmaceuticals for the diagnostics and therapy are synthesized. Thus, the department has all the resources to provide excellent medical service.
The diagnostic options of the department include:
Combined positron emission tomography with computed tomography (PET-CT)
Gastrointestinal scintigraphy to find the source of bleeding, detect Meckel's diverticulum
Myocardial perfusion scintigraphy
Brain scintigraphy (neuro-SPECT, DaTSCAN ™ and IBZM-SPECT)
Bone scintigraphy
Functional liver scintigraphy
Scintigraphy using anti-granulocyte antibodies and labeled white blood cells
Cerebrospinal fluid scintigraphy
Ventilation and perfusion lung scintigraphy
Gastric emptying scintigraphy
Parathyroid scintigraphy
Renal function scintigraphy and static kidney scintigraphy
Thyroid diagnostics

Thyroid scintigraphy
MIBI thyroid scintigraphy
Imaging-guided fine needle aspiration biopsy

Sentinel lymph node marking
Esophageal scintigraphy
123I-mIBG or 111In-octreotide tumor scintigraphy (Octreoscan)
Radioimmunological analysis within the framework of the in-house laboratory
Other diagnostic services
The therapeutic options of the department include:
Radioiodine therapy

Benign thyroid diseases

Hyperthyroidism due to hormonally active autonomous thyroid nodules (unifocal, multifocal autonomy)
Hyperthyroidism due to Graves' disease
Enlarged thyroid gland (goiter)

Malignant thyroid diseases

Differentiated thyroid cancer (follicular and papillary cancer)
Other types of recurrent thyroid cancer

Radiosynoviorthesis

Rheumatoid arthritis
Arthrosis of the large joints
Conditions after synovectomy
Seronegative spondyloarthropathy
Crystal arthropathy
Villonodular synovitis
Arthropathy in hemophilia

Selective internal radiotherapy for liver tumors
Peptide receptor radionuclide therapy for patients with metastatic neuroendocrine tumors
PSMA therapy for patients with metastatic prostate cancer
Other therapeutic methods
Curriculum vitae of Dr. med. Andreas Odparlik
Since July 2016, Dr. med. Andreas Odparlik has been the Head of the Department of Nuclear Medicine at the University Hospital Halle (Saale). The doctor has been working in this department since 2012 as a Leading Senior Physician and Deputy Head. He also holds the position of the Deputy Head of the newly established Department of Radiation Medicine, which also includes the Department of Radiology and the Department of Radiotherapy. From the very beginning of his professional career, he was engaged in the introduction and further improvement of modern techniques of nuclear medicine, as well as in the creation of hybrid imaging techniques. The latter allow for the combination of information about the morphology of organs and the intensity of metabolic processes in them, which greatly improves the quality of diagnostic data. Dr. Odparlik studied Human Medicine at the Universities of Halle, Greifswald and Pretoria (South Africa). He underwent specialized clinical training in various hospitals in Halle, Erfurt and Jena (Leading Senior Physician at the University Hospital Jena). In addition, the doctor is authorized to conduct preparatory courses for medical students in the field of nuclear medicine.
Photo of the doctor: (c) Universitätsklinikum Halle (Saale)
Department of Nuclear Medicine.
University Hospital Halle (Saale):

Request more information now.
We will be happy to answer all your questions.
---
Certificates