University Hospital Halle (Saale)
Department of Adult and Pediatric Diagnostic, Interventional Radiology, Neuroradiology (

320286

)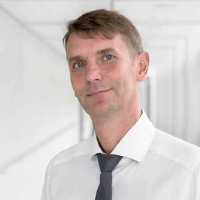 Prof. Dr. Dr. med.
Walter Wohlgemuth
Specialized in: adult and pediatric diagnostic, interventional radiology, neuroradiology
About the Department of Adult and Pediatric Diagnostic, Interventional Radiology, Neuroradiology at University Hospital Halle (Saale)
139 Booking Health patients have already received treatment in the Department of Adult and Pediatric Diagnostic, Interventional Radiology, Neuroradiology at the University Hospital Halle (Saale).
97% of patients recommend this hospital and department.
You can read reviews about the quality of the Booking Health service here.
The Department of Adult and Pediatric Diagnostic, Interventional Radiology, Neuroradiology at the University Hospital Halle (Saale) offers the full range of modern radiological diagnostics and minimally invasive treatment both on an inpatient and outpatient basis. It has advanced equipment for conducting radiological studies in adults and children, as well as minimally invasive procedures under the guidance of imaging systems. There is maintained close cooperation with many departments of the hospital, which provides an interdisciplinary approach to treatment and comprehensive medical care. The department is headed by Prof. Dr. Dr. med. Walter Wohlgemuth.
One of the priorities of the department's work is interventional radiology, which makes it possible to carry out various diagnostic and therapeutic manipulations using percutaneous accesses under the guidance of imaging devices. One of the clearest examples of this focus is digital subtraction angiography (CSA), which can image vessels with the best possible accuracy without overlapping images. Along with the imaging of blood vessels for diagnostic purposes, this method also allows for therapeutic interventions. For example, it can be used to restore (when treating thrombosis and arterial stenosis) or to block (in aneurysms or the risk of bleeding from tumor vessels) blood flow in the vessels. Both types of procedures – diagnostic imaging and interventions– can be applied to all parts of the body.
The department also has in its arsenal a digital two-level angiography, which allows to simultaneously perform two series of images using a single injection of a contrast agent, which reduces the radiation load on the patient and shortens the examination time. Also, two-level angiography offers a significantly higher safety with the introduction of a catheter for neuroradiological interventions (for example, removal of blood clots in acute stroke using a stent retriever and microcatheter).
The service range of the department includes:
Diagnostic radiology

Computed tomography (CT)

Cardiac CT with coronary angiography and assessment of calcium levels
CT angiography
Virtual colonoscopy
CT-guided puncture
CT-guided pain therapy (for example, periradicular therapy for back pain)

Magnetic resonance imaging

Vascular MRI
Magnetic resonance cholangiopancreatography (imaging of the bile ducts and pancreatic duct)
Breast MRI (diagnostics and tissue sampling for further testing)
Cardiac MRI (perfusion diagnosis, registration of the frequency of contractions, registration of indicators to determine the risk of infarction, various quantitative indicators)
Small and large intestine MRI

Conventional X-ray examinations

Lung and thoracic organs
Abdominal and pelvic organs
Bones and joints

Dynamic radiography with a contrast agent

Esophagus
Stomach
Small and large intestine
Urinary tract
Veins
Fistula imaging
Hysterosalpingography

Mammography to diagnose breast cancer
Other methods of diagnostic radiology

Interventional radiology

Angiographic diagnostics (arterial and venous, global, selective and super selective)
Recanalization procedures

Local fibrinolysis
Thrombectomy
Percutaneous transluminal angioplasty (vascular dilatation)
Endovascular implantation of prostheses, stents in the abdominal and renal arteries, peripheral arteries (arms and legs), central arteries (neck and brain)
Other services

Treatment of vascular obstruction

Coiling in aneurysms, arteriovenous fistulas, malformations
Preoperative reduction of tumor vascularization
Treatment of bleedings/ hemorrhages into the tumor
Uterine artery embolization for the treatment of uterine myomas
Intra-arterial chemotherapy: transarterial chemoembolization, selective internal radiation therapy in liver cancer
Other treatments

Special intervention procedures

Blood test for hormones/functional studies (adrenal glands, parathyroid glands, pancreas)
Cava filter implantation
Percutaneous removal of a foreign body (for example, fragments of a catheter, remnants of electrodes)
Percutaneous transhepatic cholangiodrainage
Transjugular intrahepatic portosystemic shunting (TIPS)
Other services

Services in the field of extravascular interventional radiology (pain therapy)

Sympathetic ganglion blockade
Periradicular therapy
Facet joint blockade
Obturator nerve block
Other treatments

Pediatric radiology

Ultrasound examinations (including contrast-enhanced ones)
Magnetic resonance imaging
Conventional X-ray diagnostics
Fluoroscopy CT scan
Bone mineral density measurement
Other services

Neuroradiology

Magnetic resonance spectroscopy
Functional MRI
X-ray examinations of the head and neck
Treatment of brain and spinal cord tumors with neuroimaging systems
Treatment of cerebral hemorrhages and aneurysms
Other services
Curriculum vitae of Prof. Dr. Dr. med. Walter Wohlgemuth
Education
Prof. Wohlgemuth studied medicine at the University of Regensburg, the Technical University of Munich and Ludwig Maximilian University of Munich, as well as Health Economics at the University of Bayreuth. In 1994 Admitted to medical practice, medical graduation from the Technical University of Munich in the same year. He worked as an Assistant Physician in the Department of Diagnostic Radiology and Neuroradiology, as well as in the Department of Neurology and Clinical Neurophysiology, Augsburg Hospital, and Department of Radiology, Ingolstadt Hospital.
Professional Career
Since 2001, Chief Resident in Angiography, and since 2003 Senior Physician and Head of the Department of Vascular and Interventional Radiology.
2006 Accreditation as Neuroradiologist.
Since 2002, Research Assistant at the Institute of Medical Management and Health Sciences at the University of Bayreuth.
2005 PhD defense at the Faculty of Economics, University of Bayreuth, Habilitation and Venia Legendi for "Medical Management and Health Sciences".
From 2009 to 2011, Head of the Center for Vascular Malformations at the Augsburg Hospital.
Since October 2011, University Professor and Head of the Department of Interventional Radiology at the University Hospital Regensburg.
From 2012 to 2017, Head of the interdisciplinary Center for Vascular Anomalies at the University of Regensburg.
From 2015 to 2017, Founder and Head of the first interdisciplinary Center for Pediatric Interventional Radiology in Germany.
2014 Research Fellowship at the Children's Hospital in Boston, Harvard Medical School, and Children's Hospital in Philadelphia.
Since June 2017, Head of the Department of Adult and Pediatric Diagnostic, Interventional Radiology, Neroradiology at the University Hospital Halle (Saale) and Full Professor at the Martin Luther University of Halle-Wittenberg.
Memberships
Since January 2017, President of the German Interdisciplinary Society for Vascular Anomalies.
Photo of the doctor: (c) Universitätsklinikum Halle (Saale)
Department of Adult and Pediatric Diagnostic, Interventional Radiology, Neuroradiology.
University Hospital Halle (Saale):

Request more information now.
We will be happy to answer all your questions.
---
Certificates