Treatment of myopia with phakic intra-ocular lens (IOL) (program ID:

272159

)
University Hospital Halle (Saale)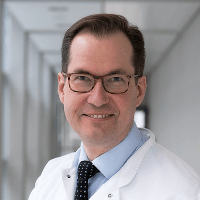 Head Physician
Prof. Dr. med.
Arne Viestenz
Specialized in: adult and pediatric ophthalmology
Department of Adult and Pediatric Ophthalmology
The program includes:
Initial presentation in the clinic
clinical history taking
review of medical records
physical examination
laboratory tests:

complete blood count
biochemical analysis of blood
indicators of inflammation
indicators blood coagulation

ophthalmologic examination:

slit-lamp examination
pupil function tests
ocular motility test
optical coherence tomography OCT
ophthalmoscopy
perimetry (visual field test)
computer perimetry
visometry (without correction and with correction)
keratometry
pachymetry
refractometry (objective, subjective, cycloplegic)
autorefractometry
non-contact tonometer
biomicroscopy

preparation according to preoperative standard
phakic intra-ocular lens (IOL)
symptomatic treatment
control examinations
the cost of essential medicines and materials
nursing services
full hospital accommodation
explanation of future recommendations
Service
Price:
Type of program :
Expected duration of the program:
You may also book:

Price:
About the department
The Department of Adult and Pediatric Ophthalmology offers the full range of diagnostics and treatment of eye diseases in patients of all age groups. The department has earned a reputation as the Center of Competence for Corneal Diseases, and, thanks to more than 100 years of experience in various research activities, it is also the Center of Competence for Eye Diseases. In addition, since 1998, one of the largest Eye Banks of Central Germany (Mitteldeutsche Corneabank Halle) has been operating here, which provides each patient with the selection of the most suitable cornea graft. Medical care is carried out both on an inpatient and outpatient basis. The department is headed by Prof. Dr. med. Arne Viestenz.
Modern ophthalmological rooms of the department's outpatient clinic provide admission of patients on various issues, ranging from strabismus in children to corneal abnormalities, retinal lesions and lacrimal duct pathologies. During the outpatient consultations, the patients are provided with the detailed information about their clinical case, as well as about the possibilities and risks of the treatment.
The surgical options of the department include microsurgical and minimally invasive interventions (on an inpatient and outpatient basis). The patients receive medical care from the first-class specialists. They have deep knowledge, extensive clinical experience, as well as practice the very latest therapeutic methods to achieve the best result and preserve vision. The department's service range is complemented by specialized outpatient procedures, including intravitreal drug administration (IVOM Lucentis, Avastin and Ozurdex), laser treatment, lacrimal duct endoscopy, fluorescent angiography and photodynamic therapy.
The main clinical focuses of the department include:
Diagnostics and treatment of age-related macular degeneration
Diagnostics and treatment of strabismus in adults
Diagnostics and treatment of eye diseases in children

Various types of strabismus
Congenital lacrimal duct stenosis
Congenital or juvenile cataract in children
Congenital or juvenile glaucoma in children
Eye defects

Diagnostics and treatment of corneal diseases, including corneal transplantation
Diagnostics and treatment of uveitis
Diagnostics and treatment of diseases of the lacrimal duct

Wet eye syndrome
Dry eye syndrome

Retinal and vitreous surgery (vitrectomy)

Treatment of macular diseases

Epiretinal gliosis
Macular hole

Minimally invasive treatment of rhegmatogenous retinal detachment
Surgical and drug therapy in diabetic retinopathy and maculopathy

Diagnostics and treatment of glaucoma

Diagnostic services

Intraocular pressure measurement (including PASCAL Dynamic Contour Tonometer)
Gonioscopy (imaging examination of the anterior chamber of the eye)
Visual field test (threshold perimetry)
Corneal thickness measurement (pachymetry)
Quantitative assessment of the optic nerve head (Heidelberg retinal tomography)
Retinal conditions (optical coherence tomography)
24-hour intraocular pressure measurement

Therapeutic services

Selective trabeculoplasty
Trabeculectomy
Canaloplasty (I-TRACK and Onalene)
i-Stent
XEN gel drainage
Cyclodestructive techniques (cyclophotocoagulation, cyclocryocoagulation)
Drainage implants (Ahmed, Baerveldt)
Laser iridotomy

Diagnostics and treatment of eyelid diseases

Removal of benign and malignant eyelid tumors
Surgical eyelid correction
Reconstructive eyelid surgery
Cosmetic procedures

Artificial intraocular lens implantation
Surgical services

Vitreoretinal surgery
Corneal transplantation (perforating and lamellar)
Cancer surgery followed by plastic reconstruction
Glaucoma surgery
Cataract surgery
Treatment of eye injuries
Refractive surgery
Lacrimal duct surgery
Surgical correction of strabismus

Other medical services
Curriculum vitae
1990 - 1997 Study of Human Medicine in Leipzig.
1993 - 2003 Research Assistant, Department of Ophthalmology, University Hospital Erlangen.
1999 PhD thesis defense.
2003 Board certification in Ophthalmology (until 2005 working in Erlangen).
2005 - 2011 Medical Specialist, Senior Physician, Department of Ophthalmology, University Hospital Magdeburg.
2008 Habilitation.
2011 - 2016 Senior Physician, Leading Senior Physician, Professor for Ophthalmology, University Hospital Homburg/Saar.
Since February 2017 Head of the Department of Adult and Pediatric Ophthalmology at the University Hospital Halle (Saale).
Photo of the doctor: (c) Universitätsklinikum Halle (Saale)
---
About hospital
Accommodation in hospital
Myopia
Program [Description]
Treatment of myopia with phakic intra-ocular lens (IOL)
Hospital: University Hospital Halle (Saale)
Type:
Duration:
Price:
date_range
There are 72 myopia treatment hospitals on Booking Health website
Show all clinics
Certificates