University Hospital Hamburg-Eppendorf
Department of Pediatric Surgery (

289943

)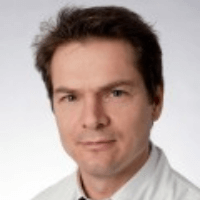 Prof. Dr. med.
Konrad Reinshagen
Specialized in: pediatric surgery
About the Department of Pediatric Surgery at University Hospital Hamburg-Eppendorf
The Department of Pediatric Surgery at the University Hospital Hamburg-Eppendorf offers the full range of surgical treatment of children, including general and abdominal surgery, thoracic surgery, pediatric urology and pediatric traumatology in newborns, children and adolescents. In addition, the department's specialization covers plastic surgery in children, hand surgery and surgical treatment of burns. The Chief Physician of the department is Prof. Dr. med. Konrad Reinshagen.
The department's surgeons have a perfect command of all modern techniques in open surgery, minimally invasive surgery, laparoscopy, thoracoscopy and robot-assisted surgery in children. With more than 4,000 surgeries annually, the department is one of the largest pediatric surgical medical facilities in Germany.
The department has 148 beds, 6 beds in the Intensive Care Unit, 6 beds in the Bone Marrow Transplantation Unit. Three modern operating rooms are available for the most effective surgical treatment. The department's doctors are highly qualified experts in the treatment of very complex and rare pathologies in children of different age groups. In addition, the department annually treats about 10,000 newborns, because its medical staff has unique experience in neonatal surgery.
The therapeutic range of the department includes:
Surgery for newborns and premature babies

Diaphragmatic hernia (including therapy using ECMO)
Esophageal atresia
Duodenal atresia
Small bowel atresia
Intestinal duplication
Intestinal malrotation
Meconium ileus
Necrotizing enterocolitis
Gastroschisis/omphalocele (abdominal wall plastic surgery)
Biliary atresia (Kasai procedure)
Anal atresia and anorectal malformations
Hirschsprung's disease

Colorectal surgery

Anal atresia and anorectal malformations
Hirschsprung's disease
Short bowel syndrome
Chronic inflammatory bowel diseases (ulcerative colitis, Crohn's disease)
Chronic abdominal pain

Pediatric urology

Epispadias
Bladder exstrophy
Urethral stricture (pyeloplasty using Anderson-Hynes technique)
Vesicoureteral reflux
Cloacal anomalies (urogenital sinus)
Prune belly syndrome
Abnormal testicular position

General surgery

Medial/lateral cyst of the neck
Abdominal wall hernia and umbilical hernia
Urachus, vitelline duct
Achalasia cardia
Infantile hypertrophic pyloric stenosis
Intestinal invagination
Appendicitis
Meckel's diverticulum
Fundoplication surgery
Cholecystectomy
Intermediate splenectomy
Liver cysts and abscesses
Acute scrotal syndrome
Undescended testicles
Varicocele
Phimosis
Hydrocele
Inguinal hernia

Pediatric traumatology

Bone fractures
Dislocations
Blunt abdominal trauma
Tear-contused wounds

Thoracic surgery

Pectus excavatum and pectus carinatum
Pleural effusion and pleural empyema
Congenital malformations of the lungs (pulmonary sequestration, emphysema)
Bronchogenic cysts
Thoracic tumors

Plastic and burn surgery

Hemangiomas
Burns, including steam burns
Scar revision
Tumors of the skin and subcutaneous adipose tissue
Protruding ears
Gynecomastia
Pilonidal sinus
Poly-/syndactyly

Pediatric surgical oncology

Malformations of the blood and lymphatic vessels (hemangiomas)
Neuroblastomas/ganglioneuromas
Kidney tumors (nephroblastoma, Wilms tumor)
Liver tumors (hepatoblastomas)
Soft tissue sarcomas
Herminogenic tumors (sacrococcygeal teratomas, ovarian and testicular tumors)

Other medical services
Photo of the doctor: (c) Universitätsklinikum Hamburg-Eppendorf (UKE)
Department of Pediatric Surgery.
University Hospital Hamburg-Eppendorf:

Request more information now.
We will be happy to answer all your questions.
---
Certificates