University Hospital Hamburg-Eppendorf
Department of Pediatric Radiology (

459524

)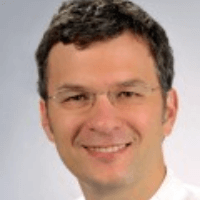 PD Dr. med.
Jochen Herrmann
Specialized in: pediatric radiology
About the Department of Pediatric Radiology at University Hospital Hamburg-Eppendorf
The Department of Pediatric Radiology at the University Hospital Hamburg-Eppendorf offers the full range of imaging diagnostics in children and adolescents. The Chief Physician of the department is PD Dr. med. Jochen Herrmann.
The department is equipped with the medical equipment of the latest generation for various imaging studies in children, including ultrasound, X-ray, computed tomography (CT) and magnetic resonance imaging (MRI). It uses special diagnostic techniques adapted to the needs of the child's body and allowing to significantly reduce the radiation load on the child's body. To guarantee the highest quality of services, there is maintained cooperation with other departments of the hospital and external partners.
Of particular interest is the diagnosis of premature and newborn babies, the detection of liver and kidney diseases in children (including monitoring after transplantation), the diagnosis of congenital heart defects using CT and MRI, as well as the detection of pediatric oncological diseases.
The diagnostic options of the department include:
Ultrasound examinations of almost all organs and body parts (the most common method in the field of pediatric diagnostics)
Magnetic resonance imaging (MRI), for example, for imaging diagnostics of congenital heart defects, cancer and rheumatic diseases
Computed tomography (CT), for example, to detect complex bone fractures and organ injuries, as well as a clarifying method for the diagnosis of heart and lung diseases
Conventional X-ray studies
Fluoroscopy (mostly used to examine the gastrointestinal tract and urinary tract)
Other diagnostic services
Photo of the doctor: (c) Universitätsklinikum Hamburg-Eppendorf (UKE)
Department of Pediatric Radiology.
University Hospital Hamburg-Eppendorf:

Request more information now.
We will be happy to answer all your questions.
---
Certificates