University Hospital Hamburg-Eppendorf
Department of Diagnostic and Interventional Neuroradiology (

588207

)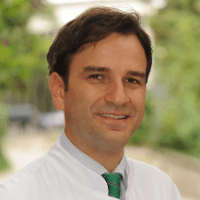 Prof. Dr. med.
Jens Fiehler
Specialized in: diagnostic and interventional neuroradiology
About the department
The Department of Diagnostic and Interventional Neuroradiology at the University Hospital Hamburg-Eppendorf offers the full range of advanced imaging examinations and minimally invasive treatment of diseases of the brain and spinal cord, as well as of brain meninges and nearby anatomical structures. Key attention is also paid to the treatment of cervical and cerebral vascular stenosis, aneurysms and vascular malformations. To provide comprehensive medical care, there is maintained close cooperation with the experts in radiology, neurology, ophthalmology, otolaryngology, oral and maxillofacial surgery and other specialists. The department is headed by Prof. Dr. med. Jens Fiehler.
With an annual number of 150 interventional procedures to treat aneurysms (in cooperation with the Department of Adult and Pediatric Neurosurgery), the department is a supraregional Center for Neurovascular Diseases. In addition, the department's physicians have excellent qualifications in the field of differentiated neuroradiological diagnostics and interventional therapy for acute stroke.
The service range of the department includes:
Diagnostics

Magnetic resonance imaging (brain and spinal cord, blood vessels and spine)
Computed tomography
Angiography

Therapy

Aneurysm treatment using coiling and clipping techniques
Catheter-assisted stroke therapy
Treatment of carotid and cerebral artery stenosis

Balloon dilatation
Stenting

Angioma (arteriovenous malformation) treatment

Total surgical removal using neurosurgical techniques (mainly performed in case of small arteriovenous malformations)
Embolization (in case of small arteriovenous malformations)
Combination therapy using neuroradiological and neurosurgical techniques (this type of therapy is the most common)
Radiation therapy (in case of large arteriovenous malformations)

Other medical services
Photo of the doctor: (c) Universitätsklinikum Hamburg-Eppendorf (UKE)
Department of Diagnostic and Interventional Neuroradiology.
University Hospital Hamburg-Eppendorf:

Request more information now.
We will be happy to answer all your questions.
---