Department of Adult and Pediatric Trauma, Hand, Reconstructive Surgery (

274450

)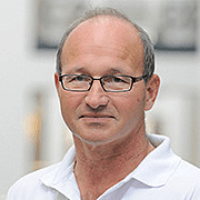 Prof. Dr. med. Dr. rer. nat.
Gunther Hofmann
Specialized in: adult and pediatric trauma, hand, reconstructive surgery
About the Department of Adult and Pediatric Trauma, Hand, Reconstructive Surgery at University Hospital Jena
The Department of Adult and Pediatric Trauma, Hand, Reconstructive Surgery at the University Hospital Jena offers all modern surgical interventions in these medical fields. The department specializes in the treatment of patients with polytrauma, pelvic surgery, endoprosthetics, cancer, reconstructive surgery and hand surgery. The department has 62 beds for inpatient treatment and 3 high-tech operating rooms for both planned and emergency operations. The prestigious certificates of the Interregional Trauma Center of the German Society of Traumatology and the EndoCert certificate testify to the outstanding quality of medical services.The Chief Physician of the department is Prof. Dr. med. Gunther Hofmann.
In addition to the surgical treatment, the department's arsenal includes conservative treatment methods, for example, drug therapy, physiotherapy and occupational therapy. All of these measures also play a key role in achieving an optimal treatment outcome. After the surgery, during a hospital stay, the patient undergoes an individually developed rehabilitation program aimed at the best possible mobilization. The rehabilitation is indicated for patients after accidents and their complications, as well as after surgical treatment of congenital and acquired pathologies.
As a certified Endoprosthetics Center (EndoCert), the department provides the full range of partial and total knee, hip, shoulder, elbow, wrist, and finger joint replacement surgeries. Also, the department's surgeons have exceptional experience in the field of revision interventions on the joints, for example, in degenerative processes, infection, etc. The minimally invasive techniques and navigation systems are widely used in joint replacement surgeries, which contributes to sparing treatment and faster recovery of the patient.
Another important focus of the department's work is hand surgery. In this field, it offers all modern interventions, including microsurgery of the vessels, nerves and tendons, plastic surgery in soft tissue defects. The department's surgeons provide primary and specialized medical care for hand injuries of varying severity. The department has a specialized hand replantation team, which works around the clock. The department also specializes in surgery to treat severe hand injuries and congenital hand defects.
The department's competence also includes the treatment of injuries of varying severity (certification as a supraregional Trauma Centre). It is worth noting that the department has achieved outstanding results in this field and guarantees the highest quality of treatment even in the most complex clinical cases.
The main clinical focuses of the department include:
Treatment of injuries of varying severity, including polytrauma
Treatment of pelvic bone injuries and their complications
Surgical navigation

Pelvic bone surgery
Femoral fracture surgery
Joint replacement surgery

Surgery using 3D image conversion system

Comminuted ankle fracture
Fracture of the upper articular surface of the tibia
Complicated foot fractures
Complicated wrist fractures
Ankle bone fractures
Calcaneal fractures

Hand surgery and replantation surgery

Emergency surgery

Amputation
Fractures and dislocations of the hand and wrist of all degrees of severity
Injuries to the vessels, nerves and tendons
Hand infections (soft tissue and bone infections)

Secondary reconstructive interventions

Plastic surgery to close soft tissue defects (plastic surgery using free, tube grafts)
Tandon surgery
Arthrolysis, tenolysis, tendon plastic surgery
Corrective osteotomy of the hand and forearm
Aseptic bone necrosis therapy (for example, lunate bone, scaphoid bone)
Treatment of finger, wrist osteoarthritis
Arthroplasty, partial arthrodesis, arthrodesis, joint replacement surgery in arthrosis or posttraumatic complications
Emergency and secondary brachial plexus reconstruction
Denervation and reconstruction of the nerve endings
Operations in rheumatic hand lesions
Treatment of nerve compression syndromes in the forearm and hand
Operations to restore hand mobility in nerve lesion
Treatment of spastic contractures
Secondary reconstructive procedures after finger amputation (stump extension, callus distraction, finger transposition, etc.)
Hand surgery in children, including severe hand injuries and deformities

Knee, hip, shoulder, elbow, wrist and finger joint endoprosthetics
Foot surgery

Arthroscopic surgery
Treatment of diabetic foot syndrome
Treatment of osteochondral lesions
Correction of deformity of the hindfoot and foot arch
Treatment of clubfoot, claw foot, cavus foot
Forefoot deformity correction
Correction of the foot with a flat transverse arch, hallux valgus, little toe defects
Transplantation and regeneration of cartilage tissue
Intraoperative use of navigation and 3D imaging techniques
Surgical interventions in rheumatic foot lesions
Treatment of foot injuries
Soft tissue surgery
Ganglion treatment
Compression syndromes (tarsal tunnel syndrome)
Achilles tendon reconstruction
Ligament reconstruction
Reconstructive surgery and hindfoot replacement

Surgical treatment of benign and malignant bone and soft tissue tumors (special focus on the treatment of sarcomas), secondary bone tumors (bone metastases)
Other medical services
Curriculum vitae of Prof. Dr. med. Dr. rer. nat. Gunther Hofmann
Prof. Hofmann attended Medical School, passed a state examination and obtained a doctorate from the Ludwig Maximilian University of Munich. Thereafter, he moved to the Technical University Munich, wherefrom he graduated in 1984 with a Dr. rer. nat. (Doctor rerum naturalium) in Physics.
In 1987, Dr. Hofmann commenced work as a Research Fellow at the University Hospital of the Ludwig Maximilians University of Munich until he started his habilitation in 1992. During his habilitation, Prof. Hofmann did research at the Massachusetts General Hospital in Boston, Massachusetts, and started to work at the University Hospital of the Ludwig Maximilians University of Munich in the same year. In 1995, he moved to the BG Trauma Hospital in Murnau. Since 2004, Prof. Hofmann has been the Medical Director of the Bergmannstrost Hospital Halle, Saxony-Anhalt and the Head of the Department of Adult and Pediatric Trauma, Hand, Reconstructive Surgery at the University Hospital Jena, Thuringia.
Research Focuses
Development of implants for osteosynthesis and joint replacement surgery.
Bone and joint grafting.
Biomaterials.
Biomechanics.
Computer-assisted surgery.
Bone infections.
Awards
1986 Otto Goetze Award of the Association of Bavarian Surgeons.
1997 Herbert Stiller Award of the Physicians Against Animal Experiments.
2008 Science4Life Venture Cup for the development of an optical system for the detection of osteoarthritis (Team: arthrospec AG).
Photo of the doctor: (c) Universitätsklinikum Jena
Department of Adult and Pediatric Trauma, Hand, Reconstructive Surgery.
University Hospital Jena:

Request more information now.
We will be happy to answer all your questions.
---
Certificates