University Hospital Oldenburg
Department of Adult and Pediatric Oral, Maxillofacial Surgery and Facial Plastic Surgery (

364577

)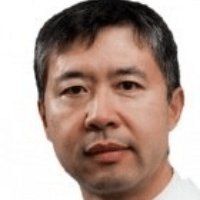 PD Dr. med.
Lei Li
Specialized in: adult and pediatric oral, maxillofacial surgery, facial plastic surgery
About the department
The Department of Adult and Pediatric Oral, Maxillofacial Surgery and Facial Plastic Surgery at the University Hospital Oldenburg offers the full range of services in these medical fields. The department performs more than 1,800 surgical procedures annually. In addition to facial cosmetic surgery and orthodontic interventions, the department performs operations to maintain or restore chewing function. The department also offers all options of dental surgery, in particular, installation of dental implants, laser surgery, treatment of jaw and facial skull fractures. The department has at its disposal 20 beds and separate places for the treatment of children. The department is headed by PD Dr. med. Lei Li.
Of particular interest for the department is the treatment of neoplasms of the oral cavity and facial skin, which usually require complex surgical interventions to restore the jaw and face. In addition, much attention is paid to the treatment of children and adults with cleft lip, jaw and palate or its complications. The department provides the comprehensive consultations with the participation of specialists from the related fields. Thus, each patient receives an individual treatment regimen with due consideration of his specific clinical situation.
To ensure the best diagnostics and thorough planning of the surgery, the department has devices for computed tomography, scintigraphy, magnetic resonance imaging and many other modern technologies.
The department's spectrum of medical services includes:
Surgical treatment of the congenital malformations, maxillofacial diseases and injuries
Cosmetic and orthodontic interventions
Surgical procedures to restore or maintain the chewing function
Dental surgery

Installation of dental implants
Laser surgery
Treatment of jaw fractures and facial skull fractures

Surgical procedures to treat tumors of the oral cavity, jaw and facial skin
Reconstructive surgical procedures in the jaw and facial areas (for example, microsurgical procedures to transplant nerves, muscles and bones)
Treatment of children and adults suffering from the cleft lip, jaw and palate or its complications
Other medical services
Photo of the doctor: (c) Klinikum Oldenburg AöR
Department of Adult and Pediatric Oral, Maxillofacial Surgery and Facial Plastic Surgery.
University Hospital Oldenburg:

Request more information now.
We will be happy to answer all your questions.
---