University Hospital Oldenburg
Department of Adult and Pediatric Diagnostic, Interventional Radiology (

364656

)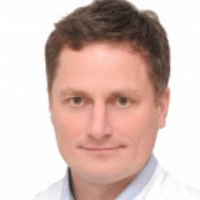 Dr. med.
Tobias Kowald
Specialized in: adult and pediatric diagnostic, interventional radiology
About the Department of Adult and Pediatric Diagnostic, Interventional Radiology at University Hospital Oldenburg
The Department of Adult and Pediatric Diagnostic, Interventional Radiology at the University Hospital Oldenburg offers the full range of services in these medical fields. To ensure the accurate diagnostics and effective treatment, the department has state-of-the-art medical equipment, particularly 64-slice CT scanner, two 1.5 Tesla high-performance MRI devices, modern equipment for digital subtraction angiography (DSA), pulsed fluoroscopy and many other devices. All medical services are carried out in strict accordance with the protocols of professional societies. The department is headed by Dr. med. Tobias Kowald.
The department carries out all diagnostic imaging tests. Thanks to the modern digital system, the specialists of any department of the hospital can promptly get access to their results, which provides an interdisciplinary approach and selection of the optimal type of therapy.
The department's therapeutic options include minimally invasive treatments, such as stent implantation for vascular stenoses, non-surgical treatment of cancer, pain therapy, treatment of vascular diseases, including aneurysms and aortic dissection.
In addition, much attention is paid to the diagnostics and treatment of children. The specially trained experts with deep knowledge in pediatric pathologies work with young patients. It should be noted that doctors who work with children can easily find common language with them and win their favor. The conventional X-ray examinations in children are carried out in a new separate unit, while the special X-ray examinations, such as imaging of the gastrointestinal tract or urinary tract, are carried out in the Central Department of Radiology. Recently, many diagnostic examinations in children can be performed on an outpatient basis.
The department's range of medical services includes:
Conventional X-ray examinations of the lungs, abdominal cavity and bones in various projections
Whole-body computed tomography (CT) for the accurate localization of pathological processes before thermoablation of liver metastasis, pain therapy, abscess drainage
Magnetic resonance imaging (MRI) for the examination of the skull and spine, musculoskeletal system, abdominal and pelviс organs. MRI is also regularly used for non-invasive imaging of the cardiovascular system, brain and spinal cord
Angiography (contrast-enhanced imaging of blood vessels) can be used both for the diagnostics and treatment, for example, for the treatment of vascular stenoses or thromboses using special balloons and stent implantation. Angiography can also be used for the treatment of malignant tumors of the liver or kidneys, aneurysms and aortic dissection, etc.
Fluoroscopy (mainly used for examining the gastrointestinal tract, imaging of the act of swallowing and for special examinations of the urinary tract). Of particular importance is fluoroscopy for diagnostics in children
Mammography (imaging test for early detection of breast cancer) and mammotome for biopsy in suspected breast cancer
Sonography (ultrasound scan)
Other diagnostic and therapeutic services
Photo of the doctor: (c) Klinikum Oldenburg AöR
Department of Adult and Pediatric Diagnostic, Interventional Radiology.
University Hospital Oldenburg:

Request more information now.
We will be happy to answer all your questions.
---