University Hospital Saarland Homburg
Department of Adult and Pediatric Gynecology, Obstetrics, Reproductive Medicine (

411431

)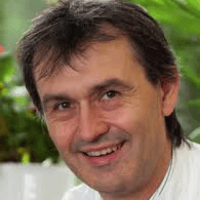 Prof. Dr. med.
Erich-Franz Solomayer
Specialized in: gynecology, obstetrics, reproductive medicine
About the Department of Adult and Pediatric Gynecology, Obstetrics, Reproductive Medicine at University Hospital Saarland Homburg
The Department of Adult and Pediatric Gynecology, Obstetrics, Reproductive Medicine at the University hospital Saarland offers the full range of services in these fields at the highest level of modern medicine. The main clinical focuses of the department include gynecologic oncology, endometriosis treatment, urogynecology, management of pregnancy, delivery and postnatal care for both mother and child, solving of the female fertility problems, pediatric gynecology. The department is headed by Prof. Dr med. Erich-Franz Solomayer.
In the field of gynecology, precise diagnosis and treatment of various pathological changes in the female genital organs are provided. Of particular interest is cancer treatment: uterine, cervical, vulvar cancer, etc. Most surgical interventions are performed minimally invasively. The department has at its arsenal many methods of targeted therapy, the most effective of which are antibody therapy, hormone therapy, immunotherapy. If desired, the patient has the opportunity to participate in national and international clinical trials. In addition, the specialists of the department have a unique experience in the treatment of endometriosis and dysplasia.
It should be noted that the department specializes in counseling and treating girls suffering from infectious diseases, genital pain and hormonal disorders. Young girls have the opportunity to ask the doctor all the questions of interest in the field of gynecology. During the consultations, there can be discussed such important topics as prevention of unwanted pregnancy and sexually transmitted diseases, general recommendations on intimate hygiene, menstrual cycle and puberty.
For many years now, the department has been the leading Level I Perinatal Center, in which young mothers are provided with ideal conditions for monitoring pregnancy, childbirth, including premature birth and high-risk birth. In collaboration with the Department of General Pediatrics and Neonatology, the Department of Gynecology also takes care of the health and safety of newborn babies.
To provide comprehensive medical care in the field of reproductive medicine, there is maintained close cooperation with the Departments of Urology, Human Genetics and Psychosomatics. In addition to counseling on fertility problems, patients are offered comprehensive recommendations for hormone replacement therapy during menopause or before/after surgical treatment, for example in the context of maintaining fertility before chemotherapy or radiation therapy.
The department's range of medical services includes:
Gynecology

Diagnostics and treatment of cancer of the female reproductive organs (uterine, cervical, ovarian, vulvar cancers, etc.)
Diagnostics and treatment of breast cancer

Diagnostics

Galactography
Mammography
Color Doppler sonography
Elastography
Biopsy (for example, fine-needle aspiration puncture biopsy, punch biopsy, vacuum suction biopsy)

Therapy

Organ-sparing interventions
Breast resection followed by reconstruction
Removal of sentinel lymph nodes
Radiation therapy
Systemic therapy (antihormonal therapy, chemotherapy, antibody therapy)

Diagnostics and treatment of dysplasia

Diagnostics
Therapy

Loop excision (conization) of the cervix
Laser vaporization of the cervix
Laser excision of the cervix

Diagnostics and treatment of endometriosis

Surgical treatment

Minimally invasive interventions

Conservative treatment

Hormone therapy
Pain therapy

Diagnostics and treatment of urogynecological pathologies

All types of urinary incontinence
Pelvic prolapse (uterus, bladder, bowel)
Painful urination or bowel movements (problems with bladder or bowel emptying)
Recurrent urinary tract infections
Vesicovaginal and rectovaginal fistulas
Discomfort during sexual intercourse (dyspareunia)
Consequences of previous surgery or obstetric traumas

Diagnostics and treatment of uterine fibroids

Conservative treatment

Drug therapy
Hormone therapy
Therapy using ulipristal acetate (Esmya®)
Methods of naturopathy, traditional Chinese medicine and acupuncture

Surgical treatment

Organ-sparing surgical procedures (myoma enucleation) through hysteroscopic, laparoscopic and abdominal access
Removal of the uterus (hysterectomy) through laparoscopic and abdominal access
Minimally invasive radiation therapy (embolization of uterine fibroids, ultrasound- or MRI-guided HiFu)

Pain therapy
Diagnostics and treatment of gynecological problems in children and adolescents

Malformations of the reproductive organs (for example, atresia of the hymen, vaginal aplasia)
Infectious lesions and pains in reproductive organs
Puberty disorders
Menstrual irregularities

Plastic reconstructive and aesthetic surgery

Breast reconstruction using flap surgery (local or free tissue transfer)
Breast reconstruction using silicone implants
Plastic aesthetic interventions on the breast (breast augmentation, breast lift, breast reduction in women and men)

Obstetrics

Prenatal diagnostics

Non-invasive examinations

Maternal serum screening
Genetic testing and consultations
Screening of the first, second and third trimesters of pregnancy
Special ultrasound examination of the fetal brain
Ultrasound examination of blood flow in the placenta and umbilical cord (color Doppler sonography)
3D and 4D ultrasound examination
Non-invasive prenatal tests
Gynecological ultrasound examinations

Invasive examinations

Amniocentesis
Chorionic villus sampling
Cordocentesis
Umbilical cord blood transfusion
Fetal interventions for diagnostic and therapeutic purposes

Birth and postpartum care for mother and baby
Management of pregnancy in patients with arterial hypertension
Medical care in pelvic presentation of the fetus

Reproductive medicine

Non-invasive and invasive diagnostics

Endocrine profile examinations
Menstrual cycle monitoring
Spermogram
Assessment of fallopian tube patency
Invasive diagnostics using hysteroscopy and laparoscopy
Genetic examinations

Therapy

Treatment of menstrual irregularities
Hormone therapy
In vitro fertilization
Intracytoplasmic sperm injection (ICSI)
Testicular sperm extraction (TESE)
Cryopreservation
Laser-assisted hatching
Surgical treatment of endometriosis, uterine fibroids

Other diagnostic and therapeutic options
Photo of the doctor: (c) Universitätsklinikum des Saarlandes
Department of Adult and Pediatric Gynecology, Obstetrics, Reproductive Medicine.
University Hospital Saarland Homburg:

Request more information now.
We will be happy to answer all your questions.
---