Department of Pediatric Surgery (

521645

)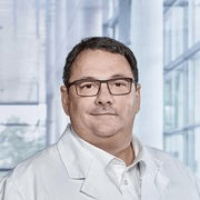 PD Dr. med.
Alexandre Serra
Specialized in: pediatric surgery
About the Department of Pediatric Surgery at University Hospital Ulm
The Department of Pediatric Surgery at the University Hospital Ulm offers the full range of outpatient and inpatient surgical treatment in children of all age groups, including newborns and premature babies. The treatment is provided by the highly qualified surgeons who possess deep knowledges in pediatric anatomy. Surgical interventions are performed in the modern operating rooms equipped with the state-of-art medical equipment and monitoring systems. The department is headed by PD Dr. med. Alexandre Serra.
The service range of the department includes:
General surgery (on an outpatient basis)

Endoscopic procedures, including under general anesthesia (for example, cystoscopy, colposcopy, rectoscopy and esophagoscopy)
Colonoscopy (rectoscopy) with biopsy, sphincter examination
Hernia surgery
Surgical treatment of hydrocele
Correction of undescended testicles (orchiopexy)
Circumcision in phimosis (sparing or complete)
Meatoplasty (elimination of the urethral narrowing in its last region)
Removal of small soft tissue tumors
Biopsy
Laser surgery
Cryotherapy
Removal of Hickman catheter and port systems

Surgical interventions in pediatric urology and gynecology

Treatment of ovarian cysts, ovarian torsion, laparoscopic examination of the internal genital organs
Treatment of the internal and external genital diseases (for example, phimosis, epispadias, hypospadias, varicocele, undescended testicles)
Treatment of urgent urological conditions (for example, testicular torsion, paraphimosis)
Inguinal hernia treatment
Treatment of congenital malformations and impaired fluid outflow from the kidneys and urinary tract (for example, hydronephrosis, ureteral stenosis, megaureter)
Vesicoureteral reflux treatment (for example, open or laparoscopic ureteral reimplantation)
Genital trauma
Diagnostics and treatment of enuresis in children
Bladder pressure measurement, determination of the urethral pressure profile, uroflowmetry
MRI scan, kidney scintigraphy
Surgical treatment of urinary incontinence in children (for example,in the case of bladder exstrophy, epispadias, cloacal malformations)
Treatment of Mayer-Rokitansky-Kuster syndrome
Treatment of sexual development disorders
Treatment of adrenogenital syndrome (correction of the external genital organs in infancy, early childhood, during puberty and at a young age)

Clitoral hood reduction plastic surgery
Introduit plastic
Neovaginal plastic surgery
Plastic or correction of the small and large labia

Surgical treatment of benign and malignant tumors in children and adolescents

Treatment of malignant solid tumors

Brain tumors
Tumors of the sympathetic nervous system (neuroblastomas)
Soft tissue sarcomas (especially rhabdomyosarcoma)
Kidney tumors (Wilms tumor)

Treatment of rare malignant tumors

Liver tumors (hepatoblastomas and carcinomas)
Germ cell tumors
Retinal tumors (retinoblastomas)
Bone tumors (osteosarcoma and Ewing's sarcoma)

Treatment of benign tumors

Nevus
Lipoma
Sebaceous gland tumors on the face and head, for example, dermoid cyst
Ganglia in the limbs
Vascular malformations: hemangioma, lymphangioma and lymphatic hemangiomas
Neurofibromas (for example, neurofibromatosis)

Surgery for preterm and newborn babies

Treatment of necrotizing enterocolitis and focal isolated perforation of the intestine during the first few weeks of life in extremely premature infants
Treatment of malformations in the intestine and anal region (for example, duodenal atresia, small bowel atresia, colon and rectal atresia)
Esophageal atresia treatment
Diaphragmatic hernia treatment
Treatment of lung malformations, tracheostomy, tracheal surgery
Teratoma treatment
Treatment of gastroschisis and omphalocele
Lymphangioma treatment
Treatment of diseases of the kidneys, upper and lower urinary tract, as well as complex malformations with impaired urination

Pediatric plastic surgery

Correction of congenital malformations (for example, syndactyly, polydactyly)
Otoplasty (correction of everted ears)
Reconstructive surgery after serious injuries or burns
Remodeling osteotomy in pseudoarthrosis
Treatment of skin tumors, soft tissues (for example, hemangiomas)
Skin grafting
Lymphangiomas treatment (laser techniques or removal)
Treatment of burns in children (up to 30 - 40% of the body surface)

Neck and thoracic surgery

Treatment of lateral and medial neck cysts
Treatment of torticollis, nerve plexus paralysis (damage of the nerve bundles with sensory and motor disorders)
Cervical rib removal
Treatment of cervical lymphadenopathy
Thyroid tumor treatment
Esophageal fistula treatment
Tracheomalacia treatment
Tracheostomy (artificial trachea opening in the neck)
Tracheal stenosis treatment
Treatment of tracheal tumors and burns (for example, acid burns)
Correction of chest developmental defects (for example, funnel-shaped, keeled chest)
Treatment of lung tumors, pneumothorax, diaphragmatic paralysis and hernias

Other medical services
Curriculum vitae of PD Dr. med. Alexandre Serra
Training and Professional Experience
1993 Admission to medical practice.
1994 ECFMG Сertificate (USMLE), USA.
1995 Medical Specialist in General Surgery, Brazil.
1995 Advanced Trauma Life Support Certification, USA.
2001 Doctoral thesis defence on the Physiology of Newborns, USA.
2007 Medical Specialist in Pediatric Surgery, Germany.
2008 Certificate of the General Medical Council (Pediatric Surgeon), UK.
2009 Senior Pediatric Surgeon, Germany.
2012 Doctoral thesis defense in Pediatric Surgery, Germany.
2013 Certificate of the European Pediatric Life Support (EPLS) Provider courses, UK.
2016 Responsible for the sanitary condition of the clinics, federal state of Baden-Württemberg.
Membership and Functions in Professional Communities
2016 German Society of Plastic and Reconstructive Surgery (DGPW).
2011 European Paediatric Surgeons' Association (EUPSA).
2004 German Society of Pediatric Surgery, Germany.
1999 American Psychological Association, USA.
1996 Brazilian Society of Pediatric Surgery (Sociedade Brasileira de Cirurgia Pediatrica).
1993 Brazilian Medical Association (AMB).
1991 Medical Association of Rio Grande do Sul (AMRIGS), Brazil.
Photo of the doctor: (c) Universitätsklinikum Ulm
Department of Pediatric Surgery.
University Hospital Ulm:

Request more information now.
We will be happy to answer all your questions.
---
Certificates